Posted on
Fri, Sep 2, 2011 : 2:42 p.m.
Junior Hemingway is biggest winner in Michigan's scheme changes; who are other winners and losers?
By Kyle Meinke
Just how good of a receiver is Michigan's Junior Hemingway?
Not even he knows — but we're all about to find out.
The Wolverines' switch to a pro-style offense and 4-3 defense will hurt some players, help others. It's unavoidable when roles change so significantly. Not everyone will be happy, but some will be.
Hemingway should be pretty happy.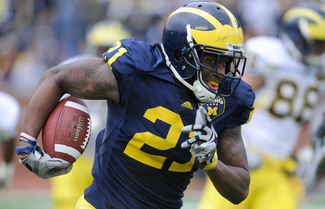 The senior doesn't have burning speed, but he has a big body he uses skillfully, particularly on deep balls. He caught 32 passes for 593 yards last season — both third on the team — for an impressive average of 18.5 yards per catch — first on the team among anyone with more than one reception.
He posted those numbers while missing two games with injury and playing in a spread-option scheme that typically favors quicker, shiftier receivers.
But Hemingway, who is 6-foot-1, 222 pounds, was built for the pro-style. It is, after all, what Michigan ran when the Conway, S.C., native first committed to play for former coach Lloyd Carr.
"Well, yeah," Hemingway said this week when asked if this is what he initially expected to run. "Coach Carr had more of a pro-style. (But) I'm just trying to adapt to whatever I'm asked to play."
This year, he'll be asked to play on the outside, with all-Big Ten receiver Roy Roundtree opposite him. That's a strong combination for Michigan, which opens its season Saturday against Western Michigan (3:30 p.m., ABC).
The Wolverines' depth beyond those two, however, is questionable. Michigan is stockpiled with smaller slot receivers who had a home in the spread-option, but have undefined roles in the new scheme.
They'll have roles, certainly, but Michigan will be leaning on Roundtree and Hemingway to carry the load. That means more catches, more yards. Hemingway is a big winner in the scheme change.
"We're just growing and molding," Hemingway said. "I think we've got the potential to be real explosive."
Of course, it helps Hemingway finally is healthy.
The fifth-year senior has battled injury and illness throughout his career. He put up good numbers last year, despite missing the first two games with a hamstring injury.
So, we come back to the question: Just how good can Junior Hemingway be?
"I don't even know that," Hemingway said, a wide smile revealing his bated anticipation for a healthy season to begin. "Just come out every day, work hard, do whatever the coaches and team asks me to do and do it to the best of my ability.
"I feel great right now. I just got to keep it going."
With more emphasis on the passing game — with pro-style routes — where he's going just might be a big-time year.
Look for Hemingway to be Michigan's breakout player this season.
Other winners, and a few losers, who will take the field for a new-look Michigan on Saturday:
Winner: Kenny Demens. The junior middle linebacker played well last year, despite anchoring a 3-3-5 scheme that often put him in matchup disadvantages. Now, he has four linemen in front of him and, with Ryan Van Bergen's move inside, two senior defensive tackles. Demens could make a big leap in the 4-3.
Loser: Slot receivers. All of them. Martavious Odoms, Kelvin Grady, Drew Dileo and Co. would have filled an important role in the spread-option this year. Instead, they will fight for the limited balls slots will get in the new pro-style, which emphasizes power running and big wideouts. The slots' stats will invariably flag this year.
Winner: Will Heininger. The senior defensive end is a starter in Week 1, which certainly would not have happened if Michigan still were playing a three-man front. It's apparanent coaches think he can produce, considering they moved Van Bergen inside to get Heininger in the lineup … or was it junior Will Campbell just wouldn't have cut it in the middle? Either way, Heininger wins.
Loser: Jordan Kovacs. The returning starter at safety still is a starter at safety. So, what's the problem? A change in job description. Kovacs' strength is tackling, his weakness is athleticism. The old 3-3-5 pulled him closer to the line of scrimmage, which capitalized on his sure tackling. The 4-3 will slot him deeper in the secondary, and he'll be in coverage more. Will he be athletic enough in that role?
Winner: John McColgan. The returning starter — yes, returning starter — at fullback now has a more pronounced role in the pro-style offense. He's still more of a blocker than a runner, but he'll be on the field far more than he was in the spread-option, which didn't use fullbacks for much of anything.
Week 1 prediction:
New schemes on offense and defense create a lot of uncertainty, but Western Michigan is an ideal opening opponent. The Broncos simply aren't talented enough at the right spots to exploit Michigan's weaknesses, but strong enough in others (passing offense, defensive front) to help the Wolverines find a game-speed rhythm before next week's tilt against Notre Dame.
Michigan will ease Denard Robinson's transition into the pro-style early, score a few quick touchdowns on spread or shotgun packages, then work in some new wrinkles once it has a comfortable margin. Michigan 38, Western Michigan 21
Kyle Meinke covers Michigan football for AnnArbor.com. He can be reached at 734-623-2588, by email at kylemeinke@annarbor.com and followed on Twitter @kmeinke.