Posted on
Sat, Oct 29, 2011 : 6:04 p.m.
Just like that, Fitzgerald Toussaint proves the Michigan football team can resemble its old self
By Nick Baumgardner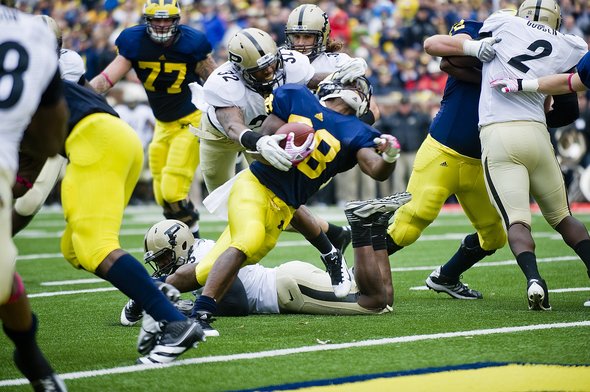 Joseph Tobianski | AnnArbor.com
Fitzgerald Toussaint isn't sure how to explain his trademark moment Saturday.
With the Michigan football team threatening to take control on the opening drive of the second half, the sophomore running back remembers seeing a crease behind sophomore left tackle Taylor Lewan.
From there, things got blurry.
"(There was) a lot of adrenaline," he said. "I just saw (the hole) and hit it.
"And scored a touchdown."
Sounds simple enough. In reality, it was more than that.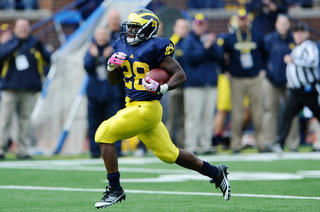 Melanie Maxwell | AnnArbor.com
Toussaint's electrifying 59-yard cutback touchdown not only delivered the dagger in a 36-14 win over Purdue, but it also showed Michigan that
Denard Robinson
isn't the only player on the team capable of running the football.
Two weeks ago in a 28-14 loss to Michigan State, the Wolverine running backs carried the ball just 10 times for 40 yards.
With the backs providing little to no punch offensively, Robinson was forced to become Michigan's exclusive run threat. Partly because of that, he was also subject to immense pressure in the passing game, as he was sacked four times and eventually forced to leave the contest early due to injury.
On Saturday, things were a bit different.
The Michigan running backs combined to carry the ball 33 times for 257 yards and three touchdowns. Toussaint had the highest output (170 yards) by a Wolverine running back since 2009 and became the first player outside of Robinson to receive 20 carries in a game since 2009.
With Toussaint carrying the load, Robinson was able to play more within himself. He still carried the ball 15 times for 63 yards, but didn't appear to take any unnecessary punishment. And outside of one interception, his passing numbers were improved, as he posted a 64 percent completion rate for 170 yards.
Maybe Michigan's offense is a bit more than Denard left, Denard right and Denard up the middle.
Purdue coach Danny Hope said his game plan was mainly focused on stopping shadowing Robinson, not necessarily concerning themselves with Toussaint or anyone else.
"That, predominately, had been their M.O," Hope said.
Not on Saturday.
On Saturday, Michigan's running game looked like the old Michigan. Mike Hart's Michigan. Chris Perry and Tyrone Wheatley's Michigan.
"I wish it looked like that every week," Michigan coach Brady Hoke said. "We want to do our due-diligence of making sure that we're trying to pound the football in there."
The success on the ground was more than strong vision and quick bursts by Toussaint, though. The Wolverines' oft-maligned offensive line found a way to bounce back.
Hoke and Michigan offensive coordinator Al Borges criticized the team's front five earlier in the week, saying their play in the loss to Michigan State wasn't good enough.
The front five listened and responded.
Lewan was banged up, starting guard Ricky Barnum re-injured his ankle, but none of it seemed to matter.
"We didn't get it done (against Michigan State)," fifth-year senior tackle Mark Huyge said. "We were under a little bit of pressure, but we knew if we played our game and executed the way we know we're capable of, then we'd be just fine."
Toussaint wouldn't get into too much detail about whether or not he thinks he can be Michigan's main running threat for the rest of the season, but he really didn't have to.
In the blink of an eye, in a moment too quick to remember, he proved he's Michigan's go-to back.
And just like that, Michigan's offense looked a lot more nostalgic.
"Michigan football, as I know it, is playing defense and being able to run the football and knock people off the line of scrimmage," Hoke said. "That's what, in my mind, Michigan football is."
Nick Baumgardner covers Michigan sports for AnnArbor.com. He can be reached at 734-623-2514, by email at nickbaumgardner@annarbor.com and followed on Twitter @nickbaumgardner.