Posted on
Wed, Aug 10, 2011 : 10:32 p.m.
Keep Denard Robinson 'in one piece,' and the Michigan offense is in great shape, Al Borges says
By Kyle Meinke
Al Borges held his first news conference of fall camp Wednesday, and he said exactly what he's been saying since he became Michigan's offensive coordinator in January.
Junior quarterback Denard Robinson is an explosive runner, and he will run this year, despite the fact Michigan is implementing a pro-style offense and scrapping the spread-option attack he was recruited to operate.
He'll just run less. There's a reason for that.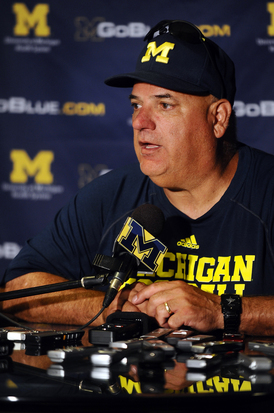 Melanie Maxwell | AnnArbor.com
"(The offense is) different in that he's going to be under center some, but it's the same in that he's going to be in shotgun some," Borges said. "He's still going to be running the football. A lot of stuff you're going to see and (say), 'Oh, I've seen that before.'
"As a play caller, you go into games with a plan. But then all of the sudden things change and they can't stop him. Now, I was born at night, but I wasn't born last night. Call his number, give him a chance, but (we'll) try not to (get him) beat up."
Robinson rushed for 1,702 yards last year, an NCAA record for a quarterback, and finished sixth in Heisman Trophy voting. The problem, though, was it took him 256 carries to do it.
That's an average of 19.7 carries per game, a workload typically reserved for a featured back. It took its toll on the 6-foot, 195-pound Robinson, who left several games with injury last year.
He averaged 7.8 yards per carry in his first eight games, but just 4.4 in the final five.
"The one thing that jumped out to me as I studied tape from last year is they were a different team when he wasn't in there," Borges said.
Robinson's ability to stay on the field is accentuated by the transfer of last year's primary backup, Tate Forcier, who now is at San Jose State. Sophomore Devin Gardner has an impressive skill-set, but little game experience.
Borges said Robinson is "on schedule" in picking up the new offense. His two biggest objectives for fall camp are developing timing with his receivers, who are running new routes, and improving his footwork.
"Because we're trying to get to more of a power-offense style," Borges said, "we're trying to take some of the burden off him as a runner and, more than anything, try to keep him in one piece."
Borges declined to say how much he planned to run Robinson, saying it would depend both on game context and how opponents defend the quarterback. Regardless, though, Robinson won't come close to matching his 256 rushes of last year.
That's where the addition of a lead tailback enters the fold.
Borges and head coach Brady Hoke have said they're eschewing the running back-by-committee approach of the past three years, and holding tryouts this fall to find a back who will carry the ball 20 times per game.
Senior Michael Shaw, sophomore Stephen Hopkins and true freshman Thomas Rawls appear to be the three most logical choices to win the job because of their size (big) and style (physical).
Junior Vincent Smith also could vie for the position, and was seen alternating with Shaw on the first offense at Tuesday's practice, although his small, shifty frame may make him better suited as a complementary back.
Borges said the criteria being used for the tailback competition is the ability to win in the open field, break tackles, make people miss, understand pass protection and make catches.
Hoke said last month he was a little "a little concerned" none of the backs separated themselves in the spring. Nothing has changed in fall camp, although Borges said it's difficult for separation to occur now because the team has not yet practiced with pads.
That won't happen until Friday. Then, the competition should ratchet up a notch.
"We won't have a go-to guy until we start tackling," Borges said. "The kids have worked hard, they're in good shape, but until you tackle them, put them in some live situations to see if they can make some opportunities and make some people miss, (you can't determine much)."
Borges said he hopes to soon pare the tailback competition to a couple of guys because it's too difficult to get five backs consistent carries. That probably will happen after just a couple of padded practices.
When does Borges hope to name his lead back?
"Yesterday, if we could," he said. "You want a decision ASAP, but you don't want to make a wrong decision. You want to make a right decision, and if it takes a little longer, then so be it."
Kyle Meinke covers Michigan football for AnnArbor.com. He can be reached at 734-623-2588, by email at kylemeinke@annarbor.com and followed on Twitter @kmeinke.