Posted on
Fri, Aug 10, 2012 : 5:59 a.m.
Kenny Demens finally finding consistency as anchor of Michigan's linebacker corps
By Kyle Meinke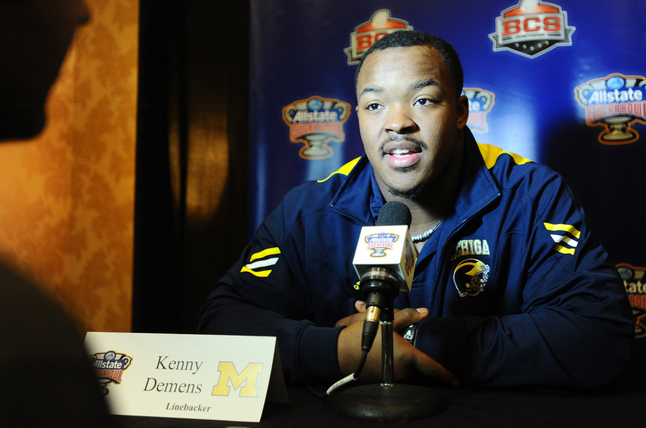 Melanie Maxwell | AnnArbor.com
The secondary has received a lot of attention because it features a nice story in
Jordan Kovacs
, and returns each primary starter. The defensive line has received a lot of attention because it lost three starters and is depending on the underperforming
Will Campbell
to perform.
But what about the linebackers?
The Michigan football team returns all three starters from last year, and loses one only player -- lightly used J.B. Fitzgerald -- from the two-deep. It could turn out to be one of the Wolverines' steadiest position groups.
Coach Brady Hoke said after Thursday's practice that he had already seen enough to believe the linebackers will be a source of strength this year, even though the Wolverines' first practice in full pads wasn't until Friday.
But Hoke didn't need to see pads on his linebackers to know they have improved between the ears.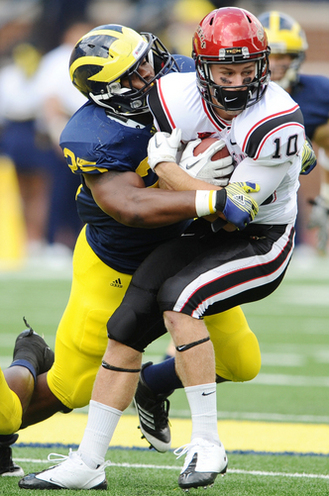 Melanie Maxwell | AnnArbor.com
"A year ago, they'd line up -- and especially early in the year -- they'd line up and really probably wouldn't understand what the strength of the defense was, or the weakness of the defense, and what you're trying to accomplish," Hoke said.
"So from a conceptual standpoint, they understand better the concepts of why you call certain things."
The linebackers are younger at the corners, where they will start sophomores Desmond Morgan on the weak side and Jake Ryan on the strong side, but are anchored by fifth-year senior Kenny Demens in the middle.
Demens led the Wolverines in tackles last year with 94 -- 16 more than anyone else.
Yet, asked to grade himself, Demens said he was just "OK," and cited a hamstring injury that slowed him down.
Hoke said Demens was inconsistent -- but now that he's a senior, he has matured to a point where he has become a steadier hand in the middle.
"Some guys, after a year, kind of get it and mature," Hoke said. "Some guys it takes three years, some guys it takes four years."
Demens took longer to come around, but appears to be figuring it out.
"Kenny is a guy who is probably more committed, understands a little more about the team and accountability," Hoke said. "I think he's playing a little more consistently than he did."
Demens said a turning point came during the seniors' leadership seminar in Southern California, when a group of 22 players worked under the tutelage of the U.S. Navy SEALs.
While several players have spoken about how beneficial the training was for them, it really hit home for Demens. His biggest lesson, he said, was learning about the importance of functioning within a team -- something bigger than himself.
WIN UM vs. ALABAMA TICKETS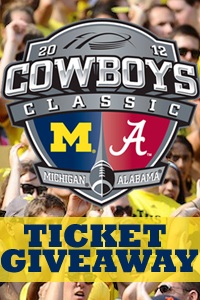 Want to check out Michigan take on defending national champion Alabama?
Click here to visit the AnnArbor.com Michigan Football News and Views Facebook page
and vote for who will be the Wolverines' most important player, besides Denard Robinson, in the 2012 season. That vote will earn you a chance to win three free tickets.
On the field, Demens' growing comfort level with Michigan's defense certainly helps. He enjoyed playing last season in the 4-3 scheme of coordinator
Greg Mattison
, who had spent the previous three season with the NFL's Baltimore Ravens.
"With the Ravens defense coming here, it was kind of exciting -- fun -- to learn their scheme and watch Ray Lewis and Ed Reed and those guys," Demens said. "We kept hearing (in previous seasons) about how Michigan defenses played, tradition, and the guys who came before us and how well they played.
"Just to get things back rolling, and just sort of make a name for ourselves, it was kind of exciting, kind of fun. Hopefully years down the line, other teams can say the same about us."
Demens said he's primed for an even better season, now that he's in the second year of Mattison's scheme -- marking the first time he has had the same coordinator and scheme in consecutive years since entering the lineup.
He said this is the most comfortable he's ever felt entering a season.
"It's not as much thinking," he said. "That's huge. You want to get in a rhythm, you want to feel comfortable. And we have Coach Mattison back, our defense back, a lot of the same guys, a lot of young guys and we're just ready to roll."
Hoke said senior Brandin Hawthorne and true freshman Joe Bolden have stood out among the reserve linebackers. It's possible Bolden takes over as Demens' backup in the middle.
Kyle Meinke covers Michigan football for AnnArbor.com. He can be reached at 734-623-2588, by email at kylemeinke@annarbor.com and followed on Twitter @kmeinke.