Posted on
Thu, Mar 22, 2012 : 10:16 p.m.
Legs, arm and mouth: Michigan quarterback Denard Robinson trying to become triple threat
By Kyle Meinke
Denard Robinson's arm is going to be closely scrutinized heading into next season, but there's another body part that could be just as consequential to the Michigan football team's fate.
His mouth.
The Wolverines' senior -- still weird to say, right? -- quarterback has been known for his effervescent smile since he first stepped foot on campus as an 18-year-old country kid from Deerfield Beach, Fla. Four years later, the shy Robinson is trying to mold himself into a team leader.
That means knowing when to wipe away that smile and kick someone in the rear.
"Sometimes, you have to get up in 'em," Robinson said of motivating others. "You can't always be nice to them. I can't always have a smile on my face."
He said it, of course, with a wide smile.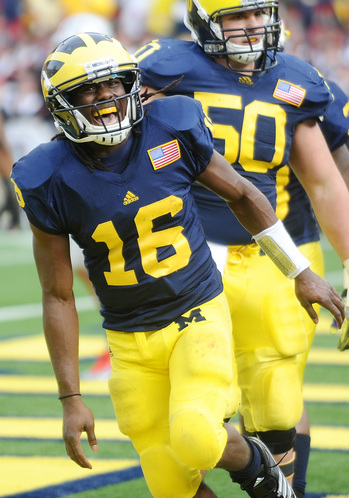 Angela J. Cesere | AnnArbor.com
Robinson became close over the years to his former center, David Molk, a captain who was known for his vocal, sometimes-brash leadership style.
Soft spoken by nature, Robinson hopes to adapt that kind of demeanor himself and is learning to open up. That effort was on display during his 8-minute news conference Thursday night, when he was more outgoing and articulate than at pretty much any point last season.
He appears to be taking this leadership business seriously, and it's something teammates have noticed.
"He's been outgoing," senior receiver and close friend Roy Roundtree said. "Being the quarterback, that's what it takes, because everyone's looking up to the quarterback.
"He was just saying all this went by so fast, and now everybody is going to be looking up to him. ... He was a shy kid coming in, but now he's matured more. (I'm) just giving him extra points, because he wasn't like that at first."
How far has Robinson come? When he first came to Ann Arbor, Roundtree couldn't even understand the play calls in the huddle because "he's so country."
"(Now), you can actually hear the play fluent in the huddle," Roundtree said. "We've finally gotten him to be assertive enough that we can understand his play calls."
Robinson also has taken to becoming more visible around campus, attending several sporting events that span sports such as men's and women's basketball, to hockey and track.
He was never more visible, though, than when he received a shout-out from President Barack Obama during a campus visit Jan. 27.
"That's one of the days I'm going to sit down and tell my grandkids, 'Look, I got a story for you,'" Robinson said. "As soon as I got done meeting him, I called my mom, dad, brothers, and told them, 'I just met the President! I just met the President of the United States!'
"(Offensive lineman) Patrick (Omameh) was right next to me, and was just like, 'Oh my gosh, he really just called your name, man!' And I was like, 'This is crazy.'"
Of course, becoming the face of the program, and a leader of it, also means greater expectations for Robinson. He understands that's the deal.
Robinson has worked hard in the offseason to make better reads, which would improve his accuracy and cut down on his turnovers, two problems that periodically plagued him last year. He completed only 55 percent of his passes, a 7.5-percent dip from 2010, and threw 15 interceptions, sixth most in the country.
"I'm going to tell you this: I play quarterback, and the No. 1 thing about a quarterback is always take care of the ball," Robinson said. "I had 15 interceptions. That's not acceptable as a quarterback, and is something I need to work on."
Robinson identified a technical flaw in his game, noticing that many of his errant passes came when he threw off his back foot. He's working to right that.
He also has immersed himself in film study, and already is making quicker decisions. Coach Brady Hoke said the quarterback's greatest area of growth through four spring practices has been his decisiveness in the passing game.
"All offseason, I've been watching film, seeing the reads I should have made and how many touchdowns I missed," Robinson said. "So this year, hopefully, I won't have that many mistakes."
It appears he's already learning from the ones he made, and that's as good a start as any.
Kyle Meinke covers Michigan football for AnnArbor.com. He can be reached at 734-623-2588, by email at kylemeinke@annarbor.com and followed on Twitter @kmeinke.