Posted on
Fri, Jan 27, 2012 : 11:26 a.m.
Obama in Ann Arbor: Michigan quarterback Denard Robinson gets shout-out from president
By Kyle Meinke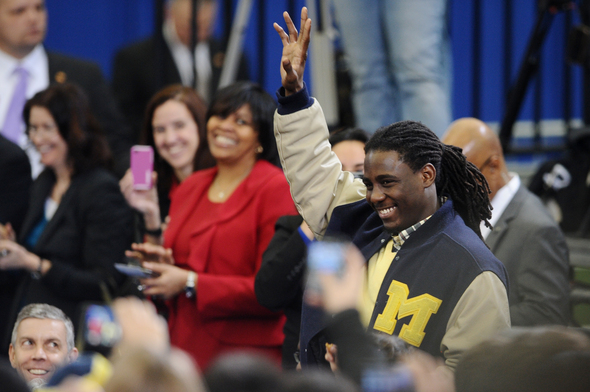 Melanie Maxwell | AnnArbor.com
(Related: Mega guide to the president's visit)
Denard Robinson is a rock star. There's just no other way to put it.
The Michigan football team's senior-to-be quarterback met LeBron James earlier in the week. Then, he got a shout-out this morning from, of all people, the commander in chief.
"Denard Robinson's in the house!" President Barack Obama said during his visit to the Ann Arbor campus on Friday. "I hear you're coming back, man! That is a good deal for Michigan!"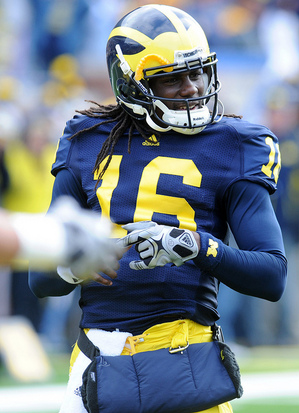 Melanie Maxwell I AnnArbor.com
Robinson filed paperwork after the regular season to have his pro stock evaluated by the NFL draft advisory board. He elected to return for his senior season.
His president approves.
Later, someone in the crowd yelled to Obama, "Denard for president!"
From the Big House to the White House?
"They're trying to draft you for president," Obama quipped. "He's gotta graduate before he runs for President."
Obama's references to Robinson and Michigan athletics might be viewed as sly or off the cuff, but one political expert said it's strategy.
"He wants the audience to know that he's not just dropping in without any knowledge about the local venues," said Michael Traugott, a University of Michigan political scientist. "They use these kinds of references to make clear they know something about the local culture and the local atmosphere."
Obama was at the University of Michigan to speak about higher education funding. And, as he was sure to note for the audience, his blueprint is blue.
His speech was at the Al Glick Fieldhouse, which is an indoor football facility near Schembechler Hall. It is named after Al Glick, a prominent donor to the athletic program.
Kyle Meinke covers Michigan football for AnnArbor.com. He can be reached at 734-623-2588, by email at kylemeinke@annarbor.com and followed on Twitter @kmeinke.