Posted on
Tue, Dec 6, 2011 : 2:42 p.m.
LSU defensive coordinator tops Michigan's Greg Mattison, others for national assistant of the year award
By Kyle Meinke
Greg Mattison was the architect of the nation's most improved defense this year.
It was not enough to earn him assistant of the year honors.
The National College Football Awards Association announced on Tuesday afternoon that LSU defensive coordinator John Chavis has won the Broyles Award, which honors the nation's top assistant coach.
Mattison, the Michigan football team's defensive coordinator, had made the group of five finalists and was considered a major contender to join former defensive coordinator Jim Herrmann as the Wolverines' only Broyles winners.
Herrmann guided the vaunted 1997 defense that led the school to its last national championship.
Mattison, ironically, also had a hand in that defense. He was a Michigan assistant from 1992-96, and established the foundation for that imposing 1997 unit, which allowed only 9.5 points per game.
That makes this year's 17.2 points allowed per game seem inflated by comparison -- but, considering what Mattison inherited, this coaching job might be his best work yet.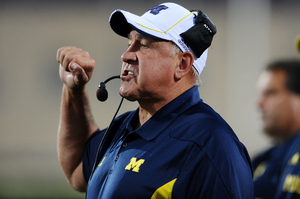 The Wolverines allowed a program-worst 35.2 points per game last year, tied for 107th in the country. That's an improvement of 18 points per game and 98 spots in the rankings, and Mattison did it with largely the same players as last year's historically bad outfit.
Michigan didn't allowed 35 points in a single game this year.
Mattison set the tone for the defensive renaissance with his 4-3 scheme and emphasis on fundamentals, which formed the foundation for the country's No. 7 scoring defense and No. 18 overall defense.
The Wolverines featured the best rush defense in Big Ten play, a strength they leaned on to go 10-2 and earn a berth in the Sugar Bowl. They will play No. 11 Virginia Tech (11-2) on Jan. 3 in New Orleans.
Mattison addressed the defense's improvement during his last session with the media, which came before the regular-season finale against Ohio State.
"This defense, it'll go down — you'll probably remember this defense more than any other defense because of how they have bought in," he said, referring to both scheme and philosophy changes. "I've said it all along, these kids come out every day and every meeting to get better, and everything you talk to them about and every drill they do, they try to get better.
"They've done it all year, and I'm happy for them that they're having some success because it shows that it's worth what they're doing."
Mattison, originally from Madison, Wis., is in his 34th year as a college football assistant. He also spent the past three years with the NFL's Baltimore Ravens.
Besides Michigan, Mattison also has coached at Florida (2005-07), Notre Dame (1997-2004), Texas A&M (1989-91), Navy (1987-88), Western Michigan (1982-86), Northwestern (1978-80), Cornell (1977) and Illinois (1976). He began his coaching career as head coach at Riverdale High School in Muscoda, Wis. in 1971.
The other finalists for the Broyles Award were Wisconsin offensive coordinator Paul Chryst, Arkansas offensive coordinator Garrick McGee and Alabama linebackers/assistant head coach Sal Sunseri.
Virginia Tech offensive coordinator Bryan Stinespring, whom Michigan will face in the Sugar Bowl, was among the original 29 nominees for the award.
Kyle Meinke covers Michigan football for AnnArbor.com. He can be reached at 734-623-2588, by email at kylemeinke@annarbor.com and followed on Twitter @kmeinke.