Posted on
Thu, Aug 12, 2010 : 6 a.m.
Michigan officials and football coach Rich Rodriguez head to Seattle to defend the program
By Michael Rothstein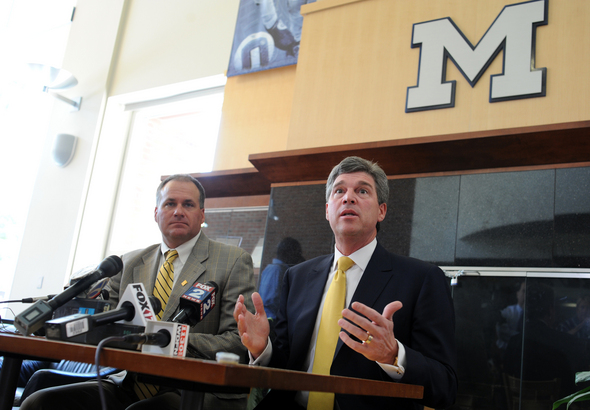 Melanie Maxwell | AnnArbor.com
When the University of Michigan contingent flies across three time zones to Seattle on Friday to face the NCAA Committee on Infractions and defend its football program regarding five major violations, one person will feel the most heat.
That's Michigan football coach Rich Rodriguez.
He has been the face of Michigan football since he was hired late in 2007. He has dealt with the fallout from a Detroit Free Press series of articles that spawned a year-long investigation into his practice schedules. It is Rodriguez who hired a separate attorney to draw up a long defense of his position against the NCAA allegations.
It is Rodriguez who held a tearful press conference the Monday before the first game of the 2009 season to talk about accusations against his program.
For Rodriguez, this weekend is the culmination of a year of turmoil and frustration. He's met with more lawyers than he ever wanted to. He's sat in more meetings unrelated to on-field football than he probably would have liked. He's gone through at least one practice session to prepare for this weekend, when he'll defend himself and Michigan against allegations that:
• Quality-control staff members regularly monitored voluntary off-season workouts and regularly assisted with on- and off-field coaching duties.
• Players were required to participate in more than the maximum allowed practice hours.
• Graduate assistant coach Alex Herron provided "false and misleading information" to NCAA enforcement staff.
• The athletic department "failed to adequately monitor its football program to assure" NCAA compliance.
• Rodriguez "failed to promote an atmosphere of compliance within the football program and failed to adequately monitor the duties and activities" of his quality-control staff.
Michigan agreed with four of the five allegations, outlined several self-imposed sanctions and changed its internal guidelines. The only point Michigan is fighting centers on Rodriguez failing to promote an atmosphere of compliance.
"They say no matter what you do, there are going to be questions fired at you and everything and you have to be prepared to answer this and that," Rodriguez said. "But the institution has done a great job of preparing things and responses and preparing us for the hearing.
"We'll go over there and tell them everything that they want to hear and talk to them about the situation. And as soon as we get on the plane, my mind is going to go right back to two-a-days."
Throughout the year-long process, Rodriguez has appeared most comfortable on the field, especially during practice. It is the practice field, where he has spent the majority of the past three decades of his life, where he can escape.
Not that it's been that much easier on the sidelines, as Michigan has an 8-16 record under Rodriguez. But that is stuff he can control and attempt to fix.
With the NCAA hearing, the damage has been done. Michigan athletic director Dave Brandon, Rodriguez and the rest of the school's contingent scheduled to speak in front of the NCAA can do is answer questions, leave the conference room and wait.
Even then, the timing could work poorly for Michigan. Usually, the committee takes anywhere from seven to 10 weeks to announce its final decision, which could come in the middle of the football season.
"The timing is obviously not the best," Rodriguez said. "You'd rather have the timing be something different, but it is what it is. That's the way the calendar falls and the way the timing is going to be.
"We'll prep our guys for it."
In many ways, that might not be an issue. Michigan's players spent part of their summers at home and inevitably, the Wolverines' on- and off-the-field issues came up.
Most laughed it off.
"People tend to make jokes," senior cornerback Troy Woolfolk said. "That y'all are over there trying to break rules and cheat. But they are just haters, they really don't know what's going on.
"It was all just unintentional, really, we didn't actually know what we were doing. We've all done a better job of just paying attention to the details, not only talking about football but coaches as well, with paying attention to detail as far as what we can and can not do."
Now, with camp starting, it becomes even easier for Michigan's players to dismiss allegation conversation. Because they know that no matter what they do - even what Rodriguez does after defending himself one final time Saturday - it won't change anything off the field.
"We don't really worry about that, care about that too much," Michigan guard Steve Schilling said. "We know that our athletic director and administrators and coaches are going to deal with that stuff and we have to play football and go to school.
"We do those two things right, and everything else will go from there."
Michael Rothstein covers University of Michigan basketball for AnnArbor.com. He can be reached at (734) 623-2558, by e-mail at michaelrothstein@annarbor.com or follow along on Twitter @mikerothstein