Posted on
Fri, Feb 1, 2013 : 1:04 p.m.
Michigan athletic department describes its 'catfishing' of student athletes
By Pete Cunningham
The dangers of being lured into an online relationship with someone after being contacted on social media have been front and center in the news since it was revealed that Notre Dame linebacker Manti Te'o supposed girlfriend was fake.
The Michigan athletic department has been preparing its athletes for similar dangers since 2011 according to athletic director Dave Brandon.
Speaking at the Distinguished Global Leaders forum at the University of Toledo College of Business and Innovation on Friday, Michigan athletic director Brandon talked about the department's use of the company 180 Communications Inc. to educate athletes on the dangers of social media.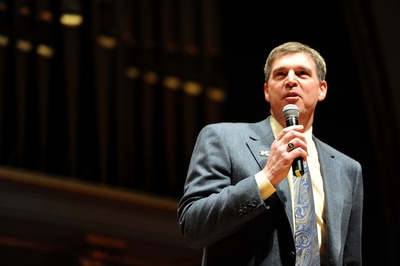 AnnArbor.com file photo
According to Tweets from
Kyle Rowland
, a writer for
ElevenWarriors.com
-- a website that covers Ohio State athletics -- Brandon revealed to the forum that Michigan had "catfished" several athletes.
Associate athletic director David Ablauf explained that "catfishing," commonly used to describe creating and maintaining a relationship through a fake persona via social media, isn't an accurate way to describe what the department had done.
According to Ablauf, the athletic department had 180 Communications give a presentation to the men's and women's basketball teams and the football team in the fall of 2011. A female employee of 180 Communications -- described by Brandon and Michigan football coach Brady Hoke as attractive -- had friended several of the athletes on Facebook and followed them on Twitter in the weeks before the presentation to gain access to their public posts.
Ablauf said the employee of 180 Communications then gathered several of the posts, some of which were directed to her, to show how easily someone could access their information and use it against them.
"She showed them things that could be misconstrued that weren't appropriate for public consumption," Ablauf said. "It was a very powerful message of how to use media and social media."
Ablauf said the 180 Communications Inc. employee did not contact the athletes and bait them into saying anything, which is being widely reported. He said her interaction with the athletes was limited to making a friend request or following them and gathered what was public from there.
"She didn't communicate or maintain a relationship. She asked to be liked or followed," Ablauf said. "I think people jumped to that conclusion because that's what's in the news right now with the Te'o thing and that's inaccurate."
Ablauf said the department expanded the presentation to include every Michigan sports team in 2012 in order to get out a message about personal branding, interaction with the media and the dangers of social media.
"What we're tryng to do at Michigan is not teach them just about their four years at Michigan. Future employers look at what they post on Facebook and Twitter," Ablauf said. "You have a lifetime to build a reputation and in a poor tweet or post that can really hurt what you've worked for and employers can access that very easily."
Pete Cunningham covers sports for AnnArbor.com. He can be reached at petercunningham@annarbor.com. Follow him on Twitter @petcunningham.