Posted on
Tue, Apr 27, 2010 : 8:51 a.m.
Michigan athletic director Dave Brandon says the university is on schedule for its response to the NCAA
By Michael Rothstein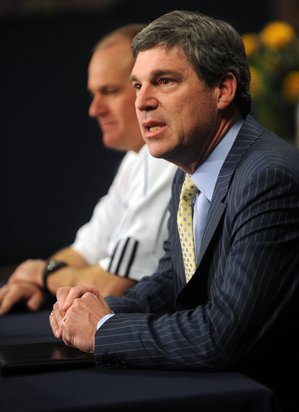 Michigan athletic director
Dave Brandon
said Monday everything is on schedule for the school's response to the NCAA regarding the Notice of Allegations the university received from the organization in February.
"The timetable doesn't change," Brandon said after being a guest on the Michigan coaches radio show Monday. "No change."
Michigan is required to submit its response by May 24. While Brandon declined to go into details about specifics regarding the investigation, he said he has been involved in every aspects of what is being prepared for both the response and the upcoming meeting in front of the Committee on Infractions on Aug. 13-14 in Seattle.
Michigan is responding to the Notice of Allegations which alleged five infractions against the university's football program, including the allowed limit of coaches in restricted activities, exceeding NCAA-mandated time limits on practice hours, that Michigan football coach Rich Rodriguez failed to promote an atmosphere of compliance and that then-graduate assistant coach Alex Herron lied to NCAA investigators.
"I participate in everything because at the end of the day, I'll be one of those that goes before the infractions committee," Brandon said. "And to the extent we put in place self-imposed penalties, that's certainly going to be something I'm integrally involved in."
Brandon did not go into specifics as to what those penalties might be.
He also said Michigan is paying attention to the investigation taking place at West Virginia, but that Michigan has "nothing to do with that."
"We'll find out information as you do, as the public does so far as I know," Brandon said. "We don't have any real standing or position in that. We'll sit back with interest as a lot of people are, I suppose, to try and find out what that's about but we will not be involved in that process."
The one thing Brandon was clear about Monday was his support of Rodriguez - something that has not wavered since Brandon officially took over for Bill Martin on March 8. He said then that Rodriguez would be Michigan's football coach this year.
And he has said it often since to the point where he is tired of, well, repeating himself.
"I understand it but it's amazing to me people keep asking the question wondering if they'll get a different answer," Brandon said. "And they're not. So they can keep asking it over and over and over again but they're not going to get a different answer."
Michael Rothstein covers University of Michigan sports for AnnArbor.com. He can be reached at (734) 623-2558, by e-mail at michaelrothstein@annarbor.com or follow along on Twitter @mikerothstein.