Posted on
Mon, Feb 8, 2010 : 2:12 p.m.
Michigan coach Rich Rodriguez favors early signing period for recruiting
By Dave Birkett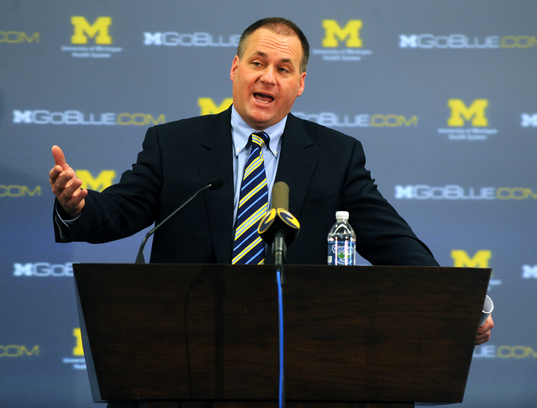 Lon Horwedel | AnnArbor.com
Michigan didn't suffer any last-minute defections in its 2010 recruiting class, but that doesn't mean coach Rich Rodriguez was without his nervous moments on signing day.
"You think everybody's going to sign, but until they sign do you really know for sure?" Rodriguez said last week. "And there was a little bit of drama with a couple guys, but it was less this year than it was probably the last five or six years that I've had this."
Besides the signing-day commitments of Demar Dorsey (to Michigan over Florida State) and Sean Parker (to Washington over Michigan), Rodriguez rode an emotional tidal wave awaiting the decision of Huber Heights (Ohio) Wayne defensive tackle Terry Talbott.
Talbott committed to Michigan last summer, but wavered after visiting North Carolina last month.
Wayne coach Jay Minton said Talbott finally decided on Michigan over North Carolina signing day morning.
"If I could write a book about (his recruitment), it'd probably be a best-seller," Minton said. "These college guys, they're pros at it, they're pros at spinning a kid's head and making him try to change minds and all that. And North Carolina had some of the best out there. Butch Davis, the head coach, could sell moss off a rock, and they have a defensive line coach John Blake. These guys, Terry wasn't dealing with any first-year guys or want-to-bes or has-beens, he's dealing with the guys that are the top of the top of the list here in knowing how to do this."
Minton said he couldn't call Talbott's recruiting contact, Michigan defensive line coach Bruce Tall, back "for the longest time" because he didn't know what Talbott was going to do.
"It was such a good call (Wednesday) to say, 'Hey, congratulations, you weathered that storm,'" Minton said. "And it wasn't so much that North Carolina's better than Michigan, it's just that these young men, wow, the bill of goods that they would just sell them, wow."
Rodriguez said he favors an early signing day, one that coincides with the junior-college signing period in mid-December, to eliminate some of the last-minute poaching that goes on.
"But I think if there's a coaching change after that, I think the NCAA should allow (recruits) a waiver to get out of that" letter of intent, Rodriguez said. "Even if they enroll.
"Usually, coaching changes occur before mid-December, but say something happens like the situation at Tennessee (where Lane Kiffin left for USC in January). I do think there is merit to if the coach does leave then maybe that waiver process should kick in and maybe the kids have the opportunity to leave without being penalized. I can understand that for sure."
Dave Birkett covers University of Michigan football for AnnArbor.com. He can be reached by phone at 734-623-2552 or by e-mail at davidbirkett@annarbor.com. Follow him on Twitter @davebirkett.