Posted on
Tue, May 25, 2010 : 7:03 a.m.
Michigan coach Rich Rodriguez's response: Lots of blame to go around
By Dave Birkett
When the NCAA served Michigan with a Notice of Allegations in February, one charge stood out as the most serious: Michigan coach Rich Rodriguez was accused of failing to promote an atmosphere of compliance within his football program and failing to monitor his support staff.
Rodriguez and the university disputed the first half of that charge in their formal responses released Monday, and whether the NCAA agrees ultimately could determine if college sports' ruling body accepts Michigan's self-imposed penalties or not.
Michigan placed itself on two years probation, issued letters of reprimand to Rodriguez and six others, cut 130 hours of practice time over the next two years and reduced its quality-control staff from five to three.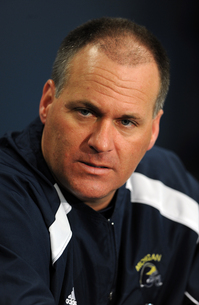 AnnArbor.com file photo
In his response, crafted with the help of personal attorney Scott Tompsett, Rodriguez took issue with the NCAA's ambiguous rules and pointed to breakdowns throughout the athletic and compliance departments as central factors in Michigan's violations.
The university admitted to multiple instances of exceeding NCAA limits on staff size and practice time, as well as failing to monitor its football program.
"Violations went undetected because several Michigan staff members, including Rodriguez, were not paying close enough attention," Rodriguez's response said. "In short, there was a collective failure that resulted in the violations in this case."
Michigan athletic director Dave Brandon said late Monday night that collective failure led the university to conclude "that Rich should not be found to be guilty of fostering an environment or an atmosphere of non-compliance."
"There were failures down the chain of command," Brandon said. "We believe in looking at all of those circumstances that although there were things that could have been done better - and Rich would be the first to admit that mistakes were made - those mistakes were shared mistakes across the entire department and involve several people. To apply more or less blame to any one person in our judgment would be inappropriate."
Quality-control staff

Rodriguez acknowledged that his quality-control assistants - administrative helpers who don't have actual coaching duties - overstepped their duties on several occasions.
They sat in on film sessions they weren't supposed to. They attended coaches meetings that were off limits. And they took part in summer skill-development workouts that were restricted to non-sport specific strength coaches, trainers who work with multiple athletic teams.
But Rodriguez disputed charges that his quality-control staff improperly took part in winter workouts, an allegation Michigan accepted as fact.
In his response, Rodriguez argued that his quality-control assistants doubled as part-time strength coaches, something his filing says the NCAA allows and "Michigan's chief compliance officer" - associate athletic director Judy Van Horn - "told the enforcement staff" may be "permissible."
Michigan's compliance department, according to the filing, asked for job descriptions for Rodriguez's quality-control assistants in August of 2008, shortly after Rodriguez circulated one at a coaching retreat that included "assist strength coach with skill development" as part of each quality-control staffer's duties.
In early September, assistant athletic director for compliance Ann Vollano asked assistant athletic director for football Scott Draper for the description again, but the filing indicates no description was provided until Aug. 28, 2009.
In his response, Rodriguez said he's to blame for "not understanding that quality control could not participate in summer workouts" but "very disappointed that his administrators failed to provide the job descriptions on multiple occasions and … that the compliance staff never brought their failure to his attention."
Rodriguez also argued that the NCAA too broadly defined "coaching activities" and that workouts where taped towels and mini basketballs were used to simulate footballs should be lumped in the "skill-development" category instead.
Countable hours

Michigan admitted to exceeding NCAA rules on practice time by 65 hours in Rodriguez's first two seasons - 24 during winter conditioning, 32 in summer workouts and nine in season.
Rodriguez said in his response that 57 of those hours were due to misinterpreting what was or was not a Countable Athletically Related Activity (CARA).

"The strength staff mistakenly believed that certain warm-up activities did not count toward the CARA limits," Rodriguez's response said. "The strength staff communicated with the compliance staff to confirm its understanding, but those communications did not correct the strength staff's misunderstanding."
According to the filing, Michigan strength coach Mike Barwis said Vollano "told the entire football staff and team at the start of the 2009 season that warm-up, stretching and cool-down do not count toward the CARA limits" of four hours a day and 20 hours a week in season, and two hours a day and eight hours a week out of season.
Vollano, according to the filing, thought the activities "were done individually and not as a coordinated group."
Along with Rodriguez, Michigan issued letters of reprimand to Barwis, Vollano, Draper, Van Horn, senior associate athletic director Joe Parker and director of football operations Brad Labadie as part of its self-imposed penalties.
According to Rodriguez's response, Labadie was responsible for completing and submitting CARA forms, a self-reporting mechanism that Michigan failed to file in Rodriguez's first season. The forms also were filed late during the 2007 season, before Rodriguez arrived at Michigan, his response said.
Brandon said changes already have been made to Michigan's compliance process to ensure violations like this don't happen again.
"Everybody learned a hard lesson through this," he said. "And hopefully everybody will come out of it stronger, better and sharper in terms of how they're going to engage in their jobs and mange their work going forward."
Dave Birkett covers University of Michigan football for AnnArbor.com. He can be reached by phone at 734-623-2552 or by e-mail at davidbirkett@annarbor.com. Follow him on Twitter @davebirkett.