Michigan football coaches begin spring recruiting period Monday
Posted on Mon, Apr 26, 2010 : 3:30 p.m.
Michigan football coaches hit the road today for the start of their four-week spring evaluation period.
With just 12 seniors on the roster, the Wolverines have a limited number of scholarships to give for 2011 and are being selective early in the recruiting process. They have four non-binding verbal commitments - from defensive end Brennen Beyer, receiver Shawn Conway and defensive backs Greg Brown and Delonte Hollowell - and are targeting a few specific areas in next year's class.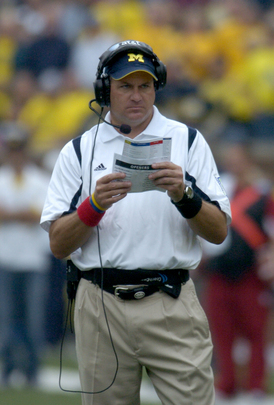 Angela J. Cesere | AnnArbor.com
"I think it's a good class so far," said
Allen Trieu
, Midwest recruiting manager for
Scout.com
. "It's Midwest based. You have three guys from the state of Michigan (in Beyer, Conway and Hollowell).
"They've kind of taken some flack - a little bit of unnecessary flack, I think, for not recruiting the state. I don't know that this is in reaction to that. I think it just happened that these were the guys that committed. But you got three guys on defense. I think that's purposeful to lock down some defense."
With two potential starters graduating on the offensive line (Steve Schilling, Perry Dorrestein) and at linebacker (Jonas Mouton, Obi Ezeh), Trieu said he expects Michigan to target those positions in recruiting.
The secondary is another area of concern, especially if 2010 cornerback recruit Demar Dorsey ends up in junior college, and Michigan coach Rich Rodriguez likes to sign at least one quarterback and several tailback/slot types in every class.
"Linebacker is huge," Trieu said. "That's probably one of the spots that they're really going to be hitting the hardest. They're losing a couple starters and they've struggled a little bit there anyway. They brought in a few commits late last year, but I think getting a big-time linebacker commit would be huge for this class."
Michigan has offered a number of blue-chip linebackers, including Springfield (Ohio) South's Trey DePriest and Richmond (Va.) Hermitage's Curtis Grant. New Orleans St. Augustine teammates Trai Turner and Jonah Austin are offensive line targets, as is in-state prospect Anthony Zettel. And Trieu said Michigan coaches were expected at Madison Heights Madison to visit athlete prospect Valdez Showers on Monday.
Trieu said "a lot of the recruits that I've talked to have expressed concern about not only (Michigan's) coaching situation but also the" allegations of five NCAA violations hanging over the program.
For that reason, he said Michigan's biggest recruiting gains this spring may come from getting prospects and their parents on campus for events like the BBQ at the Big House, a May 22 mixer that ends the evaluation period.
"There's been a lot of negativity around the program, and especially for the recruits," Trieu said. "I think other schools have been able to use negative recruiting against them. It makes it more important to meet the coaching staff and get a feel for them. I think that's most important thing is are these guys as bad as the press clippings? They get in front of them, they get to meet them and they say, 'All right, these guys are just coaches like everyone else.' And they see everything else the school has to offer, too."
More Trieu Trieu offered a brief assessment of the four recruits already verbally committed to Michigan:
• DE Brennen Beyer, (6-4, 218) Canton: "Beyer was a great kid to get. Had this gone a little bit further, I think he would have picked up even more (offers). He had a pretty good offer list already, but I think the whole country was going to get in on this guy. He's a special player, I think."
• WR Shawn Conway, (6-3, 185) Birmingham Seaholm: "Conway is another kid who, they got on him early. He's a guy who's just super high potential. He's not a finished product by any means. He is athletic, he has some gifts physically that can't be taught."
• DBs Greg Brown, (5-10, 155) Fremont (Ohio) Ross; and Delonte Hollowell, (5-8, 164) Detroit Cass Tech: "The two corners were two guys that had ties to Michigan. Greg Brown, with Charles Woodson as his mentor, and Hollowell being a Cass Tech guy. So those are two good commits to get. Are they top, elite corners in the country? Probably not, but they're going to be good program guys. They're good, solid players. I think they can contribute."