Posted on
Sun, Mar 14, 2010 : 6:05 a.m.
At stake for Michigan football program in NCAA case: practice time, probation
By David Jesse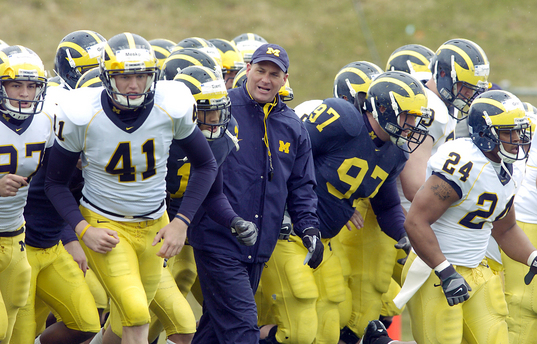 Sitting in a hotel conference room near Metro Airport in April 2008, Rich Rodriguez defended himself when a West Virginia University attorney asked him about following NCAA rules as the Mountaineers' head football coach.
Rodriguez said he always followed NCAA rules, saying at one point, "I take great pride in that … as my staff has for many, many years.">
This August, Rodriguez again will be in a hotel conference room answering questions about his program. This time, the questions will come from the NCAA, which has filed five major rules violations against Rodriguez and his University of Michigan football program.
One of them, an allegation that Rodriguez failed to foster an atmosphere of compliance in his program, has been brought against six other coaches in the five years since the rule was enacted, according to an AnnArbor.com analysis of the 149 NCAA rules infractions cases settled since 2000.
In its review and in discussions with 10 former members of the NCAA enforcement staff and infractions committee, AnnArbor.com found penalties for the violation have included a loss of practice time with the team, loss of recruiting visit time and being required to attend an NCAA rules seminar.
Officials designed the rule to place more responsibility on the head coach when violations occur, said Mark Jones, chair of the Collegiate Sports Practice at the Indianapolis law firm of ICE Miller and the former managing director of enforcement for the NCAA.

"You'll probably see it more often going forward," he said. "It used to be that if you thought the head coach was asleep at the wheel, the only rule to cite them on (was loss of institutional control). Now we have a better rule."
Michigan also could face the loss of scholarships, loss of practice time and probation, the review of similar cases shows.
Bruce Kirsh, vice president and athletic director at Franklin Pierce College and a member of Division 2 Committee on Infractions, would not comment specifically on the allegations against Michigan, but said they should be taken seriously.
"The rules are the rules," he said. "When you sign on to be the head coach at Michigan like anywhere else, you know what the rules are, you have the resources, so follow the rules. I think that's where people need to really come from. Is the NCAA manual way too large? Are the rules just (endless)? I think it's been created because of everybody taking advantage and overstepping the boundaries of what really is acceptable."

Allegation: Coaches were misused
During his last two years at West Virginia, Rodriguez approached school officials about upgrades to the football program.
One item under discussion was hiring seven graduate assistants to serve in the strength and conditioning program, court records filed in a 2008 lawsuit against Rodriguez by the university show.
West Virginia athletic director Ed Pastilong said in an April 2008 deposition that he had a "preventative type meeting" with Rodriguez to make sure only permitted assistants took part in coaching duties.
Rodriguez, in his deposition, denied that meeting took place, but was questioned about the role of graduate students.
Q: Were you ever told by anybody that your request for additional graduate assistants in the strength and conditioning program would violate NCAA rules?
A (Rodriguez): No. And that's not true, regarding the number of graduate assistants for the strength and conditioning. You can have as many as you want.
Q: As long as you use them for strength and conditioning?
A: Right.
Q: But if you're using them to help do other things, including coaching, it's a violation of the rules, isn't it?
A: Right. You have to only use the 12 on the field for coaching. We understood the rules.

According to the NCAA, Michigan's compliance office had concerns about Rodriguez's use of quality-control assistants, an entry-level position similar to graduate assistant.
The NCAA said Michigan used quality-control assistants to coach players, help them in their stretching, watch game film with athletes and offer advice and technique tips. Only head coaches, full-time assistants and two denoted graduate assistants per team can take part in those activities, according to NCAA rules.
Eight schools have violated rules on coaching limits since 2000, NCAA records show.
A review of those cases shows the allegation is generally part of a package of other rules violations, like it is in Michigan's case. In several cases, the NCAA has shrunk the coaching staff by one position as punishment.
Allegation: Excessive practice time
In the summer of 2003, an assistant coach at Texas State University-San Marcos approached his head coach, wondering whether the football team was going over the allowed 20-hours-a-week for practice rule.
No, replied head coach Manny Matsakis, according to NCAA documents. Matsakis said flexibility and stretching programs didn't count toward those hours.
Not true, the NCAA ruled in March 2005.
"Had the former head coach been concerned about the classification of these activities, simply consulting the compliance coordinator would have provided a definitive answer. Instead, the former head coach substituted his personal judgment, resulting in the team exceeding practice limits and contributing to the former head coach's broader failure to monitor his program," NCAA officials wrote in their public infractions report.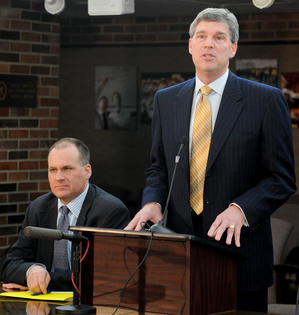 In its Notice of Allegations, the NCAA said Michigan similarly broke rules on practice time from January 2008 to "at least" September 2009 by conducting extra workouts and exceeding practice limits from between 20 minutes to two hours a week.
In a press conference last month, Michigan athletic director Dave Brandon acknowledged some rules on practice time were violated and that "a lack of clarity around whether time spent in stretching and warm-up activities were countable minutes" contributed to the mistake. Coaches can require players to spend up to 20 hours a week in season, eight hours a week out of season and four hours a day on countable athletically related activities like practice, weight lifting and film.
Since 2000, the NCAA has found 34 times that other schools violated the same rules Michigan is alleged to have broken.
In many of those cases, the NCAA has penalized teams by docking them roughly double the amount of practice time they exceeded limits by.
In the Texas State case, "The university believed that it exceeded the practice limitations in football by 26.25 hours. As a result, using a two-for-one penalty reduction, the university reduced practice activities by a total of 53 hours. Specifically, during fall 2003, the university reduced practice time by 33.5 hours. The reduction in spring 2004 was 19.5 hours," according to the public infraction report.

In 2005, Florida International self-imposed a 171-practice-hour reduction after its football team took part in 85-1/2 extra practice hours over a three-year span.
Jo Potuto, who chaired the infractions committee for two years and still occasionally subs on it, declined to speak specifically about Michigan's situation but said the two-for-one penalty is done intentionally.
"Why two-for-one? I suspect it's because that if you only do one-for-one, there's no deterrent effect," she said. "All you're doing is saying you did one, so now just give back one, and I suspect the theory is you don't want to make it an even game as to well, 'I'll go ahead and do it because all that's going to happen is I'm going to lose one anyway.' You want to set it up so that there's more of a consequence than that."
The infractions committee also takes circumstances into account, Jones said, so for example, a school wouldn't lose its entire spring practice time.
"At a minimum, you want to put the school back to where they should be," she said. "Sometimes though, you want to set the program back some."
Some fans discount the allegations as minor, but former NCAA enforcement investigators and former members of the infractions committee say the NCAA considers them serious.
"The NCAA wants to make sure that there's a balance between how much (an athlete) is studying and how much they are practicing. That's why you are seeing this violation more," Jones said.
Allegation: Unethical behavior
Michigan graduate assistant coach Alex Herron is alleged to have violated rules by lying to NCAA investigators. It's the second most common charge the NCAA has levied since 2000, with 94 other instances of coaches breaking that rule.
The NCAA said Herron twice provided "false and misleading information" to its enforcement staff when asked about monitoring summer workouts he wasn't allowed to attend. He is now listed as a staff intern, after spending last year as a graduate assistant coach.
In almost every similar case, the NCAA has placed a "show cause" order on the coach. With that in place, any institution wanting to hire the coach must go before the Committee on Infractions and receive permission to to make the hire until the order expires.
Allegation: University failed to monitor
Ninety-six of the cases adjudicated by the NCAA in the last decade place at least part of the blame for rules violations at the feet of the athletic department, either by saying the school lost institutional control or the institution failed to monitor.
A loss of institutional control is the more serious charge, experts said.
"The failure to monitor is for cases that are more isolated, to the sport, to a rule," Jones said, adding it generally means there aren't systematic failures in the school's overall athletic department.
It is difficult to separate penalties for this specific charge from others in past cases. But experts said a failure to monitor charge generally leads to a probationary period for the university as a whole. The length can vary, depending on the other violations charged.
Probation periods can run from two to five years and put a university under more NCAA scrutiny. Michigan received probation in 2003 for rules violations committed by its basketball program and was under probation when these alleged violations occurred, thus opening it up to repeat offender punishment.
"What it actually means is that all of the schools that recruit against them will say, 'Do you know that Michigan is on probation for two years?' as if somehow that is going to be some heinous penalty," said David Swank, former chairman of the Infractions Committee and now a law professor at Oklahoma University.
"Actually what it really means is that for a period of two years, the NCAA will probably look at them more closely and they have to make an annual report of what they've been doing. But probation really does little beyond, to be quite honest about it," Swank said. "It's a black eye that the school has been placed on probation by the NCAA. No school wants to be placed on probation, but as far as any significant effects other than reputation and how others will use it, it really doesn't do anything else."
Allegation: Rodriguez failed to promote atmosphere of compliance
Along with allegations that Michigan's athletic department failed to monitor its football program, the NCAA has singled out Rodriguez for failing to monitor the duties and activities of his coaches and failing to promote an "atmosphere of compliance" within the program.
Throughout the Notice of Allegations, the NCAA asks the athletic department to provide compliance documents, memos and other rules-education materials to determine how well Rodriguez knew the rules he is accused of breaking.
Six other coaches have been charged with failing to promote an atmosphere of compliance since the rule was put in place in 2005, NCAA records show.
"It's fairly subjective," Jones said. "Do we think this coach should have known what was going on? It's just a gut call."
One coach charged with failure to monitor was former Indiana basketball coach Kelvin Sampson, who was cited for illegally contacting recruits after being punished for the same infraction at Oklahoma. The NCAA slapped a show-cause order on Sampson after he was fired.
At Richmond, the head men's and women's basketball coaches were cited for failure to monitor after they and members of their staffs sent impermissible text messages and made impermissible phone calls to recruits.
Both programs were hit with recruiting restrictions, including fewer official visits, fewer recruiting days and reduced telephone contact. All offending coaches also were ordered to attend an NCAA Rules Compliance Seminar at their own expense.
At Michigan, Rodriguez's contract can be terminated for cause if he's found to have committed a major violation, intentionally committed a secondary violation, or had knowledge of any violations committed by his staff. If he's fired under any of those provisions, Michigan doesn't have to pay a buyout or the remainder of his deal.
Brandon said there are no plans for that to happen.
"Rich Rodriguez is our football coach, and he will be our football coach next year," he said last month.
At the same press conference, Rodriguez addressed the allegations.
"It's my job as a leader to make sure that our guys not only know what the rules are but what the possible interpretations are," he said. "We didn't have any issues in the past, but that's not to excuse us for if we misinterpreted the rules. That's still on us, and that's still on my staff.
"And what I have to do as the leader of the program is make sure we get the proper interpretations and follow the rules the way they're supposed to be interpreted and that it's communicated amongst the whole staff. We've already begun that process. I know there won't be any issues in regards to that in the future."
AnnArbor.com football writer Dave Birkett contributed to this story. David Jesse covers education for AnnArbor.com. He can be reached at davidjesse@annarbor.com or at 734-623-2534.