Posted on
Sat, Nov 19, 2011 : 8:42 p.m.
Michigan 45, Nebraska 17: Your comprehensive guide to our coverage
By Rich Rezler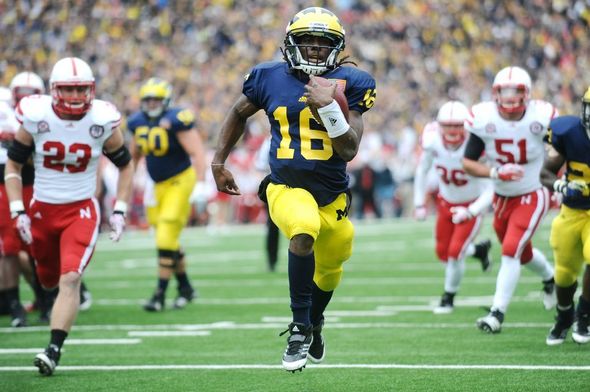 Melanie Maxwell | AnnArbor.com
Denard Robinson was back to his dual-threat self, the Michigan defense took the Big Ten's third-leading rusher out of the game and the Wolverines' special teams were -- well -- they were downright special.
Look at the score, 45-17, and you'd expect the highlights came on offense. And a fair share of them did -- mainly from Robinson and Fitz Toussaint -- during Michigan's win over Nebraska.
On defense, the Wolverines held Nebraska running back Rex Burkhead to a season-low 36 yards and without a touchdown for the first time this season. The Cornhuskers didn't convert a third down until late in the third quarter.
On special teams, Michigan's Terrence Robinson forced a fumble on a kickoff (recovered by Courtney Avery), Josh Furman blocked a punt and Drew Dileo picked up a first down on a fake field goal.
It was, by almost any measurement imaginable, Michigan's best game of the Brady Hoke era and it provides even more fodder for next weekend's game against Ohio State.
AnnArbor.com covered the game from its pre-game ceremonies to its post-game press conferences. Here is a compilation of what you can find on our site:
Melanie Maxwell | AnnArbor.com
Post-Game Coverage
• Boxscore | Big Ten standings
• Kyle Meinke column: Michigan's thumping of Nebraska shows it's peaking at right time.
• Game story: Nebraska turnovers, big plays carry Wolverines to ninth victory of season.
• Denard Robinson matches Tom Brady, manages Michigan offense well in lopsided win.
• Notebook: Michigan special teams play up to their name in romp.
• Michigan fans help offense cope without a play clock in first quarter.
• Photo gallery: The best images from staff photographers Melanie Maxwell and Jeff Sainlar.
• Video: Brady Hoke and players discuss Nebraska win, Ohio State week.
• Grade the Wolverines: Your chance to rate Michigan's performance on offense, defense, special teams, coaching and overall.
• Game balls: They go to Fitzgerald Toussaint, Denard Robinson and others
• Power outage at Michigan Stadium equals big losses for fundraising groups.
• Police arrest 3, eject 42 at Michigan-Nebraska football game.

In-Game Coverage
• We strung together live updates throughout the game. Check them out here.
• Our live chat was a challenge. With no power in the pressbox, our unmoderated "regulars" took control. That transcript can be found here.

Pre-Game Coverage
• Lloyd Carr, known for his 'tough love,' honored before Nebraska game.
• Video: Michigan Stadium transforms into American flag and more.
• Michigan Stadium without power prior to Nebraska game.
• We asked you to predict the outcome of the game. Seventy-eight percent thought Michigan would win, but just 13 percent thought it would be by "10 or more points." The most popular choice (45 percent) was Michigan by 4-9 points.

More Scores

Kent State 28, Eastern Michigan 20: A 70-yard Kent State touchdown pass in the fourth quarter dooms the Eagles. (Story | Boxscore)
Michigan State 55, Indiana 3: The Spartans wrap up a Legends Division title. (MSU coverage)