Posted on
Thu, Apr 1, 2010 : 2:32 p.m.
Michigan defensive coordinator Greg Robinson talks 3-3-5 defense
By Dave Birkett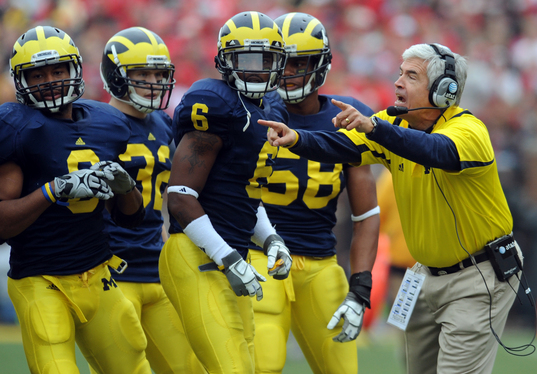 Melanie Maxwell | AnnArbor.com
Michigan defensive coordinator Greg Robinson started his pre-practice meeting with reporters Thursday with an April Fool's Day joke.
"We've gone to a 6-2-3 scheme," Robinson said. "We're playing with six defensive linemen and it's very aggressive."
Michigan is transitioning to a 3-3-5 defense this spring after playing a 3-4 last year, but Robinson said it's not the drastic overhaul some have made it out to be.
The Wolverines used hybrid starters at both outside linebacker spots last year. Converted safety Stevie Brown played strong-side linebacker, and true freshman Craig Roh worked as a pass-rushing linebacker opposite Brandon Graham.
This year, safety Mike Williams is moving to Brown's spot, backed up by Floyd Simmons and Thomas Gordon, and Roh is back for his second season as starter. Williams, Simmons and Gordon are all listed as safeties on Michigan's official roster.
"I would say that that still fits very much in what we do," Robinson said. "We might have some different terminology where I think we can all talk on the same language together. But I think that you're going to see that there's a lot of things that are very, very similar. That's what I would tell you."
Michigan coach Rich Rodriguez ran a 3-3-5 during part of his tenure at West Virginia, but Robinson said the entire coaching staff was on board with the change. In the 1990s, he said he ran a similar scheme as defensive coordinator with the New York Jets and Denver Broncos.
The defense, while sometimes susceptible to power football teams, is designed to get more speed on the field and be versatile enough to match up with different style offenses.
"When I was with the Jets, it was very suited to when we were playing Buffalo," Robinson said. "When you were playing these deploy teams that were all over the field it was to our advantage really to play them that way, and we used to play them pretty good."
At the midpoint of spring practice - Michigan holds its eighth workout Thursday - it's too early to judge what impact the new defense will have.
But after allowing the second-most points in school history during last year's 5-7 season, Robinson said some things were bound to change.
"I don't know that I've ever been in a defense where there wasn't areas altered each year to your personnel or to what the offensive world is doing," Robinson said. "You have to do that. You tweak constantly, you do throughout the season because you begin to see what you have more in your talent level and you also say, 'Hey, this is what we have to do to defend.' That's kind of where I see it."
Dave Birkett covers University of Michigan football for AnnArbor.com. He can be reached by phone at 734-623-2552 or by e-mail at davidbirkett@annarbor.com. Follow him on Twitter @davebirkett.