Posted on
Fri, Oct 21, 2011 : 11:44 a.m.
Both No. 18 now, will Michigan's football or basketball team be higher ranked when their seasons end?
By AnnArbor.com Staff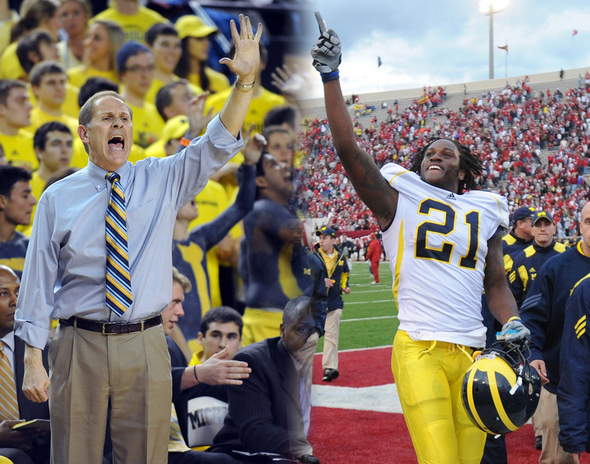 AnnArbor.com file photos
In a continuing quest to keep ourselves entertained during this Michigan football off week, we offer you a Friday poll:
Eighteen is a popular number on the Michigan athletic campus, and not just because freshman cornerback Blake Countess has played so well in his No. 18 jersey.
The Michigan football team is currently ranked No. 18 in The Associated Press poll and are at No. 18 in the first Bowl Championship Series standings.
When the preseason USA Today/ESPN Top 25 basketball poll was released on Thursday, Michigan was listed at -- you guessed it -- No. 18.
If the teams are currently at identical spots in the national pecking order of their respective sports, the question begging to be answered is which one will end its season with a higher ranking?
AnnArbor.com football beat writer Kyle Meinke and basketball beat writer Nick Baumgardner weigh in with their choices:

Baumgardner's vote

The Michigan football team is 6-1 with five regular season games remaining. However, the back half of the schedule is much more difficult than the front. The Wolverines technically could win out, or finish the year 10-2. I don't see that happening, though. No. 18 seems about right, to me, and I can't see Michigan finishing much higher than there by season's end.
The basketball question is tougher, because they haven't played a game yet. On paper, it's easy to say they finish higher than No. 18. However, preseason basketball polls are never, ever concrete (ask Michigan State about last year). But, we've got to pick one. The Big Ten isn't expected to be overly stacked this year, and Michigan has a very strong crop of talent returning.
The overall ceiling seems higher for basketball. So I'll take John Beilein and the gang.

Meinke's vote

This is hard to project because the basketball team won't be anywhere near its ranking even one week into the season. It plays in the Maui Invitational, where it likely will play several games against marquee opponents and have a chance to jump into the top 10 or out of the poll entirely, depending upon how it fares.
In the end, though, I have to go with basketball. The football team will lose at least two more games, maybe three, meaning it'll finish no better than around 20th in the polls. The basketball team should be a top-15 team.

And, now, we ask you the same question. Let's discuss it in the comments section.