Posted on
Sun, Jun 3, 2012 : 5:59 a.m.
Michigan football coach Brady Hoke dangles Rose Bowl carrot to seniors
By Kyle Meinke
Nestled near the foot of the San Gabriel Mountains is one of this country's greatest shrines to college football.
And no one on the Michigan football team has played a game there. At least, not for Michigan.
So during a leadership summit with the U.S. Navy SEALs in Southern California last week, coach Brady Hoke detoured to Pasadena for a day to give 22 of his seniors a taste of where, exactly, they were leading their teammates.
The Rose Bowl.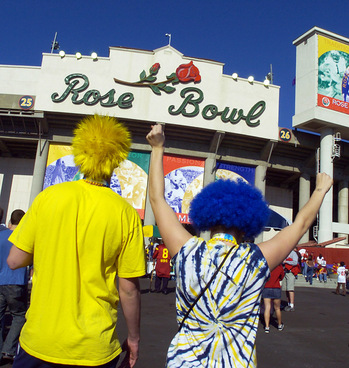 AnnArbor.com file photo
"You always want to have a vision, and that's all part of it," Hoke said Thursday after the University of Michigan Men's Football Experience camp. "That's what we're trying to give our kids. They haven't been there, so it's something to whet their appetite a little bit, and understand what it takes to get there, to some degree."
Michigan hasn't been to the Rose Bowl since it finished the 2006 season there against USC. It lost 32-18.
In fact, the Wolverines have lost their past three Rose Bowl appearances. They haven't won a game in Pasadena since New Year's Day in 1998, when they beat Washington State 21-16.
That game clinched Michigan's only national championship since 1948 -- and Hoke was on the sidelines for it as the Wolverines' defensive line coach.
Hoke said he revisited the Rose Bowl because it's important for his senior leaders to get a feel for the prize that awaits if they fulfill their goal of winning a Big Ten title.
"It's always a mental thing -- the game's mental," he said. "On game days, it's from the neck, up. It really is. S,o we always talk about the mental aspects that it takes to be successful as a team."
For the bulk of the trip, the 22 seniors went through a leadership seminar and arduous work out with the SEALs. Hoke's relationship with the unit began when he coached at nearby San Diego State, and he's brought that connection to Ann Arbor.
He hosted servicemen on campus last year, and issued personalized tridents to each of his players. They hung in the players' Schembechler Hall meeting room throughout the season.
Hoke said he was honored to have his seniors work directly from the SEALs, who are known for being highly disciplined.
"It was a great culmination for (the seniors) to be with some guys who really understand mental toughness, who understand pressure," Hoke said, "and being there Memorial Day weekend was really special."
Will the players benefit this fall from the trip?
"You hope so," he said. "We're going to find out."
Kyle Meinke covers Michigan football for AnnArbor.com. He can be reached at 734-623-2588, by email at kylemeinke@annarbor.com and followed on Twitter @kmeinke.