Posted on
Fri, May 13, 2011 : 7:26 p.m.
Michigan football coach Brady Hoke doesn't have a timetable on a Darryl Stonum decision
By Michael Rothstein
Darryl Stonum pleaded not guilty to an operating while intoxicated charge Friday morning. Later in the afternoon his coach, Brady Hoke, said Stonum's suspension from the Wolverines football team will continue for a while.
Hoke addressed the situation following an hour-long stint to close out the WTKA Mott Takeover on 1050 AM in Ann Arbor, his first public comments since Stonum's arrest last weekend.
Last Saturday, Hoke said in a statement Stonum was suspended indefinitely from the Michigan football program.
"You have to get all the facts and all that stuff and that's part of it," Hoke said Friday. "We've got a long way to decide what we're going to do with him."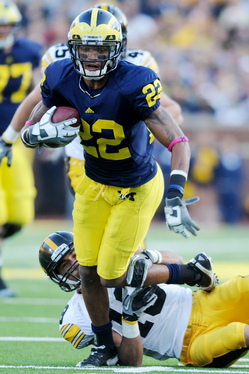 AnnArbor.com file photo
Hoke, previously a head coach at Ball State and San Diego State, has dealt with legal issues before with players — as have coaches of almost any college program.
This isn't Stonum's first offense. In September 2008, he was charged with operating a vehicle while visibly impaired. In July 2010, he spent three nights in jail for probation violations.
"You hope kids learn and hope they learn the first time," Hoke said. "That's with anything, like missing a class. We're talking about two totally different actions but still, you are trying to educate and grow kids and understand that things are unacceptable."
Stonum said in court Friday he has been waking up at 4 a.m. and doing 1,500 yards in sled pulls and also pulling a 45-pound plate. Hoke said he doesn't have a timetable for when Stonum will stop the 4 a.m. workouts.
Hoke said he has met with Stonum about the current charge against him. As for Stonum's future, Hoke was non-committal.
"There will be a lot of elements that I'll evaluate," Hoke said.
Asked if he plans on making a decision by the beginning of the 2011 season, Hoke responded, "I don't know. I don't know."
Stonum was Michigan's second-leading receiver in 2010, catching 49 passes for 633 yards and four touchdowns.
Michael Rothstein covers University of Michigan basketball for AnnArbor.com. He can be reached at (734) 623-2558, by email at michaelrothstein@annarbor.com or follow along on Twitter @mikerothstein