Posted on
Tue, Aug 30, 2011 : 5:56 a.m.
Veterans top youth in Michigan football coach Brady Hoke's lineup ... just look at Will Heininger
By Kyle Meinke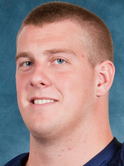 Perhaps no one better embodies the
Michigan football
team's two-deep roster than defensive lineman
Will Heininger
.
The Ann Arbor product is a fifth-year senior who has endured two coaching changes and little playing time since joining the Wolverines. He was fighting for a starting spot with one of fall camp's biggest stars. He recorded just two tackles last year.
But he persevered — and on Monday, the 6-foot-6, 295-pound defensive lineman earned the first start of his career when coach Brady Hoke unveiled his initial two-deep roster. He'll be in the lineup at defensive end when Michigan opens its season Saturday against Western Michigan (3:30 p.m., ABC).
"I think, more or less, it's about (Heininger's) experience," Hoke said.
That seems to be the theme for Hoke's first lineup as Michigan's head coach.
Melanie Maxwell | AnnArbor.com
Heininger beat out sophomore walk-on
Nathan Brink
, a player
who had been lauded by the staff
the final two weeks of camp.
While Brink was consistently named by the staff as a preseason standout, Heininger was mentioned only within the context of being a guy who could contribute as a reserve.
In the end, though, it was the experienced Heininger, a former Pioneer High School player, who earned the nod over an underclassman.
At other positions, it was the same the same story.
Junior Craig Roh fought off sophomore Jibreel Black at the other defensive end position. Sophomore Cam Gordon edged hard-charging freshmen Jake Ryan and Brennen Beyer at strong-side linebacker.
Junior J.T. Floyd and sophomore Courtney Avery are listed as co-starters at one cornerback position, but Floyd, who began last season as the starter before suffering a season-ending injury, is expected to be in the lineup against Western Michigan, Hoke said.
At right tackle, fifth-year senior Mark Huyge held off sophomore Michael Schofield.
Sophomore Brendan Gibbons will start over highly-touted freshman Matt Wile at placekicker — despite making 1-of-5 field-goal attempts last year.
THURSDAY LIVE CHAT
Come back to AnnArbor.com at noon Thursday to join Kyle Meinke for a live chat. He'll discuss the latest Wolverines' news and preview Saturday's game against Western Michigan. Graham Couch, who covers the Broncos for the Kalamazoo Gazette, will stop by and answer some questions, too.
At nearly every position of contention that has been decided (punt return remains unclear), the veteran beat out the underclassman. The only exception was at punter, where Wile edged sophomore
Seth Broekhuizen
to handle those duties while starter
Will Hagerup serves a four-game suspension
.
Even then, Broekhuizen is listed as a co-starter.
Hoke said he would start his underclassmen if they were the best option.
That obviously didn't happen.
"If we thought those younger guys were at a point where the older guys are, or would be better, the younger guys would be playing," Hoke said.
"It doesn't matter if it's a fifth-year guy or a true freshman — you've got to play to a Michigan standard."
Hoke said underclassmen will have a better shot at playing on defense, where Black, Ryan, Beyer, Avery, Brink, freshman cornerback Blake Countess and sophomore safety Carvin Johnson could see time.
Overall, only one underclassman was named an offensive starter, and that was sophomore left tackle Taylor Lewan, who was a starter last year.
On defense, only three underclassmen made the top 11: Gordon, sophomore weak-side linebacker Mike Jones and sophomore safety Thomas Gordon. Among them, only Jones beat out an upperclassman (senior Brandon Herron).
Hoke said throughout camp returning starters weren't guaranteed their jobs back. He opened up competitions across the board, except perhaps at quarterback.
In the end, though, it largely was the returners and upperclassmen who won those battles.
"Right," Hoke said. "I think we had good competition. I guess that's what I would say."
Kyle Meinke covers Michigan football for AnnArbor.com. He can be reached at 734-623-2588, by email at kylemeinke@annarbor.com and followed on Twitter @kmeinke.