Posted on
Fri, Dec 9, 2011 : 2:42 p.m.
Michigan football coach Brady Hoke reveals QB Denard Robinson had staph infection, almost missed game
By Kyle Meinke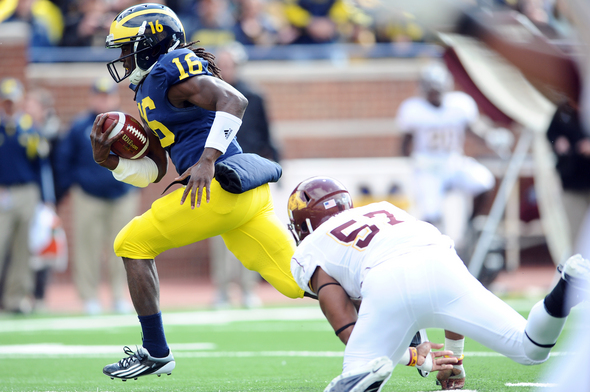 Melanie Maxwell | AnnArbor.com
While Denard Robinson was being criticized publicly for inconsistent play this season — some called for him to be benched — the Michigan football team's junior quarterback quietly was dealing with a host of injuries.
Most serious of all was a staph infection that coach Brady Hoke revealed Friday.
Hoke, meeting with the local media for the first time since his team was tabbed for the Sugar Bowl, said Robinson nearly missed a game.
"It was bad enough," Hoke said.
Hoke said he couldn't remember which game was jeopardized, but intimated the infection was in Robinson's forearm. Robinson wore a large wrap over his forearm against Minnesota on Oct. 1.
They both said at the time the injury was "a boo-boo."
Robinson was asked throughout the season about his health, but he never let on about the severity of the staph infection, one of several injuries that beset him throughout the year.
He left four of Michigan's final six games because of injury.
"He had a lot of different problems he went through during the course of the season," Hoke said. "His elbow, his hand, he had an abdominal problem. He's a tough guy. He played with it."
Robinson finished 133-for-237 passing (56.1 percent) for 2,056 yards, 18 touchdowns and 14 interceptions. He also rushed 208 times for 1,163 yards and 16 scores.
He finished first in the Big Ten in total offense and third in touchdowns, despite playing in offensive coordinator Al Borges' new "spread-West Coast" hybrid offense — and the injuries.
Hoke said for those efforts, Robinson deserves to be a Heisman finalist, although acknowledged he doesn't know much about stats.
"I can't sit here and rattle of statistics, but in the Big Ten Conference, he took a team to 10-2," he said.
No. 13 Michigan will conclude its season against No. 11 Virginia Tech (11-2) in the Sugar Bowl on Jan. 3. (8:30 p.m., ESPN)
Other notes from Hoke's news conference:

Ohio State gets advantage
Rival Ohio State received permission from the NCAA to have two coaching staffs for the bowl game. One will prepare for the game, and the other will recruit, which provides the Buckeyes with a competitive advantage on both fronts.
"It's different," Hoke. "Is that advantage? Yeah, I think so."

Hoke: NCAA proposal 'ridiculous'
Hoke was asked for his opinion on an NCAA proposal that would reduce the scholarship limit from 85 to 80. His response: That's "ridiculous."
"When you go through a season, when you look at some of the injuries and you look at your two-deeps and once you look at your skill groups, I don't think it's a wise suggestion," he said.

Competition persists at key spots
Hoke listed several positions at which competition remains open for the bowl game, including linebacker, defensive line and running back.
Michigan's first bowl practice is this afternoon, with a focus on fundamentals and developing younger players. Hoke said he hopes to vary the routine throughout the bowl prep workouts to avoid monotony.

Personnel note
Hoke said he believes his staff will be intact for 2012, adding that if offensive coordinator Al Borges, defensive coordinator Greg Mattison or any other assistant wanted to leave, they would "approach me about it."
Borges' name has circulated for various vacancies this off-season, and Hoke said recently he would permit Borges to pursue one, if he was interested.

Top 25 ballot
Hoke didn't have much to say about San Diego State coach Rocky Long — who was Hoke's defensive coordinator with the Aztecs the past two years — voting Michigan 18th in the final USA Today coaches poll.
That was the Wolverines' worst ranking among the coaches.
Hoke did say, though, he's not the only one who fills out his weekly ballot, which is common practice for coaches.
"That's a very personal question," Hoke quipped, when asked if he has assistance in the process. "I have a little help, and then I discuss it with the person who helps."
Does he have the final say?
"I would think so."
Kyle Meinke covers Michigan football for AnnArbor.com. He can be reached at 734-623-2588, by email at kylemeinke@annarbor.com and followed on Twitter @kmeinke.