Posted on
Mon, Nov 28, 2011 : 8:35 p.m.
Michigan football coach Brady Hoke shrugs off Ohio State's criticism of 'grenade' celebration
By Kyle Meinke
Joseph Tobianski | AnnArbor.com
The
Michigan football
team blew up its seven-game losing streak to Ohio State.
Then, it celebrated with a "grenade" routine at midfield, in which quarterback Denard Robinson threw the football in the air like a grenade. When it hit the ground, players dropped to the turf in unison.
The route was cathartic for the No. 17 Wolverines (10-2, 6-2), who won 40-34 to end the run of futility against the rival Buckeyes.
Those Buckeyes weren't as good-natured about it, though.
"I lost so much respect for Michigan after they won n threw the ball in the air acting like it was a grenade," tweeted Buckeyes fullback Zach Boren. "To take it to that level of disrespect is just so uncalled for. Act like you have won before."
Boren is the younger brother of former Ohio State offensive lineman Justin Boren, who transferred from Michigan to the Buckeyes following Lloyd Carr's retirement after the 2007 season and was critical of the Rich Rodriguez regime.
Of course, no current Michigan player had beaten Ohio State before. Seniors were 0-3 and had been outscored 100-24 in the rivalry.
Added Ohio State tight end Jeff Heuerman: "Karma is gonna be a (expletive) for that little 'celebration' at the end."
Players said the controversial celebration -- you can catch a piece of it at the 34-minute mark of this YouTube video -- is something they have done after each Friday practice this year. Coach Brady Hoke said he was fine with his team celebrating their win that way.
"I don't have any problem (with it) because it wasn't disrespectful to anybody," Hoke said. "It's something they do every Friday.
"No. It wasn't disrespectful to anybody. It's something those kids have done for 12 weeks."
Ohio State, though, clearly was offended with the episode, which occurred in front of several players at midfield.
It led to Ohio State cornerback Brad Roby tweeting: "I will never lose to those scrubs again."
Other notes from Hoke's Monday press conference: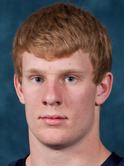 Beyer expected to return
Brennen Beyer is expected to participate in bowl practices. The team won't work out as a team this week, but the freshman linebacker could be back with the team when it reconvenes next week. He did not play against Ohio State, and Hoke had said he was unsure if he would be back this year.
Gibbons finishes strong
Hoke was effusive in his support of kicker Brendan Gibbons, who hit a 43-yard field goal to give Michigan a six-point lead with 1:59 remaining against Ohio State.
After going 1-of-5 last year, Gibbons finished 10-of-14 this year. He credited the confidence and positivity of the coaching staff as a factor in his turnaround.
Hoke offered more of it Monday.
"Huge," he said of the 43-yard kick. "Huge. I mean, Gibbons in that kick, you know, because there were some people that really doubted him at the beginning of the year -- maybe some in this room -- maybe. Didn't say. But he did a tremendous job all year, and he's grown and he's learned and he's got a good demeanor about him. He's worked hard."

This and that

A couple other topics broached by Hoke during his 33-minute session with the media:
On whether offensive coordinator Al Borges will be interested in any head coaching vacancies: "I don't know. I don't know. If he does, good. If he's interested, I mean, that's all right."
On what he told Ohio State coach Luke Fickell after the game: "I just thought he did a heck of a job, all year. Tough situation."
On sophomore tailback Fitz Toussaint's apparent fourth-quarter touchdown that was overturned on a replay: "Do I agree exactly with the call? The rule states there's got to be some sort of evidence to overturn it?" Then, instead of finishing his thought, he smiled.
Kyle Meinke covers Michigan football for AnnArbor.com. He can be reached at 734-623-2588, by email at kylemeinke@annarbor.com and followed on Twitter @kmeinke.