Posted on
Mon, Sep 6, 2010 : 4:02 p.m.
Michigan football coach Rich Rodriguez not concerned with Tate Forcier's Saturday demeanor
By Michael Rothstein
Michigan football coach Rich Rodriguez would have preferred to discuss starting quarterback Denard Robinson.
During Monday's press conference, he was visibly bothered by numerous questions about the status of one reserve quarterback Tate Forcier.
During Saturday's season-opening, 30-10 win over UConn, television cameras and reporters in attendance watched Forcier -- last year's starting quarterback -- separate himself from teammates.
Rodriguez said Monday he wasn't bothered by Forcier's demeanor during the game and that it was a non-issue.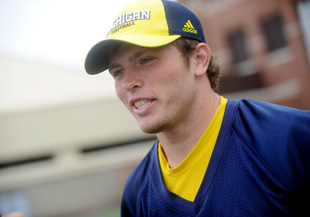 Melanie Maxwell | AnnArbor.com
"Is the coach making a big issue out of it? No," Rodriguez said. "Any time somebody doesn't play, whether it is Tate or somebody else, they are probably going to be disappointed. I don't see a problem with guys being disappointed if they don't play.
"Now, if it crosses the line as far as not being a team player and all that, then we'll have a conversation. If we need to do that, I'll do that."
When approached after Saturday's game, Forcier said "All you need to know is I'm out."
On Monday morning, Forcier was seen entering Schembechler Hall for a workout with the rest of his teammates.
Forcier's father, Mike, told both the Associated Press and MGoBlog that his son would not be transferring from Michigan. Forcier's father told the AP his son is "150 percent fact" staying at Michigan.
Forcier did not play a down against Connecticut. When Robinson briefly left the game with an injury, true freshman Devin Gardner came in to replace him.
Rodriguez said Monday that Robinson -- who earned Walter Camp National Player of the Week honors -- will start again against Notre Dame on Saturday. Both Gardner and Forcier, Rodriguez said, will see reps during practice.
Rodriguez, though, isn't concerned by Forcier's apparent displeasure with not playing Saturday.
"Do I look concerned to you all? I'm just asking," Rodriguez said. "I'm concerned with all our players. Let me make it clear, every one of our players, I'm concerned with every one of our players all the time. All the time, both what they do on the field and off the field, that's what you do as a coach, you're concerned about your players just as you think a parent would be.
"So am I concerned that it'll affect the team? Nah. Nope. Am I concerned about the players? Sure. I want all my players to be happy all the time. Inevitably, 110 of them probably won't be. But, for the most part, if you win, you would expect most of them to be happy or fake it.
"But, again, I don't blame guys for being disappointed if they don't play. That's human nature."
Michael Rothstein covers University of Michigan basketball for AnnArbor.com. He can be reached at (734) 623-2558, by e-mail at michaelrothstein@annarbor.com or follow along on Twitter @mikerothstein