Posted on
Sat, Sep 4, 2010 : 11:54 p.m.
Michigan 30, Connecticut 10: Your comprehensive guide to Saturday's coverage
By Rich Rezler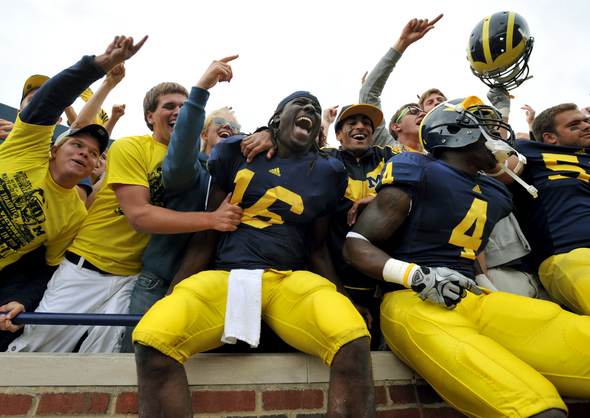 Lon Horwedel | AnnArbor.com
Week 1 of the Michigan football season is in the books, and by almost every measure imaginable it had to be considered a success.
A renovated Michigan Stadium received rave reviews and a fireworks-and-flyover opening ceremony, a world record number of fans packed the joint and kickoff was preceded by an emotional walk to midfield by a young man never expected to walk again.
Oh yeah ... and then there was what took place on the field, a 30-10 Michigan win.
Quarterback controversy? Denard Robinson ended that with a record-breaking performance. A sieve-like defense? Inexperienced players stepped up and held the UConn offense to 10 points.
Storylines were everywhere, and AnnArbor.com had plenty of reporters, photographers and videographers capturing the action. Here's everything we compiled wrapped into one neat little package:
GAME STORIES • We'll start with beat reporter Pete Bigelow's game story, which -- not surprisingly -- focuses on Denard Robinson's record-breaking performance in his first start.
• While Robinson thrived, last year's starting quarterback, Tate Forcier, hinted that his days at Michigan might be over. "All you need to know is I'm out," Forcier told AnnArbor.com's Mike Rothstein following the game.
• Pretty much everybody envisioned Saturday's game being a high-scoring affair. The Michigan defense -- with its untested secondary, and all -- didn't play along, however.
• UConn coach Randy Edsall wasn't too surprised by anything he saw from the Wolverines on Saturday. He says he's seen it all before in his Big East matchups with Rich Rodriguez's West Virginia teams.
• Our game day notebook hits on several topics, including athletic director Dave Brandon's reaction to the game, Carvin Johnson's injury, the record-breaking crowd and some of the football alumni in attendance.
• Jim Knight kept this running string of in-game updates on our site. That feature is available every week here at AnnArbor.com.
GAME INTERACTIVE • Our live chat was, well, lively -- filled with RichRod vitriol even as his team was winning convincingly. There were a few happy campers, too. Check out the transcript here and plan to join us for a live chat during every game. Home and away.
PHOTOS • AnnArbor.com photographers Melanie Maxwell and Lon Horwedel compiled their best images into this slideshow. From the team's pre-game walk to the post-game celebration, it covers the entire day.
THE STADIUM • Reporter David Jesse asked fans -- those in the stadium and in the new luxury suites -- for their thoughts on the $220 million renovation of Michigan Stadium.
• Pete Cunningham provides this video report on the different perspectives of the revamped stadium.
• Juliana Keeping had a rough assignment ... hanging out with people at their tailgate spots. And there's some good ones. Photographer Angela Cesere contributes a slideshow to this story.
BROCK MEALER • And, in the feel-good story of the day, Pete Bigelow recaps Brock Mealer's emotional walk to midfield prior to the game.
AROUND THE BIG TEN • Notre Dame, Michigan's opponent next week, beat Purdue 23-12 in coach Brian Kelly's first game. Quarterback Dayne Crist completed 19 of 26 passes for 205 yards and a touchdown, and Armando Allen and Cierre Wood provided 151 combined rushing yards. The Irish managed just one touchdown in four red-zone trips, including a fumble at the Purdue 8-yard line.
• Le'Veon Bell became the first freshman in Michigan State history to gain more than 100 yards in his first game and the Spartans beat Western Michigan, 38-14.
• Robert Bolden, the first true freshman quarterback starter in coach Joe Paterno's 45 years as head coach, passed for 239 yards and two touchdowns in No. 19 Penn State's 44-14 rout of Youngstown State.
• Sophomore tailback Adam Robinson rushed for 109 yards and three TDs in a 37-7 win over visiting Eastern Illinois.
• Missouri rallied from a 13-3 halftime deficit to beat Illinois 23-13.
• Dan Persa ran for 82 yards and threw for 222 and three touchdowns to three different receivers in Northwestern's 23-15 win over Vanderbilt.
• After a mistake-prone first half, Wisconsin put things together in the second half of a 41-21 win at UNLV.