Posted on
Sat, Jan 15, 2011 : 4:01 p.m.
Michigan football fans rush to bid on clothing, memorabilia donated by former coach Rich Rodriguez
By Jeff Arnold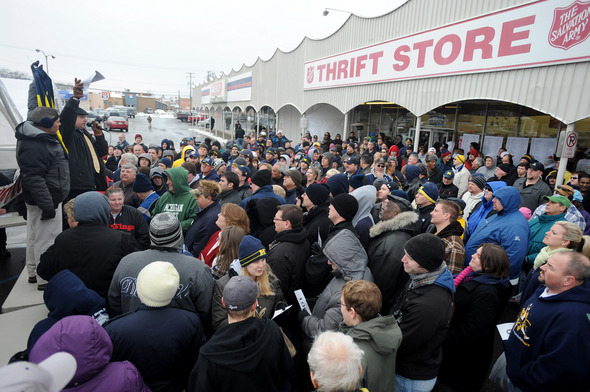 Angela J. Cesere | AnnArbor.com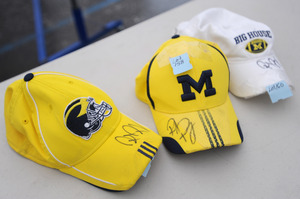 Angela J. Cesere | AnnArbor.com
WAYNE - Consider it the ultimate going out of business sale.
There, hung on racks and folded on tables inside a white tent was a collection of maize and blue apparel - all from the closet of former Michigan football coach Rich Rodriguez.
Outside of the tent, customers huddled in a Salvation Army Thrift Store, casting bids on Michigan T-shirts, fleeces and other clothing items that Rodriguez - who was fired Jan. 5 after a disappointing three-year run - donated to the store a day before Brady Hoke was hired to replace him.
Auctioneer John Kovach stood on a table, reeling off increasing dollar amounts that went as high as $250 for a Michigan varsity jacket - in a sale that included 161 items and drew about 300 bidders.
Sue King stood in the back of the crowd, hoping to find something for her daughter, Amanda, who studies at the Air Force Institute in Dayton, Ohio. King, who along with her husband, Frank, came for Saline, where they live in the same neighborhood as Rodriguez.
"We thought, what the heck, we'll come - not because (Rodriguez) is our neighbor - only because our daughter asked us to," Sue King said. "But I'm not surprised I'm here. I love auctions, and (Amanda) can use some new Michigan stuff.
"But what surprises me is how many people are here and the prices."
By the time the day was over, the Salvation had made $12,930 on the items that were auctioned. The remaining items were put up for sale inside the store afterward.
This wasn't your run-of-the-mill clothing sale. Rodriguez hand-delivered several bags of the clothing Monday, according to thrift store manager Ron Mathers. Included in the donation were baseball caps autographed by Rodriguez, Michigan football helmets and other clothing that ranged in size from children's to men's XXL.
Mathers said Rodriguez was at the store for about 10 minutes and was treated like any other person donating items to the store. He was offered a charitable receipt for his donation, which came delivered in a dozen bags.
In all, the former Wolverines coach donated more than 400 items.
"We were very appreciative," Mathers said. "The Salvation Army does a lot of good work all over the world, and it's all funded by the donations. But this is amazing, and it's kind of an unusual thing. A lot of people may do this discreetly, but he came personally and donated the stuff."
Given where the clothing came from made all the difference in the world for some customers, including Barry Hunt, who drove from Clarkston and purchased 14 items totaling about $1,100. He learned of the sale Saturday morning, but knew the clothing from the coach's closet would be the perfect addition to a memorabilia collection he estimates he has spent between $15,000 and $20,000 on.
Included in his collection are 20 signed helmets - including one by New England Patriots' quarterback Tom Brady and 45 signed footballs. The fact the clothing he purchased belonged to Rodriguez made the $800 he spent all worth it.
Bad cold and all.
"I'm a Michigan guy, and this is pretty cool for me," Hunt said. "I supported Rodriguez when he was here and whether he got a bad break or not a bad break, he was kind enough to make the donation. ... So it was kind of no-brainer for me.
"(Rodriguez) isn't our coach any more, and it was an awkward three years, but he was still the coach for Michigan."
Hunt's wife, Kim, stood by Barry's side each time he bid, fully OK with her husband's spending spree.
"He was a Michigan fan when I married him, and I knew he would always be a Michigan fan," Kim Hunt said. "This isn't the extreme. He's bought things that were more foolish than this."
Bart Bernocco made the short trek from Dearborn for the same reason. From the back of the assembled crowd, Bernocco kept throwing his hand in the air, bidding on a white polo shirt Michigan coaches wore on Sept. 11. The block M on the Adidas shirt was red, white and blue, making his bid of $210 for the shirt more than worth it for the longtime Michigan fan.
"I knew when I came here I could get something you can't get at the store," he said. "When I first walked up today, (the shirt) was the first thing I saw. I said in my mind there was a certain amount I was willing to put toward the efforts today."
Even after spending more on a shirt than he ever envisioned he would, Bernocco has no plans of putting it away.
"I'm going to wear it," he said. "Yes, I will."
Jeff Arnold covers sports for AnnArbor.com and can be reached at (734) 623-2554 or by e-mail at jeffarnold@annarbor.com. Follow him on Twitter @jeffreyparnold.