Posted on
Wed, Jan 5, 2011 : 8:28 p.m.
Rich Rodriguez firing: A compilation of AnnArbor.com's coverage
By Rich Rezler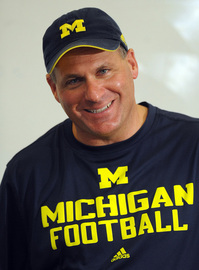 AnnArbor.com file photo
Everybody take a deep breath. The two-day hullabaloo created around the firing of Michigan football coach Rich Rodriguez is beginning to settle.
All that's left for athletic director Dave Brandon - and Wolverines fans around the country - is to turn their attention to the not-so-small detail of finding a replacement.
Just how hot was this story? On Tuesday night, "rich rodriguez" was No. 1 on the Google hot topics list. Coming in at No. 2: "rich rod."
AnnArbor.com has provided extensive coverage since Pete Bigelow was the first to report that Brandon and Rodriguez would hold their evaluation meeting at 2 p.m. Tuesday. Here is a compilation of stories, photos, links and polls that can be found on our site:
(Presented in reverse chronological order:)
ANNARBOR.COM STORIES
• What's next? Michigan football beat writer Pete Bigelow takes his best stab at answering that question, writing that Jim Harbaugh's name still comes up often for Michigan, even if Brandon thinks he's headed to NFL.
• Talk about a bad week. On the day he was fired, The West Virginia Record reported an attorney sued Rodriguez over the $1.3 million sale of a home in Morgantown, W.Va.
• Jeff Arnold and other members of the media caught up with players who were saddened after their meeting with Rodriguez and Brandon, but said they plan to stick together.
• Arnold reports that Brandon stuck to his timeline and made a decision that wasn't easy for him.
• Kyle Feldscher speaks with the univeristy's alumni association president, who says now is the time for Michigan football fans to unite.
• Feldscher also reports that Brandon is fully aware his decision to fire Rodriguez runs the risk of unsettling recruits and current players.
• Bigelow shares his top five Brandon quotes from Wednesday's press conference.
• Rich Rezler compiled a series of links to past AnnArbor.com and Ann Arbor News stories to present a timeline of Rodriguez's three years as head coach.
• Also, here are some memorable quotes from Rodriguez's stint at Michigan.
• In our main story from the Wednesday press conference, Arnold shares Brandon's details on how and why he decided to fire Rodriguez. And we have video highlights of the press conference, too.
• Feldscher reports that Michigan football fans had mixed reactions to news that Rodriguez has been fired.
• Mike Rothstein's basketball game-day chat was also heavy on football coach talk. Check out the transcript here.
• Jim Knight detailed Wednesday afternoon's planned press conference.
• In an opinion piece, Bigelow noted after Tuesday's meeting between Brandon and Rodriguez concluded without incident, the coach was "getting a raw deal from the University of Michigan."
• Four hours after their meeting was scheduled to start, and despite media reports to the contrary, Bigelow wrote that no news had emerged from Rodriguez's talk with Brandon on Tuesday.
• Bigelow reported that Rodriguez expected to meet with Brandon on Tuesday afternoon.
LINKS TO RELATED CONTENT
• Cindy Heflin compiled an extensive list of links to what other media are saying about the firing of Rodriguez.
• Stefanie Murray took a look at what people were saying about the coaching decision on Facebook and Twitter.
• The New York Times wrote that a messy situation at Michigan will cost the Wolverines recruits, ding its image.
• Kaleb Roedel compiled our daily college sports links and it, not surprisingly, was heavy on Rodriguez stories.
• The New Orleans Times-Picayune reported that Michigan had not contacted LSU about coach Les Miles.
PHOTOS • Lon Horwedel compiled this visual journey of Rodriguez's three-year stint as head coach, captured by staff photographers from AnnArbor.com and The Ann Arbor News:
POLLS
• After the Rodriguez firing was official, we asked:
• After Tuesday's decision-less meeting, we asked: