Posted on
Tue, Jun 19, 2012 : 5:59 a.m.
Michigan football leadership seminars help seniors understand true definition of the word
By Nick Baumgardner
Midway through his tenure at Ball State, Brady Hoke found out how difficult it is to find true leadership on a college football roster.
Some coaches insist true leaders are instinctual, and don't need to be taught how to lead a group. But what happens when those instincts don't actually exist? What happens when a player simply asks, "How?"
Several years ago in Muncie, Ind., Hoke found out.
"I had a guy who played for us at Ball State, (current Detroit Lion center) Dan Gerberry, who was voted captain for us by his teammates," the Michigan football coach explains. "Directly after that vote, he called me into his office and says 'Coach, I don't know what being a leader is?'
"We all want our players to be leaders. But it's not that simple."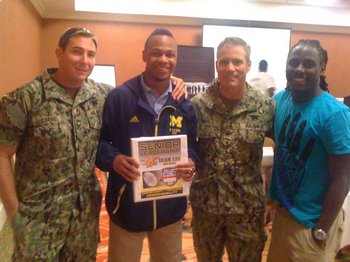 It was around that time when Hoke, together with former Ball State and current Michigan strength and conditioning coach Aaron Wellman, developed a series of leadership seminars aimed at teaching the veterans on his club what being a leader is all about.
Michigan put together nine voluntary seminars during the winter semester. Each seminar took place on a Sunday and featured various presentations on leadership.
"We have a manual that we use that we've made up," Hoke said. "No. 1, they get to know themselves. They get to know each other in that class, and they get to know our teammates."
Part of Hoke's leadership seminar program this offseason involved a trip to California, where 22 members of his senior class got to go through various leadership and team-building exercises with Navy SEALs.
While in California, the Wolverine seniors were able to get a better understanding of teamwork and togetherness, but also a sense of goodwill.
Hoke's players put together a youth football skills camp, which they personally designed and executed for children in Pasadena, Calif.
"To watch our kids do what they did with the youth camp they had to put together and they had to run was something that was a great learning experience for them," he said.
Hoke says his initial relationship with the military and his leadership seminars began with the marine corps while he was at Ball State.
When he arrived at San Diego State, he came in contact with Navy SEAL David Goggins -- a sailor who lost several friends during a stint in Afghanistan.
In order to pay tribute and raise money for families of veterans, Goggins became an "ultramarathoner," eventually running in a 24-hour race that covered more than 100 miles. Hoke had Goggins speak to his San Diego State squad on multiple occasions, and a relationship was born.
And now, seven years and two schools away from when it began, Hoke continues to take great pride in developing true leaders inside his own locker room.
Because without them, he says, things fall apart.
"If I have to lead the University of Michigan, we won't have a big year," Hoke said recently at a football camp. "The locker room runs the team.
"Your team will only be as good as those seniors who lead."
Nick Baumgardner covers Michigan sports for AnnArbor.com. He can be reached at 734-623-2514, by email at nickbaumgardner@annarbor.com and followed on Twitter @nickbaumgardner.