Posted on
Sun, Jan 22, 2012 : 5:59 a.m.
Michigan football players reconnect with Mike Barwis for NFL draft preparation
By Kyle Meinke

PLYMOUTH -- The hip-hop pulses, a soundtrack to some of the country's finest athletes pushing themselves to the brink. The beats drown out everything but the loudest cries of pain, and cries for more pain, most of which are coarse.
"One more, you big bastard," is tepid, by these standards.
It's macho.
And Mike Barwis is riffing on Socrates.
"You ever hear that story by Socrates?" he asks, raspy-voiced, Jay-Z blasting from a speaker overhead. "A young man asked Socrates the secret to success. Socrates told the young man to meet him near the river. ... When the water got up to their neck, Socrates took the young man by surprise and dunked him into the water.
"Socrates was strong and kept him there until the boy started turning blue. Socrates pulled his head out of the water and the first thing the young man did was gasp for air. Socrates asked, 'What did you want the most when you were there?' The boy replied, 'Air.'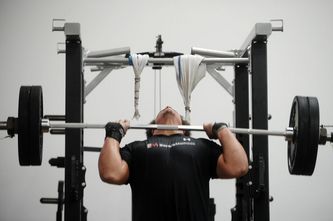 Melanie Maxwell | AnnArbor.com
"Socrates said, 'That is the secret to success. When you want success as badly as you wanted the air, then you will get it. There is no other secret.'"
That helps to explain why six former Michigan football players would subject themselves to four two-a-days a week -- and a six-hour session on a fifth -- with Barwis, whose reputation for laborious workouts precedes him.
"This is a pain I never would inflict on someone else," Mike Martin said during the second hour of a recent six-hour regimen.
Martin is joined by former teammates David Molk, Kevin Koger, Ryan Van Bergen, Mark Huyge and Steve Watson in enlisting Barwis to help them train for the NFL draft. That's every prominent NFL candidate from the Wolverines' outgoing senior class except Junior Hemingway.
The natural question, then, is why? It's common for seniors to remain on campus as they prepare either for the NFL combine or the team's pro day, training at the team's football facilities. Even former Michigan players already in the NFL would come back to work out.
Now, they're flocking to Plymouth to train with Barwis, the Wolverines' former strength and conditioning coach under Rich Rodriguez, who has opened his own private shop, Barwis Methods. This is an unusual arrangement.
For Martin, it's simple.
"We were in the best shape of our lives (when Barwis was at Michigan)," the defensive lineman said. "They know my body better than anyone, and I'm really close with these guys. It was the perfect fit."
Barwis said the players approached him about the combine workouts, taking him up on an offer he made to them after he was not retained by new Michigan coach Brady Hoke.
"I said, 'Guys, no matter where I am, I'm going to help you. I love ya, I'm going to take care of ya,'" Barwis said. "I had these guys for their whole career, really. I've known them since they were young, and they're like my sons. I love them like they were my own sons, and I'd do anything to help them."
These six took him up on that offer, in part because of a comfort level that formed during Barwis' three years at Michigan.
"He was very big in my career, as far as mentoring and telling me different things outside of football and outside of weight lifting," Van Bergen said. "He provided guidance that I think you need when you transition into college, and when you struggle, because I wasn't always where I am now.
"I was a backup, and you go through academic stuff, you go through girl stuff, you go through the ringer. We're just like everybody else, and he was always there for me. He also was the kick in the pants when you needed it. He'd be the tough love guy, tell you to suck it up."
The voluble Barwis, his voice gritty like sandpaper, has a reputation for tough love. When asked for a G-rated sampling, Van Bergen says "it'd be a translation of: 'Your testosterone level is low, you need to re-engage the weight lift.'"
Yet, for all the tough talk, Barwis has maintained the soft interior that endears him to professional and Olympic athletes. More than 70 from around the country come to Plymouth to train with him, he said.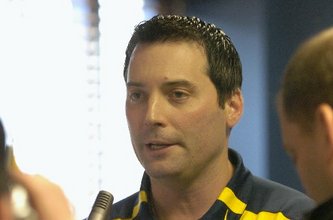 File photo
That includes former Michigan football players such as Larry Foote, LaMarr Woodley and Brandon Graham, each of whom has attained NFL stardom. While the Rodriguez and Lloyd Carr camps have agreed on little since 2008, it appears Barwis has bridged the two eras.
A signed Mike Hart jersey is the last thing one sees before entering Barwis' gym.
Of course, there's more to Barwis' pull than his personality. His system, which centers on balance and functional movements, long has been considered progressive.
Barwis' combine prep is intense. Players have two-a-days Monday through Thursday. On this Friday, they had a single six-hour session.
Three days a week, players have lifting, drill stations, balance work, injury prevention, plyometrics, functional flexibility, conditioning and Olympic lifting. Two other days, it's all about speed and agility.
"Training for the combine and the pro day, it's just like an exam in school, but the difference is you already have the answers to the test," Koger said. "You already know what drills you're going to have to run, what you're going to have to do. So, you just kind of focus on those drills. It's kind of tedious, kind of monotonous, but you have to do it."
The NFL hopefuls begin each day early in the morning with a breakfast provided by Barwis' staff, and every subsequent movement is monitored. Not only does the staff govern what the players eat -- on this morning, it was peanut butter sandwiches for breakfast -- but how long before and after workouts they dine, and even the order in which they eat their food.
From there, Barwis monitors the players' supplementation, massage, ice baths and sleep patterns.
"I pretty much govern everything they do and eat for 24 hours, for the next six weeks," Barwis said.
Barwis has been presented with multiple coaching offers since he left Michigan. He declined to discuss whether Rodriguez, who recently was hired at Arizona, approached him about going to Tucson.
He did turn down an offer from Florida State that would have made him the highest-paid strength coach in the country.
Barwis has settled in here, his wife gave birth to the couple's fourth child a week ago and he is content with the stability afforded by getting out of coaching. For now.
"This has been great, but will I do this forever? I don't know," Barwis said. "I don't try to make anything forever. I let life and God determine that, and do my best to make things work."
Kyle Meinke covers Michigan football for AnnArbor.com. He can be reached at 734-623-2588, by email at kylemeinke@annarbor.com and followed on Twitter @kmeinke.