Posted on
Tue, Nov 22, 2011 : 5:18 p.m.
Rich Rodriguez introduced as Arizona's new football coach
By AnnArbor.com Staff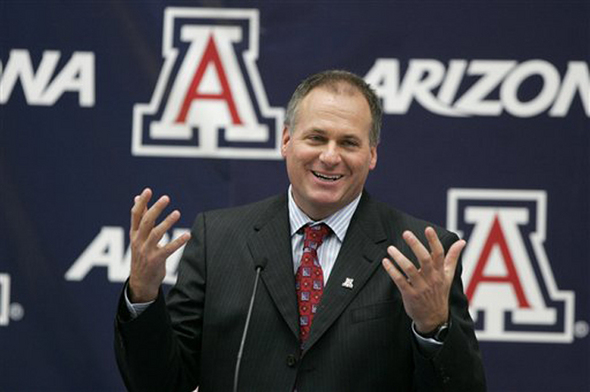 Associated Press
It was part press conference, part football pep rally.
The University of Arizona introduced Rich Rodriguez as its new football coach Tuesday, and it welcomed fans and media members to the show.
Rodriguez, just over 10 months removed from when he was fired after three seasons and a 15-22 record at Michigan, smiled and appeared relaxed as he took questions.
Among them: How much of a role did questions about the NCAA investigation that led to five major violations play in the hiring process? The violations stemmed from quality control staff members acting as coaches and players practicing more than the maximum allowed.
Rodriguez said NCAA questions came up frequently in discussions with Arizona athletic director Greg Byrne and other Arizona officials.
"A lot of his questions were in that regard," Rodriguez said. "Tell me what happened at Michigan Tell me about the NCAA issues. He called people at the NCAA, he called our compliance officer, I believe, at Michigan. He called everybody he had to, to learn about the process."
Rodriguez said he's already familiar with the compliance office at Arizona.
"There were issues (at Michigan). The issues were fixed, cleaned up, and I assure you and I assured him there never will be one again," he said. "I'm going to be 100 percent compliant."
Rodriguez has a five-year, $9.55 million deal with Arizona. The university pays $8.05 million and the rest comes from Nike and IMG, The Associated Press reported. Also from the AP: The deal includes incentives — the largest is $150,000 for an appearance in the BCS championship game and he will receive $100,000 for any other BCS bowl game.