Posted on
Wed, Jun 6, 2012 : 5:59 a.m.
Michigan planning special tribute during Air Force game, wants to play another service academy
By Kyle Meinke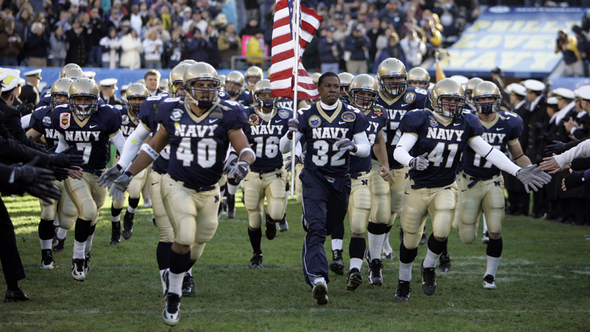 Associated Press file photo
LANSING -- Brady Hoke's fondness for the armed forces has been well documented recently, after he sent 22 of his seniors to train with the U.S. Navy SEALs last month.
Turns out, the Michigan football coach wouldn't mind engaging Navy on the football field, as well.
Athletic director Dave Brandon, who does most of the Wolverines' football scheduling, said he has tried to book both Navy and Army for football games.
"We would love to schedule Navy, but that's been hard to pull off," Brandon said Monday after speaking at the Wolverine Caucus in Lansing. "They schedule way in advance, and their department is restricted because their non-conference, they've got a lot of alliances (to honor). We'd love to play Army, too, but it's a similar problem.
"We'd like to do more with the service academies, though. Brady would, too. With Brady, if the Navy SEALs had a team, he'd want to play them too."
Michigan has played Navy 18 times, and leads the series 12-5-1, but the teams haven't met since 1981. It has been even longer since the Wolverines faced Army, which last happened in 1962.
The Black Knights -- who will travel to Washtenaw County for an Oct. 20 game at Eastern Michigan -- actually lead the all-time series against Michigan, 5-4. They are one of only four teams with a winning record against the Wolverines (minimum two games), joining Cornell (12-6), North Carolina (2-1) and USC (6-4).
Brandon said he, as well as Hoke, have an active interest in scheduling more service academy games. He will continue to work with Navy and Army, but a game likely won't come together for at least a few years -- if at all.
But it still has that date against Air Force in next year's home opener.
Michigan has faced the Falcons only once, beating them 24-7 in the 1964 season opener. They renew that series Sept. 8, and Brandon said he has a special tribute planned for the U.S. Air Force.
"We're trying to be more thematic and more creative with that game," he said. "What we want to do is create an experience at the game. It's not just a game -- the game is great -- but over and above the game, what can we do? What can we do pregame, what can we do at halftime, what can we do after the game, what can we do as part of this gathering of 112,000 people to make it really special?
"So, Air Force lends itself to some really unique things. We're going to salute the military, we're going to celebrate the Air Force, we're going to try to do some things that will be really fun for our fans, and different, and unique.
"And if I tell everybody what it is, it won't be special."

Pac-12 matchup almost finalized

Brandon said he still has nothing to announce regarding a potential matchup against a Pac-12 school, although hinted an agreement is close.
"I can't announce it until there's ink on the contract," he said. "Now, I can put my ink on the contract, but I have to wait for somebody else to put ink on a contract. I would say we're days away ... but I'm at the mercy of other people here."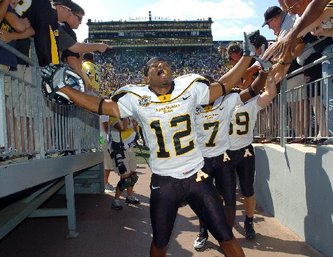 AnnArbor.com file photo
Scheduling is partly 'entertainment business'
Brandon said when it comes to scheduling, he and Hoke have agreed to play tough competition. Neither is scared to face the best, and Michigan will continue to add teams that fit that mold.
But Brandon also said there's an "entertainment" value he considers when completing a schedule.
"I'm constantly looking at, 'How do you we put a matchup together that our ticket buyers feel like they are getting value in their packages -- that's going to create buzz and excitement, that the networks are excited?" Brandon said.
"On some level, we're in the entertainment business."
Brandon noted the 2014 opener against Appalachian State as an example. Some have criticized him for scheduling that game, after the FCS-member Mountaineers beat then-No. 5 Michigan in the 2007 season opener.
It was the first time an FCS team had ever beaten a team ranked in the Associated Press Top 25.
But Brandon scheduled the game anyway, knowing it would conjure bad memories for the Wolverines. Why?
Because there's an entertainment value to it.
"I can tell you, the networks are fighting over that game," he said.

No change in UConn venue ... yet

Michigan is set to open the 2013 season at Connecticut, a return game after the Huskies visited Ann Arbor for the 2010 season opener.
Problem is, Rentschler Field's capacity is about 40,000 -- roughly one third of what Michigan draws on a weekly basis.
There has been some talk Michigan would push for the game to be moved to larger venue, perhaps Gillette Stadium, home of the New England Patriots.
Asked if there were any developments on that front, Brandon said only, "We're working on that. Working hard on that."
Kyle Meinke covers Michigan football for AnnArbor.com. He can be reached at 734-623-2588, by email at kylemeinke@annarbor.com and followed on Twitter @kmeinke.