Posted on
Mon, Oct 24, 2011 : 4:43 p.m.
Michigan football players spend their day of rest getting work done
By Nick Baumgardner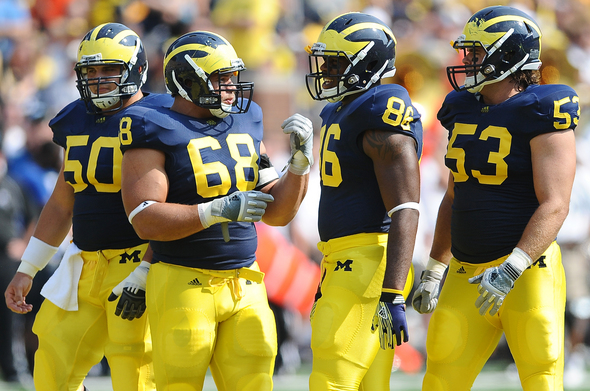 Melanie Maxwell | AnnArbor.com
Kevin Koger had a revelation Saturday during the Michigan football team's lone off date of the season.
"I figured I need a hobby," the senior tight end said. "I didn't have football, so I was at home thinking, 'What do I do now?' "
Michigan coach Brady Hoke urged his players to take a few days to get away from the team's football facilities, explaining they needed mental and physical breaks.
Did they listen?
"No, I was there," Michigan senior defensive lineman Ryan Van Bergen said. "A lot of the seniors are going to be around that building, regardless of what coach says.
"We wanted to get in and get to work; there's a lot of football left to be played."
Hoke didn't get into too much detail about how he spent his off-week Saturday, other than saying he watched the Purdue-Illinois game and got away without having a "honey-do" list from his wife, Laura.
"We were where we needed to be," he said.
Van Bergen said he spent the day off getting some mental work done, reviewing film clips to see how he can improve.
Michigan senior center David Molk said it was nice to have time away, but it didn't stop him from working. He watched film, studied his playbook and prepared for this week's game against Purdue.
Koger added that he also spent plenty of time inside and out of Schembechler Hall, honestly because he wasn't sure what else he was supposed to do.
"I was talking to (Michigan sophomore offensive tackle) Taylor Lewan about that yesterday, because we went in and did a couple things," Koger said. "Even on our day off we're coming in, because we don't know what else to do.
"That's all we know."
While Hoke wanted his players to give themselves a chance to heal mentally and physically from the seven-week old football season, he didn't seem upset to see several of his players ignore his request.
A day off is fine, but the Wolverines say they have work to do. And that's more important.
"There were a lot of guys who were around that building looking at Purdue," he said. "You get a little bit of rest mentally and physically, but it's good to have kids that want to go back and play football."
Hoke backs Robinson, says Gardner will keep playing
Following his worst performance as a starter against Michigan State on Oct. 15, Hoke backed Michigan junior quarterback Denard Robinson as his starting quarterback.
The off week did not change his opinion.
"We're 6-1, and he's a lot of the reasons why we're 6-1," Hoke said Monday. "His athleticism and his ability to manage the offense (is there).
"We're excited about him and happy with him."
Hoke continues to express comfort with Robinson as his starter, but said sophomore quarterback Devin Gardner will continue to see playing time either alongside Robinson, or on his own.
Gardner has appeared in four games and is 7-for-14 passing for 101 yards. He's carried the ball 15 times for 35 yards and a touchdown.
"We'll keep doing some things with Devin, obviously," Hoke said. "We've had some success with it, we'll just see what we do down the road."
More running back production wanted
Through seven games, Robinson has rushed for 762 yards and nine touchdowns on 120 carries.
Main running back threats Fitzgerald Toussaint, Vincent Smith and Michael Shaw have combined for 120 carries, 723 yards and eight touchdowns.
Not good enough, according to Hoke. But, not all their fault, either.
"I don't want to put it all on them," he said. "I think they're trying, they're doing a nice job with their effort. ... They're competitive, they're tough. ... But sometimes it's up front."
Hoke pointed to the offensive line as part of the issue, but regardless, said Michigan has to find another source of rushing yards outside of Robinson.
Television set for Purdue game; time, TV details set for Iowa
Michigan's homecoming game against Purdue at noon Saturday will be aired on ESPN2.
The school also announced more details for its Nov. 5 contest at Iowa on Monday. The Wolverines and Hawkeyes will kick off at noon on ESPN from Kinnick Stadium in Iowa City.
Odds and ends
Robinson was named of 16 semifinalists for the 2011 Davey O'Brien National Quarterback Award on Monday. The Wolverine junior is one of three Big Ten quarterbacks (Michigan State's Kirk Cousins and Wisconsin's Russell Wilson) on the list. Fans have the opportunity to vote Robinson into the finals by logging onto www.VoteOBrien.org. The three finalists will be announced on Nov. 21, and the award will be handed out during ESPN's Home Depot College Football Awards show on Dec. 8. ... Hoke said the team spent time working on its kick return game last week. Through seven games, the Wolverines are No. 111 nationally in kick return yards. Hoke attributed the struggles to the team's kick return blocking and not to its returners. Smith and receivers Martavious Odoms, Kelvin Grady and Jeremy Gallon have returned kicks this season for Michigan.
Nick Baumgardner covers Michigan sports for AnnArbor.com. He can be reached at 734-623-2514, by email at nickbaumgardner@annarbor.com and followed on Twitter @nickbaumgardner.