Posted on
Sat, Apr 14, 2012 : 4 p.m.
'Battering ram' Michigan football RB Thomas Rawls caps productive spring behind starter Fitz Toussaint
By Nick Baumgardner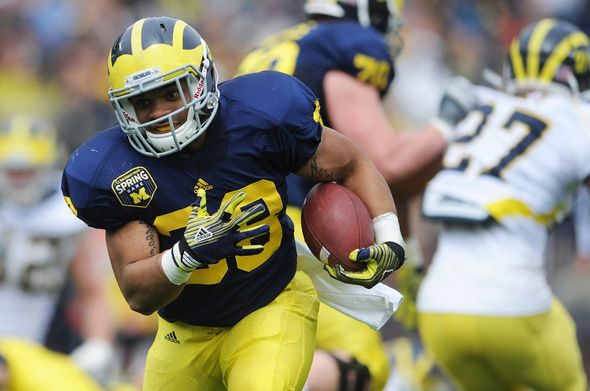 Melanie Maxwell | AnnArbor.com
There's little question who is expected to take the opening handoff of the 2012 season for the
Michigan football
team.
Offensive coordinator Al Borges said as much earlier this spring. Fitz Toussaint is his tailback, and there's no sense debating it.
However, Toussaint's reserve corps seemingly took a big step forward during the past month, as evidenced Saturday by the play of sophomore Thomas Rawls in the team's annual spring game at Michigan Stadium.
"Thomas has had a good spring," Michigan coach Brady Hoke said. "He's one of those guys, when you look at the body of work, with his physicalness, he's hard to tackle.
"You've got to give him credit for that, and he's a good football player."
Rawls saw action with both the first and second units Saturday, and he proved to be one of the lone individual bright spots offensively.
The 5-foot-10-inch, 219-pound sophomore from Flint finished with 39 yards on nine carries, including a pair of bruising touchdown runs — one from 21 yards out, the other from 2.
He saw limited action a year ago, gaining 79 yards in just three appearances, but this season, he clearly has the coaching staff's attention.
"He's a different kind of runner than Fitz and a different kind of runner than (senior Vincent Smith)," Borges said of Rawls. "He's a battering ram-type guy. When Thomas hits you, you're going to feel him.
"He makes no concessions to the defense. He's got a little bit of stop and go ability, but that's not his game. His game is running through people and making things very difficult (for the defense). And he's done that all spring."
Toussaint remains the unquestioned leader on the depth chart after gaining 1,041 yards a year ago.
Toussaint said his goal in 2012 is to rush for at least 1,600 yards and, more importantly, to become the best overall running back in the country.
"I have to approach (this summer) with a much more aggressive mindset," Toussaint said. "I have to come out there and act like I want to be the best running back in the country, and that's what I'm going to do.
"That's my goal."
Though Toussaint's production goal is clear, he said his biggest spring improvement has been his overall leadership ability, something he hopes has helped improve the overall play of those behind him —Rawls included.
Earlier this spring, Toussaint raved about Rawls' ability to run over, through and around people. Saturday, roughly 25,000 people at Michigan Stadium saw his claim first-hand.
"I always tell those young guys what they have to do in order to live up to their potential, and he listens very well; he does what the coaches tell him," Toussaint said of Rawls. "He's definitely playing more aggressive, and he's moving the ball pretty well.
"I like it. It kind of gives me a break, it gives Denard (Robinson) a break a bit for a younger guy to come in and do what he does."
Toussaint is the starter, and Smith will likely continue to serve a unique role next season.
But the Wolverines might have to make room for Rawls in a suddenly talented and deep backfield.
"We're as comfortable as you can be (at running back) at this point," Hoke said. "I like them. I like them all. Vince Smith is maybe, pound for pound, the toughest guy on this football team.
"And you like to see that."
Nick Baumgardner covers Michigan sports for AnnArbor.com. He can be reached at 734-623-2514, by email at nickbaumgardner@annarbor.com and followed on Twitter @nickbaumgardner.