Posted on
Sat, Apr 14, 2012 : 5:12 p.m.
Michigan not happy with its defense in spring game, showing just how important Will Campbell is for next season
By Kyle Meinke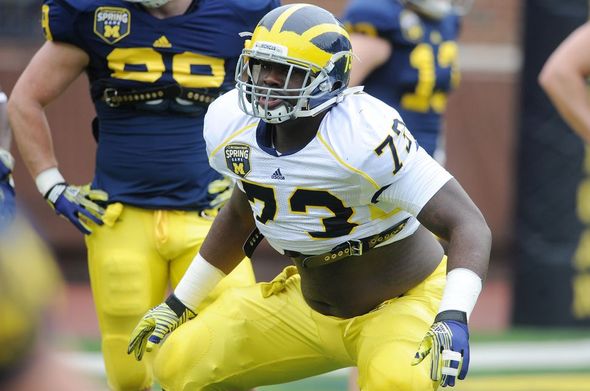 Melanie Maxwell | AnnArbor.com
Denard Robinson set an NCAA record for rushing yards by a quarterback, and will be a third-year starter this season for the Michigan football team. Roy Roundtree has twice led the Wolverines in receiving.
Will Campbell has 19 career tackles and one start.
Which of the three is unlike the others?
Yet, there the senior was, his big, sweaty stomach exposed by a rolled-up jersey, leading the Wolverines onto the field with Robinson and Roundtree for their spring game Saturday at Michigan Stadium.
The defensive tackle's effort has been questioned in past years. He has called himself lazy. He's been a bust.
But after a spring game that didn't reveal much, mostly because of the limited snaps for Robinson and also the skeleton game plans for both units, one thing is abundantly clear: The Wolverines are pinning a lot on Campbell.
Michigan is revamping its defense, particularly up the middle with Campbell and converted end Jibreel Black taking the places of Mike Martin and Will Heininger.
That's where the team is at its weakest right now, and it needs to be strong for coordinator Greg Mattinson's 4-3 to function effectively.
"You heard me say it before: You're only as strong as you are down the middle, and that's going to be our whole deal this year," Mattison said. "We'll be fine outside."
The Wolverines have thrust the role of team leader on Campbell, perhaps as an attempt to coax him into shedding his lazy past. He has embraced the challenge.
He has led film sessions, and become a leader of his position group. And that is, at least in part, why teammates pushed him all the way to the front inside the tunnel, alongside Robinson and Roundtree, the expected faces of Team 133.
"That was crazy, coming out of the tunnel like that," Campbell said in an interview room shortly after the game, his jersey still rolled up past his midsection. "I mean, it wasn't like a real game or anything, but it was something leading them out."
Campbell has been hyped before, including last year. Coach Brady Hoke pumped him up publicly, noting his weight loss and renewed focus. But when it was game time, he was on the sidelines more often than not.
He finished last season with 14 tackles.
But his teammates pushing him to the front, asking him to lead them onto the field, and Hoke last week mentioning him as a legitimate contender for the captaincy next year, indicates it could be for real this time.
And they need him to be for real. He knows it.
"It just means I can't slip at all, because I got 120 eyes on me now," Campbell said of leading the team on the field.
It was a mixed bag for the Wolverines' defensive front in the spring game. They didn't allow the first-unit offense to score until Thomas Rawls rammed into the end zone for a touchdown on the unit's final play of the scrimmage.
But it also faced Robinson on only one series, and benefited from the struggles of backup quarterback Devin Gardner, which made it look better than it actually played.
Hoke said the defense was "soft" in the middle.
"We've got to become a lot more physical, and we've got to improve a great deal over the summer," added Mattison. "The good news with that is our staff, and this program, believes in working very hard at improving in the summer and not just lifting weights.
"We make more gains at Michigan in the summer, with what they do on technique, than most programs."
Coaches aren't permitted to supervise summer workouts, which means the onus for organizing and executing those sessions falls on the players. That's where the growth, and assumed leadership, of a guy such as Campbell becomes essential.
By all accounts, he has taken on that role and will be responsible for leading the line during the summer period. After what Michigan's front showed Saturday, in a rather ineffectual performance — Hoke called it "bothersome" — that work is critical before the Wolverines start fall camp in August.
But Campbell also still has a long way to go on the field before he is ready to anchor Michigan's defense.
"We need him to not just knock people around; tackle the football," Mattison said. "Will and I have talked long and hard, that the ball is the issue, not how many lumps you can put on that guard or that center, and Will's getting it.
"Will's the key. You heard me say it before: You're only as strong as you are down the middle, and that's going to be our whole deal this year, because we'll be fine outside."
On the outside, two of Michigan's best players are linebackers Jake Ryan and Desmond Morgan. It has seven of its top eight players back in the secondary.
If the middle can hold its own, the Wolverines have a chance to improve on last year's No. 17-ranked overall defense. If it doesn't, things could get dicey, especially in the season opener against defending national champion Alabama.
A lot of that rides on the inside play of Black and Campbell. Each flashed potential in the spring game, but showed they have a long way to go before they're ready for Sept. 1.
"Jibreel Black, the key to him is how strong he gets this summer," Mattison said. "He showed why you can't play at 270 (pounds) in there, if you don't have good technique."
Weight gain is key for him. As for Campbell, he still is working on slimming down.
He arrived at Michigan a hefty 356 pounds. He's now down to about 310 and hopes to play at about 305 next season.
And that's why he played the spring game with that big, sweaty guy exposed. From the time he ran onto the field, through postgame interviews, he said it serves as a reminder that he has only four-and-a-half months to whip himself into shape.
"It's a defense thing," he said. "We all had to lose weight, so we wanted to show it."
They showed off their new bodies. Now, they need to show they know what to do with them, and that starts with Campbell.
Kyle Meinke covers Michigan football for AnnArbor.com. He can be reached at 734-623-2588, by email at kylemeinke@annarbor.com and followed on Twitter @kmeinke.