Posted on
Thu, Apr 12, 2012 : 10 a.m.
5 new names to watch at Michigan football team's spring game
By Kyle Meinke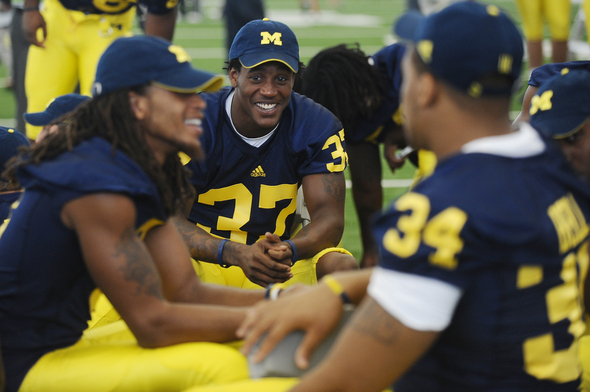 Melanie Maxwell | AnnArbor.com
At this time last year, Jake Ryan's resume went something like this: Redshirt freshman linebacker; so-so recruit; didn't start until he was a high school senior.
He was nothing more than a blip on the Michigan football team's 100-something man roster. After the spring game, he was anything but.
Ryan posted perhaps the biggest highlight of that game — a pick-six of backup quarterback Devin Gardner — and showcased the kind of sideline-to-sideline tenacity for which he has become known.
He carried that momentum into the fall, eventually earned the job at strong-side linebacker and started every game. He finished with 11 tackles for loss, second on the team, and recovered two fumbles.
This year's spring game will kick off at noon Saturday at Michigan Stadium (Big Ten Network). Who will be this year's breakout player?
Projecting spring performances into regular-season results is a fool's errand, but camp has functioned as a fairly accurate barometer the past three years.
Tate Forcier and Roy Roundtree enjoyed breakout spring games in 2009, then earned starting jobs and breakout seasons the following fall. Denard Robinson was impressive in spring 2010, then set an NCAA record for rushing yards by a quarterback that fall.
Last year, it was Ryan.
Who's next?
It's difficult to say right now, since Michigan, unlike most schools, has closed off each of its spring practices to the media. The only peeks inside the workouts have come via video clips released by the school itself.
But Terrence Talbott is one name that has surfaced that no one expected to hear.
The junior cornerback didn't play a snap of defense last year after appearing in 11 games as a freshman in 2010. But he has been seen running with the starters in video clips posted to
MGoBlue.com
, and a person who has observed several workouts has seen him working with the first and second units.
So, why is he with the starters? Is he a spring experiment?
Is two-year starter J.T. Floyd in the dog house? Or injured?
Is Talbott just that good?
It's impossible to know because of the clandestine nature of Michigan's football camp. Defensive coordinator Greg Mattison didn't tip his hand when asked about Talbott last week, noting only he liked the competition at the position.
"He's like a lot of our guys out there," Mattison said. "Our program is about nobody ever really having a position locked. Raymon (Taylor) steps in there, shows some good things. Terrence goes in there and shows some good things. It doesn't matter.
"I think at the very end of spring, we'll evaluate and say, 'Who had the most good days and where does he fit now?' All of this is a process until we get to that opening game."
Floyd started every game at cornerback last year, and sophomore Blake Countess was alongside him for the final six games. Taylor, Courtney Avery and Delonte Hollowell were the primary backups.
If Talbott is crashing that group, it's probably a good sign of the depth at that position.
"He's been physical," Mattison said. "He's a guy that's done a really good job of taking out blocks. He's done an adequate job of coverage. When we have blitzed him, he's come hard. All the things a corner's got to do."
Does that mean he's playing his way into a job? Talbott's rise certainly is one of camp's most intriguing storylines, simply because it was so unexpected. His chances of starting ahead of Countess or Floyd, though, likely are slim.
But it's possible he challenges Avery or Taylor for a spot on the two-deep, or a role in nickel packages. We should know more after this weekend.
Here is a look at some of the other big winners from camp, according to coaches and players (remember, media doesn't watch the practices), to keep an eye on Saturday:
Receiver Jerald Robinson
Robinson had a strong fall camp last year — so much so, starter Roy Roundtree said he wouldn't be surprised if the 6-foot-1, 206-pounder cracked the rotation as a redshirt freshman. But he never did, appearing in only two games and not recording a catch.
This spring, though, the hype is back. Not only does it feel genuine, but there is opportunity as well with the departures of top wideout Junior Hemingway (graduation) and top returner Darryl Stonum (dismissal).
Robinson is a big-bodied wideout, which has prompted Borges to compare him to Hemingway.
Hemingway thrived in Borges' first season in Ann Arbor. Is Robinson next?
He'd help himself with a good showing Saturday.
"That's when it's really the most critical, is when the lights go on," Borges said. "Sometimes, guys in practice are better than they are when it really counts.
"(Tailbacks coach Fred Jackson) has a name for it: State Street players or Main Street players. We're going to find out who the Main Street players are. Or at least we hope to."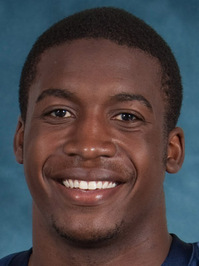 Tight end Brandon Moore
Michigan's abyss at tight end has been well-documented this spring as it tries to replace departing starters Kevin Koger and Steve Watson.
But that process is exacerbated by the fact tight ends weren't heavily recruited or developed under Rich Rodriguez. That's how the Wolverines ended up with a guy such as Moore, who has two career catches, as their most experienced player at the position.
Ricardo Miller, the only other scholarship tight end with even scout-team experience at the position, is practicing mostly at H-back (the second tight end, which plays off the line). That means means the primary tight end spot appears to be Moore's to lose.
Look for him to get heavy action in the spring game as the staff gets a feel for how he reacts to a big stage. You know, before he takes the field at Cowboys Stadium to face defending national champion Alabama for the season opener.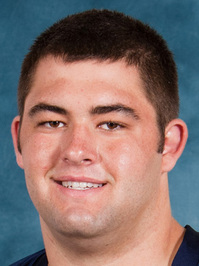 Offensive lineman Joey Burzynski
Who, you ask? Exactly.
But here's guessing we'll have a better idea after this weekend.
Burzynski, an offensive lineman, is a sophomore walk-on from Carlsbad, Calif. He played limited snaps in four games last year at left guard, but remains a relative unknown. This spring, though, coaches have gone out of their way to sing his praises.
One person who has observed several workouts says Burzynski has even taken snaps with the first unit at left guard, ahead of perceived leader Elliott Mealer.
There was a similar pattern last fall, when unheralded walk-on defensive lineman Nathan Brink was heavily lauded by coaches. He went on to play some last year, but the hype was mostly just that.
Is Burzynski any different? He appears to be closing in on a rotation spot, but is he a real contender to start? And is it a good sign that a sophomore walk-on is competing for a starting job (because he's playing well), or a bad sign (because Michigan has no other options)?
He will be an intriguing player to watch in the spring game, as the Wolverines grasp for depth on their offensive line.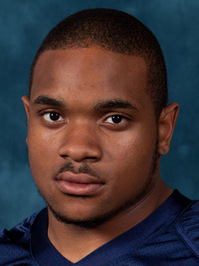 Tailback Thomas Rawls
The sophomore tailback earned a lot of buzz last fall, especially after running backs coach Fred Jackson likened him to a faster version of Heisman Trophy winner Mark Ingram.
But Rawls ended up with only 13 carries, as Fitz Toussaint broke out with a 1,000-yard season and Vincent Smith, known for his blocking and pass-catching, was the primary third-down back.
Judging from the way coaches have gushed about him this spring and the frequency of first-team reps in MGoBlue highlights, though, it appears he has received heavy action in camp. He's also received some time at fullback.
Will that translate from State Street to Main Street?
We're two days from finding out.
Kyle Meinke covers Michigan football for AnnArbor.com. He can be reached at 734-623-2588, by email at kylemeinke@annarbor.com and followed on Twitter @kmeinke.