Posted on
Sun, Jan 1, 2012 : 5:59 a.m.
Bowl preparations 'stepped up a couple notches' under new Michigan football coach Brady Hoke
By Kyle Meinke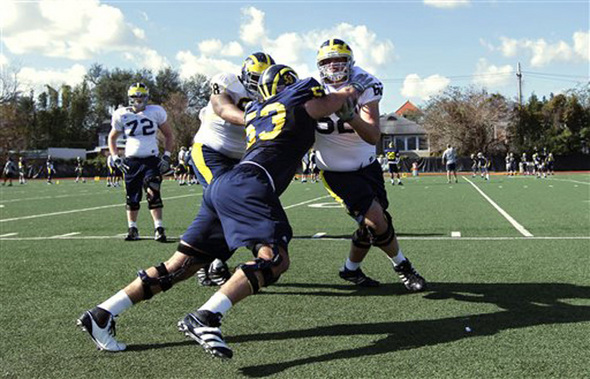 Associated Press
NEW ORLEANS — The Michigan football team boarded its team charter to Champaign, Ill. in disarray.
It had dropped two of three games, including a humbling defeat against rival Michigan State and a heart-breaking, controversial ending against Iowa. On the horizon loomed games against Nebraska and Ohio State.
Players already were starting to face the "here-we-go-again" questions after the team's spectacular collapses the past two years.
So, you'd think Michigan would come out fired up to play Illinois. You'd be wrong.
"That pregame was absolutely terrible," captain David Molk said Friday. "Just lackadaisical, like no one was ready and no one wanted to be there and everyone, I guess, was underestimating Illinois and what they could do."
So, what happened?
Associated Press
"We got in the locker room, and I took the entire offense over to the side and ripped them a new one, because it just needed to happen."
Response: A butt-kicking of the Illini.
Or, as Molk puts it: "The turning point in our season."
The point at which Michigan showed, indeed, it is different.
Molk said he delivered a similar pregame speech before the Nebraska and Ohio State games, too — both wins, which boosted the resurgent Wolverines into a BCS matchup with Virginia Tech on Tuesday in the Sugar Bowl (8:30 p.m., ESPN).
And, man, the vibes around this team, in this city, couldn't be much different than last year's bowl prep.
"Culture change" might be a cliche, but it's applicable here.
"I would think we have a blueprint, like I've talked about all year, of what not to do," senior defensive lineman Ryan Van Bergen said. "That means with preparation. That means with our attitude, our effort, our enthusiasm, where your focus is in a bowl week -- especially in a place like New Orleans."
Van Bergen said Gator Bowl practices last year were less physical and less was expected of them as compared to this year's Sugar Bowl prep.
"I just think that, overall, the focus wasn't there, as far as preparing for the game," he added. "It was more that we just have to go to practice because it says that on the schedule."
Of course, winning also helps chase bad vibes.
When a team isn't winning, things fall apart, evidenced by the Wolverines' uninspired performance in the Gator Bowl last year. They fell 52-14 to Mississippi State and coach Rich Rodriguez was fired the following week.
After 10 wins and a spectacular first season by coach Brady Hoke, players no longer are dealing with the specter of losing their coach at any moment.
"I think that was definitely somewhat of a distraction (last year), because we did have that kind of hanging over our head," Van Bergen said. "You can't count it out and say it wasn't a distraction. It had to be on the minds of some of us. It was on my mind."
Hoke isn't much of an X's and O's coach, unless he's talking about big, hulking linemen doing whatever it is big, hulking linemen do. But what Hoke does spectacularly well is he sets tempo and he sets expectations.
Molk said last year, it was "one guy saying this, this and this," and that was it. He didn't indicate who that one guy was, but you're free to venture a guess.
This year, Hoke has leaned heavily on his seniors to self-police. The fiery Molk, among others, has taken ownership of that role, and underclassmen have responded.
It's kicked up preparation and accountability to a new level.
Make no mistake, the players have enjoyed themselves in the Big Easy the past five days. They've been spotted several nights on Bourbon Street, the epicenter of New Orleans' famed nightlife.
One player was seen on the second story of a Bourbon Street venue, tossing beads onto the street.
Mike Martin has checked out some jazz joints. Kevin Koger has beefed up on alligator. Fitz Toussaint has taken on the New Orleans Saints cheerleaders in a dance-off. Van Bergen and Will Campbell squared off in a rap battle.
Multiple people in the hotel business have said there isn't a vacant room within city limits for the next two weeks as Sugar Bowl and national title game fans descend on the Big Easy.
Spirits have been high and players loose, and there couldn't be a more stark contrast with last year's pressure-packed lead-in to the Gator Bowl.
But there is a BCS game two days away.
Players seem at ease with that fate.
"The mentality is different," Molk said. "There's a different goal at hand, a different strategy on how to take on this bowl and practices and preparation. It's something that's been stepped up a couple notches from last year.
"I really like the direction we're headed in."
Even if it requires a little butt-chewing now and then.
Kyle Meinke covers Michigan football for AnnArbor.com. He can be reached at 734-623-2588, by email at kylemeinke@annarbor.com and followed on Twitter @kmeinke.