Posted on
Mon, Dec 12, 2011 : 5:59 a.m.
Michigan football team all business in Sugar Bowl prep after lacking focus for last year's bowl
By Kyle Meinke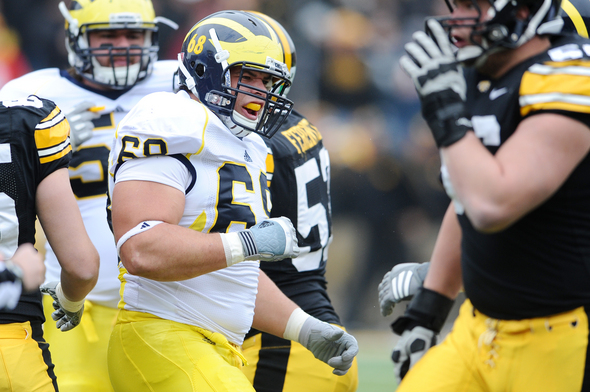 Melanie Maxwell | AnnArbor.com
Mike Martin has had a year to ruminate on what went so wrong in last year's Gator Bowl, and he's diagnosed several problems.
But there's one that stands out more than any other.
"The focus just wasn't there," the senior captain said.
The Michigan football team (10-2) is ticketed for the Sugar Bowl this year, where it'll play Virginia Tech (11-2) on Jan. 3, and Martin is determined to drop the curtains on his career without the kind embarrassment that accompanied a 52-14 postseason loss to Mississippi State last year.
That means a change in focus is required, and it appears to be setting in.
Martin, for example: "This is a business trip. We're going to enjoy ourselves, and do all those fun things with each other and experience it, but we're going down there to win a football game."
Junior safety Jordan Kovacs didn't sound much different: "Obviously, we want to have a good time, but at the end of the day, it's a business trip. We're down there for one reason and one reason only, and that's to win."
Senior tight end Kevin Koger, your turn: "I mean, we'll definitely have a little bit of fun, but the main thing is to go down there and win the football game. ... This is a business trip."
Got that? This is a business trip.
Friday, players rolled up their sleeves for their first bowl workout. Beforehand, though, Michigan coach Brady Hoke met with his seniors to ensure they would set that tempo heading into the postseason.
"Coach talked about him being with other teams and having experience with other guys that are complacent and are OK with getting 10 wins and getting done with the regular season," Martin said. "It's easy to get caught in that."
Hoke has coached in two bowls. One went well, one did not.
He guided Ball State to the International Bowl in 2007, where the Cardinals were routed 52-30 by Rutgers. He had better postseason success last year with San Diego State, when he beat Navy 35-14 in the Poinsettia Bowl.
What did he learn from those two experiences?
"The one thing, there's a fine line between trying to outsmart yourself, maybe outpractice yourself a little bit, and the intensity that you want to do things with," Hoke said. "There's a tendency sometimes to get stale.
"You like the consistency of how you prepare, but at the same time, I think you need to change it up enough."
Hoke said he would vary drills and the lengths of practices to keep things fresh for Michigan, which will go more than five weeks without playing a game.
That game, at least, was a 40-34 win against Ohio State, which gives Michigan the momentum it lacked last year.
When asked about a possible letdown after building up so much for the game against the Buckeyes, Martin responded: "Practice (Friday) was so energetic, guys were out flying around and hitting. This team wants to win football games.
"This is a new year. Everything is just so much different, it's incomparable to years passed."
Kyle Meinke covers Michigan football for AnnArbor.com. He can be reached at 734-623-2588, by email at kylemeinke@annarbor.com and followed on Twitter @kmeinke.