Posted on
Tue, Sep 27, 2011 : 11:20 a.m.
Michigan football team completes 2012 schedule by adding rematch with pesky UMass
By Kyle Meinke
Apparently, Michigan athletic director Dave Brandon is a fan of reliving the past.
Now, the Michigan football team will hope it doesn't repeat itself.
The University of Massachusetts, which nearly beat the Wolverines as an FCS team last season, announced Tuesday that it has scheduled a rematch against Michigan and will play at Michigan Stadium on Sept. 15, 2012.
The Daily Hampshire Gazette was the first to report the game.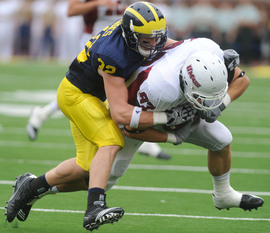 File photo
The move comes a month after the Wolverines added Appalachian State to their 2014 schedule. The FCS-member beat Michigan to open the 2007 season.
Michigan will get a rematch with both FCS schools, although UMass will join the FBS next season and compete in the Mid-American Conference.
"We feel this is a tremendous non-conference schedule to secure for our first season at the FBS level," said University of Massachusetts athletics director John McCutcheon said in a statement. "This will be a challenge to be sure, but we believe it sends a clear message about our commitment to building a competitive FBS football program."
The Wolverines are expected to have one of the more formidable schedules in the country next year, when they travel to Dallas to face Alabama and have road games against Notre Dame, Nebraska and Ohio State. They also has a tricky home game against Air Force.
So, they were expected to complete their schedule by adding a lower-tier opponent. UMass is that team.
Michigan's meeting with the Minutemen last year didn't go as planned. Ranked 22nd in the nation after beating UConn and Notre Dame, the Wolverines needed five consecutive touchdown drives to hold off an upset. They eventually prevailed, 42-37.
The victory improved the Wolverines to 3-0, but foretold the defensive woes that would haunt the team in Big Ten play.
Quarterback Denard Robinson, who will be a senior next year, accounted for 345 yards of total offense against UMass. He was 10-of-14 passing for 241 yards and ran 17 times for 104 yards.
Still, the Minutemen managed to lead by 10 points late in the first half and rally from an 18-point deficit to have a chance to follow Appalachian State in shocking college football's winningest program.
They came up five points short. Now, they'll get another shot.
The game completes the Wolverines' 2012 schedule:
Sept. 1 vs. Alabama (Arlington, Texas)
Sept. 8 AIR FORCE
Sept. 15 UMASS
Sept. 22 at Notre Dame
Oct. 6 at Purdue
Oct. 13 ILLINOIS
Oct. 20 MICHIGAN STATE
Oct. 27 at Nebraska
Nov. 3 at Minnesota
Nov. 10 NORTHWESTERN
Nov. 17 IOWA
Nov. 24 at Ohio State