Posted on
Sat, Sep 18, 2010 : 7:57 p.m.
Michigan 42, UMass 37: Your comprehensive guide to Saturday's coverage
By Rich Rezler
Melanie Maxwell | AnnArbor.com
Phew. That was close, eh?
Just three years removed from what some consider the biggest upset in college football history, the Michigan football team avoided more national headlines by escaping with a 42-37 win over UMass.
Appalachian State blocked a Michigan field goal attempt with six seconds left in its 34-32 stunner back in '07, which was the first time a Football Championship Subdivision program beat a ranked Football Bowl Subdivision team. On Saturday, the Minutemen couldn't come up with the big special teams play they needed to become the third FCS team to manage the feat.
After scoring twice in a three-minute span late in the fourth quarter, a UMass onside kick attempt with 1:28 remaining sailed out of bounds, giving Michigan possession and, eventually, the win.
AnnArbor.com had the game covered, from pre-game tailgates to post-game press conferences and everything in between. Here's a compilation of what you can find on our site:
POST-GAME COVERAGE
• Scoring summary and boxscore.
• Except for a stretch when Michigan scored touchdowns on four straight possessions, there wasn't a lot that went well on Saturday as Pete Bigelow writes in his game story. "We didn't play well at all defensively," coach Rich Rodriguez said. "Special teams were awful, and on offense we made a few mistakes that killed us." That about summed it up.
• Denard Robinson wasn't perfect on Saturday, but he did enough to win writes Mike Rothstein.
• Special teams continue to be a major concern for Michigan, Bigelow writes. How much of a concern? Injured cornerback Troy Woolfolk sent out a plea via Twitter during the game: "Kicker wanted."
• Oh yeah, the defense is a pretty big concern, too. As Jeff Arnold writes, the Wolverines gave up 439 yards to a FCS opponent, missing tackles and losing containment along the way. "We have some warts that are still out there," Rodriguez said. "Let's not pretend we're the 1985 Chicago Bears. Let's not pretend we're that. Three games in, we should get a little bit better."
• Our notebook covers nose guard Mike Martin's strong play on defense, Rodriguez's post-game visit to the UMass locker room and more.
• Pete Bigelow handed out game balls, with Denard Robinson, Kyle Havens, Michael Shaw and Darryl Stonum each earning three of four.
• Check out the game's highlight video from the Big Ten Network.
• Finally, here's our post-game poll (which can also be viewed here):
IN-GAME UPDATES
• Photographers Melanie Maxwell and Angela Cesere combined to catch some great images throughout the game. Check out the complete slideshow.
• Jim Knight compiled live updates throughout the game. Check them out here.
• Rich Rezler moderated a live chat, with analysis from Mike Rothstein. That transcript lives here.
• Our halftime poll asked if Michigan would hold on to its 21-17 halftime lead. Sixty-one percent said 'Absolutely, Michigan's offense is rolling now.' (No fair changing your vote now!)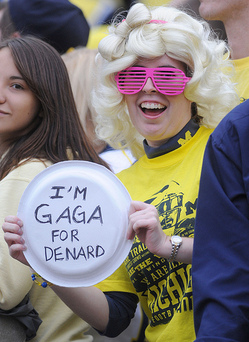 Angela J. Cesere | AnnArbor.com
PRE-GAME COVERAGE
• George Parks, the director of the UMass marching band, died Thursday night as the band made its way to Ann Arbor. Jeff Arnold talked to members of the band, who voted to continue on to Michigan Stadium.
• In a video report, James Dickson asked people to finish this sentence: "Denard Robinson is so fast ... "
• Heather Lockwood toured some tailgate spots, discovering it's not all about hot dogs and chips. Some fans enjoy some pretty elaborate spreads.
UMASS COVERAGE
• Ron Chimeles of The Republican writes that even in defeat, UMass removed any doubt about its ability.
• And here is Chimeles' game story.
AROUND THE BIG TEN (Click on score for full game recap.)
• Michigan State 34, Notre Dame 31 (OT): Aaron Bates completed a 29-yard touchdown pass to Charlie Gantt on a fake field goal in overtime for an MSU win at Spartan Stadium. Kirk Cousins completed 23 of 33 passes for 245 yards and two touchdowns for the Spartans while Le'Veon Bell ran for 114 yards and a score and Edwin Baker had 90 yards and a touchdown on the ground. Dayne Crist threw for 369 yards, with four touchdowns for Notre Dame, who kicked a field goal on their first overtime possession. (See also MLive coverage of the game here and here.)
Arizona 34, Iowa 27: Nick Foles threw a four-yard touchdown pass to William Wright late in the fourth quarter to lead the 24th-ranked Wildcats over No. 9 Iowa. Foles completed 28 of 39 passes for 303 yards and two touchdowns. Ricky Stanzi connected on 18 of 33 passes for 278 yards and three touchdowns for Iowa.
• Northwestern 30, Rice 13: Dan Persa threw for 307 yards and one touchdown for Northwestern. His favorite target was Drake Dunsmore, who caught six passes for 87 yards.
• Indiana 38, Western Kentucky 21: Ben Chappell threw for a career-high 366 yards and three touchdowns for Indiana and the Hilltoppers lost their 23 consecutive game, the longest losing streak among schools in the Football Bowl Subdivision.
• USC 32, Minnesota 21: Robert Woods' 97-yard kickoff return in the third quarter began a string of 19 straight Trojans points. The USC defense held Minnesota to 305 total yards, with Adam Weber completing only 15-of-29 throws for 226 yards with two TDs and two interceptions.
• Wisconsin 20, Arizona State 19: Jay Valai blocked an extra point late in the fourth quarter to help the No. 11 Badgers hold on for a win at Camp Randall Stadium. Scott Tolzien threw for 246 yards with one touchdown for Wisconsin. Steven Threet was 21 of 33 for 211 yards and nearly pulled off what would have been his second career comeback against the Badgers. Threet, a transfer from Michigan, led the Wolverines to a comeback victory over the Badgers in 2008.
• Ohio State 43, Ohio 7: Terrelle Pryor set an Ohio State school record with 16 straight completions, finishing 22-of-29 for 235 yards with two touchdowns and two interceptions. Pryor also ran for 35 yards and a touchdown for the Buckeyes, who host Eastern Michigan next Saturday.
• Penn State 24, Kent State 0: Freshman quarterback Robert Bolden completed 17 of 27 passes for 217 yards and a touchdown, and ran for another score for the Nittany Lions. Kent State was limited to 228 total yards.
• Purdue 24, Ball State 13: The Boilermakers used two quarterbacks, but one favorite target: Cortez Smith, who caught five passes for 117 yards and two touchdowns. Robert Marve completed 12 of 20 passes for 111 yards while Rob Henry also got involved, completing 3 of 6 passes for 89 yards. Henry also led the Boilermakers in rushing with 10 carries for 65 yards.
• Illinois 28, Northern Illinois 22: Mikel Leshoure rushed for 180 yards and one touchdown and quarterback Nathan Scheelhaase ran for 115 yards and another score for Illinois. Scheelhaase threw just 16 times, completing eight for 70 yards.
• Big 10 standings.
AROUND THE NATION
• Check out our Top 25 scoreboard, with links to game stories and boxscores.