Posted on
Sat, Nov 20, 2010 : 11:45 a.m.
Montee Ball scores on 4-yard run, his 4th TD of the day
By Jim Knight
Fourth quarter Wisconsin 48, Michigan 28: Montee Ball bulled 4 yards through the middle to score his fourth touchdown. Wisconsin has 561 yards of total offense.
Wisconsin 41, Michigan 28: Roy Roundtree caught a 28-yard touchdown pass from Denard Robinson. Michigan moved the ball 83 yards in eight plays. Robinson had 238 yards passing and 131 yard rushing.
Wisconsin 41, Michigan 21: Phillip Welch kicked a 40-yard field goal.
Wisconsin 38, Michigan 21: Montee Ball scored his third touchdown of the afternoon, a 3-yard run. Ball has 165 yard rushing. Wisconsin only had to cover 45 yards after recovering Michigan's onside kick.
Third quarter Wisconsin 31, Michigan 21: Denard Robinson's 11-yard touchdown run completed a 57-yard, six play drive.
Wisconsin 31, Michigan 14: James White shed tacklers on his way to a 23-yard touchdown run.
Wisconsin 24, Michigan 14: Denard Robinson ran 2 yards for a touchdown as Michigan scored in 22 seconds after recovering a Isaac Anderson fumble.
Wisconsin 24, Michigan 7: Darryl Stonum caught a 24-yard touchdown pass from Denard Robinson. Michigan took the opening drive of the second half 71 yards in 10 plays. On the drive Robinson set the NCAA record for rushing yards by a quarterback. he has 1,511 for the season. He also has more than 1,500 passing yards, the first time in NCAA history a quarterback has topped 1,500 in rushing and passing in the same season.
Second quarter Wisconsin 24, Michigan 0: James White raced 61 yards for a touchdown as Wisconsin scored quickly, going 84 yards in three plays. Michigan has gone three plays and out on its two offensive series in the second quarter.
Wisconsin 17, Michigan 0: Montee Ball shook off a couple of Michigan defenders and ran up the middle of the field for a 27-yard touchdown run. Wisconsin went 75 yards in five plays. Ball has 108 yards rushing and is averaing 7.2 yards per carry.
Wisconsin 10, Michigan 0: Phillip Welch kicked a 25-yard field goal, capping a 72-yard, 12-play drive.
Missed field goal: Michigan drove 59 yards in 11 plays, but Seth Broekhuizen's 30-yard field goal attempt went off the right upright.
First quarter Wisconsin 7, Michigan 0: Montee Ball scored on a 1-yard run, capping an 10-play, 75-yard drive. Big plays on the drive: Ball had a 19-yard run and Scott Tolzien found D. Gilreath for a 21-yard pass play. Ball already has 58 yards rushing on 10 carries.
Wisconsin opening drive: The Badgers opened the game on their own 8-yard line and drove 50 yards, the drive stalling when Jordan Kovacs sacked Scott Tolzien on a third-and-nine play.
The Michigan football team hasn't won three consecutive Big Ten games since the 2007 season. Today, the Wolverines (7-3, 3-3) play host to Wisconsin (9-1, 5-1) at noon.
We'll update this file throughout today's game.
Join our in-game live chat: Rich Rezler and Michael Rothstein lead the discussion.
Stories, videos and more: Your guide to today's game
Michigan injury report: Out - John Ferrara (knee), J.T. Floyd (ankle), Mike Jones (leg), Teric Jones (knee), Martavious Odoms (foot), Jared Van Slyke (clavicle), Mike Williams (head), Troy Woolfolk (ankle). Questionable - Taylor Lewan (head), Mike Shaw (head). Probable - Mike Martin (ankle), Jonas Mouton (chest).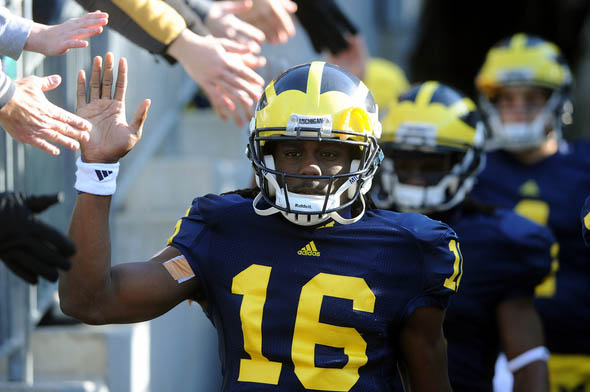 Lon Horwedel | AnnArbor.com