Posted on
Sat, Nov 20, 2010 : 7:10 a.m.
The mega guide to Week 11: Wisconsin at Michigan
By Rich Rezler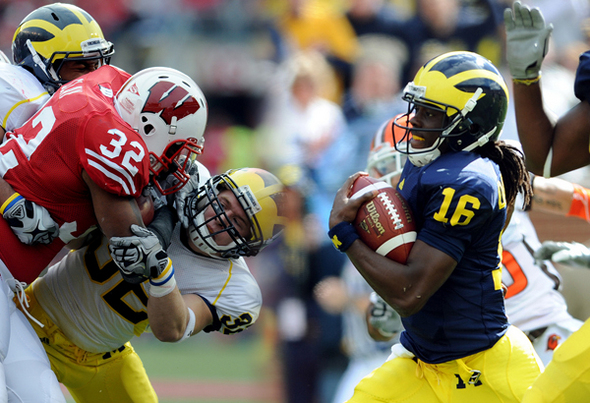 AnnArbor.com file photos
WHO: Wisconsin (9-1, 5-1) at Michigan (7-3, 3-3).
WHERE: Michigan Stadium.
WHEN: Noon Saturday.
ODDS: Wisconsin is favored by 4 points according to sportsbook.com.
SERIES RECORD: Michigan leads, 49-13-1.
LAST MEETING: Wisconsin won 45-24 on Nov. 14, 2009. (AnnArbor.com coverage)
BROADCAST INFORMATION: TV: ESPN; Radio: Michigan Sports Network (local affiliates), Sirius Ch. 125, XM Ch. 102.
MICHIGAN: Team Stats | Team Rankings | Roster
WISCONSIN: Team Stats | Team Rankings | Roster
RUNDOWN: They couldn't be more different in their approach, but Michigan and Wisconsin have something in common. Both bring highly-ranked, record-setting offenses into Saturday's game at Michigan Stadium.
Wisconsin pounds a trio of talented running backs (a duo if John Clay isn't healthy enough to play) between a pair of giant tackles, grinding their way to the second-highest point total (40.2 per game) and the third-most yards (428.5) in the Big Ten.
Michigan, meanwhile, spreads the field with dual-threat QB Denard Robinson and has sprinted its way to a league-best offense (521.8 yards) and the third-most points (37.7).
Both have recent eye-popping performances. Wisconsin's 83-20 win over Indiana last week was the most points scored in a Big Ten game in 60 years. The prior week, Michigan beat Illinois 67-65, the highest scoring game in Big Ten history.
Wisconsin is hoping to win out and make its first Rose Bowl appearance since 2000 while Michigan is looking to beat a ranked conference opponent for the first time since ... a 27-25 win over then-No. 9 Wisconsin on Sept. 27, 2008.
AnnArbor.com has been previewing the matchup all week. Here's a compilation of what can be found on our site, plus a few bonus items:
TODAY • Beat writer Pete Bigelow's main preview story: Michigan football team seeks another upset of elite Wisconsin team at Michigan Stadium.
FRIDAY • AnnArbor.com sports writers Pete Bigelow and Michael Rothstein break down the game -- and predict a winner -- in this video.
• Tom Mulhern of the Wisconsin State Journal answers questions about Wisconsin in our Beat Writer Breakdown.
• With a nod to Bucky Badger, who did 573 pushups during Wisconsin's 83-20 win over Indiana last week, our poll asks for your prediction:
INTERACT WITH ANNARBOR.COM
Interact with us leading up, during and after Saturday's Michigan vs. Wisconsin game:
THURSDAY
• Bigelow takes a
closer look at a Wisconsin offense that's remained mostly unchanged for decades
while most of the Big Ten has gravitated toward the spread.
• James Rogers has been a 'whatever it takes' kind of player for Michigan. That's what made the senior's first interception so special.
• Redshirt freshman Cam Gordon is settling into the hybrid linebacker position and focusing on constant improvement.
• The Associated Press reports that Wisconsin senior center Bill Nagy has recovered from a scooter accident and is back in the starting lineup.
• On an ESPN.com video, Michigan coach Rich Rodriguez describes Wisconsin's offense as 'scary.'
WEDNESDAY • Our Michigan notebook: Kicker likely to remain same, Denard Robinson nears record and the Wolverines' injury report.
TUESDAY • Michigan takes note of Wisconsin's 83-20 drubbing of Indiana.
• Michigan senior defensive tackle Adam Patterson makes the most of his chance to start.
• Wisconsin brings a dominant offensive line to Ann Arbor.
• Our Big Ten notebook: The necessity of Wisconsin's lopsided win, how Purdue's Ryan Kerrigan compares to Brandon Graham, football at Wrigley Field and more.
MONDAY • Has Denard Robinson hit a wall? Rich Rodriguez says no. (And more in a Monday notebook.)
• Job security far from Rodriguez's mind entering season's final stretch.
• Some recent success is giving Michigan defensive players some swagger, and more in this video report from Michigan's Monday press conference.
• Live updates from the Monday press conference.
AP PREVIEW Still craving more information? Here's a preview capsule from the Associated Press:
WHAT'S AT STAKE The Badgers can clinch a share of their first Big Ten title since 1999 with a win over the Wolverines and next week against Northwestern. At No. 7 in the BCS standings, they also have a chance to earn an at-large bid if they finish 11-1. Michigan would improve its bowl outlook with its first win against a ranked team this season and second in Rich Rodriguez's three seasons.
KEY MATCHUP Wisconsin offensive line vs. the Michigan 3-man front. The Badgers' line has combined to start 125 games and average 6-foot-5, 320 pounds. The Wolverines, who often play a 3-5-5 scheme, will likely have a hard time shedding enough blocks to slow down running backs Montee Ball and James White along with John Clay, if he's healthy enough to play.
PLAYERS TO WATCH Wisconsin: DE J.J. Watt, who Rodriguez said is playing at an All-American level, is tied for fourth in the nation with 18 tackles for losses. He leads a defensive front that will try to slow down speedy Michigan QB Denard Robinson.
Michigan: Robinson is 78 yards away from setting an NCAA record for yards rushing by a QB, surpassing the mark of 1,494 that Beau Morgan set at Air Force in 1996. But Robinson had two interceptions for the second straight game, and fumbled twice, in last week's win at Purdue.
FACTS & FIGURES Wisconsin set a school record in a Big Ten game with 83 points against Indiana. ... The Wolverines rallied from a 19-point deficit in the second half in 2008, and scored 27 straight points in a 27-25 win over then-No. 9 Wisconsin. ... Clay sprained his right knee two weeks ago against Purdue and didn't play against the Hoosiers.
AROUND THE BIG TEN • Standings • Preview: Purdue (4-6, 2-4) at Michigan State (9-1, 5-1), noon. • Preview: Penn State (6-4, 3-3) vs. Indiana (4-6, 0-6), noon at FedEx Field, Landover, Md. • Preview: Ohio State (9-1, 5-1) at Iowa (7-3, 4-2), 3:30 p.m. • Preview: Illinois (5-5, 3-4) vs. Northwestern (7-3, 3-3), 3:30 p.m. at Wrigley Field, Chicago.
Plus, check out plenty more Michigan State coverage from our friends at MLive.com.
AROUND THE COUNTRY • Check out previews of all games involving top 25 teams.