Posted on
Mon, May 16, 2011 : 8:01 p.m.
Michigan football team ahead of schedule in cutting practice time required from NCAA violations
By Michael Rothstein
CHICAGO —The Michigan football team cut its practice time more rapidly than originally expected in order to faster fulfill the 130 hours it must dock itself due to NCAA violations.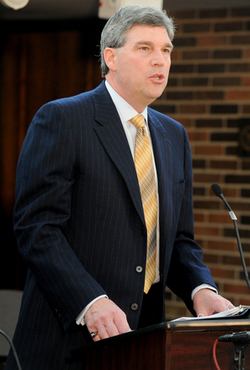 Michigan athletic director
Dave Brandon
said Monday at the Big Ten spring meetings that the Wolverines have already removed two-thirds of the hours (roughly 85) docked due to the NCAA extra practice probe under former coach
Rich Rodriguez
.
"We haven't been releasing it hour-by-hour but I get a weekly report hour-by-hour," Brandon said. "We're about two-thirds of the way through. We have accelerated that process from where we really need to be at this point so we're running well ahead."
Brandon did not say how far ahead of schedule the team was in fulfilling the self-imposed penalty, but did say he expects the Wolverines to satisfy the requirements well before the deadline. Michigan started cutting practice hours prior to summer practice last season and has until the end of the 2011-12 academic year to complete the task.
The Michigan athletic director -- who essentially dealt with the NCAA investigation as his first act on the job last year -- said dealing with the probation is an ongoing process.
Michigan admitted guilt on four of the NCAA violations in May and self-imposed two years of probation along with cutting quality control assistant coaches from five to three for the 2010 and 2011 seasons.
Michigan also changed the way the compliance department reports and monitors countable athletic hours due to the investigation.
"Being on probation is no fun. It requires an extra level of reporting and commitment and we're living through that," Brandon said. "We lived through a period of time where we took part of our administrative staff and put them on the sidelines. Reduced the quantity and basically were in a position where they weren't helping our program as part of the penalty.
"So we had real, tangible penalties we dealt with and are still dealing with as part of the violations that we were found guilty of."
Michigan fired Rodriguez, who led Michigan during the violation period, in January and hired Brady Hoke.
Michael Rothstein covers University of Michigan basketball for AnnArbor.com. He can be reached at (734) 623-2558, by email at michaelrothstein@annarbor.com or follow along on Twitter @mikerothstein