notebook:

Michigan football team injury report, what caused special team flubs and more

Posted on Mon, Sep 6, 2010 : 4:28 p.m.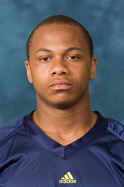 A lot of football players shy away from watching replays of their personal injuries. Michigan wide receiver Roy Roundtree, on the other hand, loves re-living his own punishment as much as he likes dishing it out, according to teammate Michael Shaw.

"He was pretty thrilled that he got hit like that," said Shaw, after joining Roundtree for a viewing of two UConn players crunching him Saturday. "He's the kind of guy that likes that type of action."

He may not like the results as much.

Michigan football coach Rich Rodriguez said Roundtree was, as of Monday, still coughing up blood from the collision and "doubtful" for Saturday's game against Notre Dame.

Wideout Junior Hemingway, who did not play against UConn because of a hamstring injury, is probable to return against the Irish. Rodriguez said in Saturday's post-game press conference.

"We need him," Rodriguez said. "He's certainly one of our best receivers. Hopefully he'll be ready."

The Wolverines emerged with one other key injury from the UConn game. Rodriguez said it was "very doubtful" that true freshman Carvin Johnson would play after suffering a sprained knee.

Starting at the hybrid safety-linebacker position, he was injured on UConn's only touchdown that came with 17 seconds left in the second quarter.

Redshirt freshman Thomas Gordon will likely start in Johnson's place against Notre Dame, with Floyd Simmons serving as the backup.

Rodriguez said he's hopeful running back Fitzgerald Toussaint, hurt during summer camp, will be cleared to start practicing again today.

Wind causes special teams havoc Fumbles on kickoffs and punt returns have occurred with dubious frequency for the Wolverines in the first two years of Rich Rodriguez's tenure, but he's not worried about the one that occurred Saturday.

Redshirt freshman Jeremy Gallon awaited his first career punt return, raced in to catch the ball and booted it five yards forward. The Wolverines recovered.

"It was Jeremy's first action on a windy day, and he's got great hands and fantastic ball skills," Rodriguez said. "That was a tough one and it really got away. … The wind was playing some tricks."

Same story at kicker, where Brendan Gibbons attempted a 43-yard field goal in the first quarter -- his first career attempt -- only to see it fall short.

Rodriguez said Monday the competition at kicker between Seth Broekhuizen and Gibbons was ongoing.

Not quite there yet Michigan's offensive line didn't allow a sack Saturday and paved the way for 287 net rushing yards. That doesn't mean Rodriguez was pleased with its performance.

"It was solid, not great," he said. "It wasn't their best game across the board." Rodriguez said the unit did well defeating UConn at the initial point of attack, but needed to improve its downfield blocking. It wasn't just the line, he said. It was also tight ends, receivers and running backs.

Numbers game In the preseason, Rodriguez said he planned to use as many as 10 offensive linemen in a regular rotation this season. On Saturday, he largely stuck with his starting five.

The only substitution he made came at center when David Molk briefly left the game with a leg injury.

"We probably could have played more," Rodriguez said. "We probably should have gotten a couple of those guys in more often. Even maybe another running back or two or a receiver.

"Going back, offensively, we're going to try and do that."

Pete Bigelow can be reached at (734) 623-2556 or emailed at petebigelow@annarbor.com. Follow him on Twitter @PeterCBigelow.