Posted on
Tue, Oct 25, 2011 : 8:27 a.m.
Michigan football team searching for ways to avoid another post-MSU collapse
By Kyle Meinke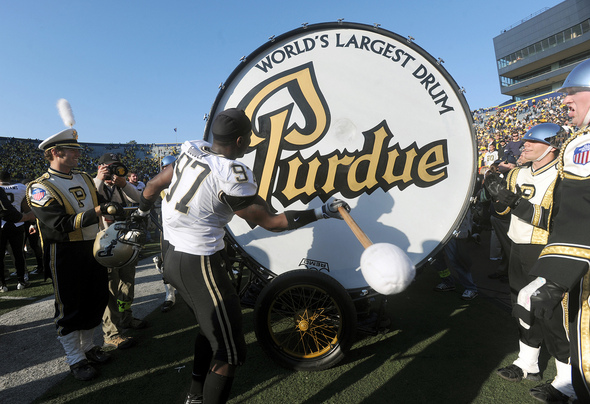 AnnArbor.com file photo
Michigan football coach Brady Hoke instructed his players to stay away from the team's practice facilities last weekend. He told them how important it was to have a mental and physical break during the team's off week.
Senior center David Molk was having none of it.
Molk, one of the Wolverines' three captains, spent his off time studying film, watching some of the Purdue-Illinois game on TV and getting ready for this week. Why?
He'll do "anything it takes" to avoid another post-Michigan State collapse.
"You've got to keep away from that dark side of going 'Oh we lost one, we're going to lose the rest,'" Molk said. "That's what happens. You have to keep that away."
As the No. 17 Wolverines (6-1, 2-1 Big Ten) prepare to face Purdue on Saturday (noon, ESPN2), it is difficult to escape comparisons to the meltdowns of the past two years.
Michigan was 4-0 when it faced Michigan State in 2009, but lost that game, 26-20, and finished the season with seven losses in eight games -- beating only Delaware State.
The Wolverines were 5-0 last year, but lost 34-17 to the Spartans and finished with losses in six of eight games.
This year, Michigan was 6-0 before it lost 28-14 to the Spartans on Oct. 15. As critics say "Here we go again," team leaders promise things are different.
Why?
"Losing faith? I guess that's happened in the past," Molk said. "But that's not going to happen anymore, and I'm not going to allow that."
Doesn't that sound a lot like what players were saying last year before losing five of seven? What makes this year different -- especially considering Michigan is 2-6 the past two seasons against the final five teams on its schedule?
"The same words were coming out, but the actual confidence and presence in the locker room and in practice, and the intensity, wasn't where it is now," senior defensive tackle Ryan Van Bergen said.
That, for Molk and Van Bergen, is one of the biggest differences between this year's team and last year's. While they said all the right things last year, the words were hollow. The team lacked confidence, even when exuding it publicly.
This year, that's not the case.
"The leadership is different, the attitude is different," Van Bergen said. "The main reason why it won't happen is because we won't let it happen. There's a sense of will not -- there will not be a crash-and-burn."
Leadership and confidence are always nice, but they also take a team only so far. Luckily for Michigan, it also has three tangible advantages for avoiding another Big Ten skid.
First, this defense is considerably stronger than its past two installments. A year after allowing 35.2 points and 450.8 yards per game, the Wolverines are holding teams to 14.7 points and 336 yards through seven games.
Second, this team is considerably healthier than the past two years, when injuries blighted several key positions, especially in the defensive secondary. This year, that is not the case.
Third, right after the team's most physical game -- that Michigan State matchup that has caused so many problems the past two years -- players had an off week to rest up, get healthy and right their minds.
"There's a lot of teams who have starters banged up, guys who are impact players banged up," Van Bergen said. "Luckily for us, we're healthy. That's definitely an advantage. I don't think everybody can say that in the conference."
Was it tough for the team not to play right away after the loss?
"Sure, you want to play again because that's what we do," Molk said. "At the same time, a week off is a week off and, the older I get, the more I realize that bye week is a good thing.
"We're a healthy team, and we're ready to play again."
Kyle Meinke covers Michigan football for AnnArbor.com. He can be reached at 734-623-2588, by email at kylemeinke@annarbor.com and followed on Twitter @kmeinke.