Posted on
Wed, Jun 13, 2012 : 12:08 p.m.
Michigan football team's graduation rate lags behind other sports, but performance at all-time high
By Kyle Meinke
The University of Michigan graduates its athletes at a better rate than all but two Big Ten schools, Northwestern and Penn State.
In 23 of 26 sports, the graduation rate meets or exceeds that of the general student body. The three exceptions, though, are not surprising.
Football, men's basketball and ice hockey are the stragglers, and the university is working to raise its figures in those sports. It appears to be working in football.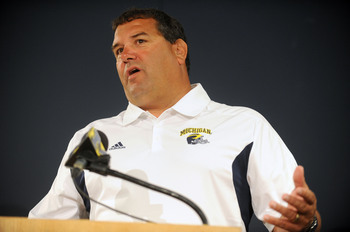 Angela J. Cesere | AnnArbor.com
Michigan athletic director
Dave Brandon
said last week the Wolverines registered the best "academic performance" in their history under first-year coach
Brady Hoke
last year. He didn't cite specific numbers.
Hoke said academic proficiency rose because of coaches doing class checks, holding players to a higher standard and enforcing consequences for falling short of that standard.
"The coaches do a good job. They'll meet once a week with (the players) academically, with what they need to do," Hoke said. "You have one of those guys who's focused, steady, on track, getting things done, and there's a lot of those guys.
"Then there's the 10 percent you've got to motivate a little bit more and guide. That's part of it. Steve Connelly and Shari (Acho) in academics have done a good job."
Hoke also has taken a hands-on approach to the academics of his players, dropping in on classes two or three times just in the past semester. One was a Department of Afroamerican and African Studies course, which offered a lecture on the impact of British marching music in the Caribbean.
Not exactly criminal justice, which Hoke studied at Ball State. And certainly not football.
What did he learn from his classroom experiences?
"I learned I'm glad I'm not a student," he said with a smile. "You observe, you listen, you observe the professor, you observe how your kids act, where they sit, all those things. See if they are doing what you have told them.
"I know how to get bad grades. I did that for two years -- I promise you that I had a lot of fun."
Brandon does his part, as well, during an annual address to the team.
He rattled off some stats to the players before the start of last season, noting Michigan had sent the fifth-most players into the NFL since its inception 88 years ago.
"I get up in front of our team and say, 'One of the reasons you are here is many of you want to play in the pros. And you now know you've come to one of the top-five places in the nation in terms of our proficiency of placing people into the NFL.' And they all get this big grin," Brandon said.
"I say, 'OK, I've calculated, because I'm a numbers guy, the last 88 years we've had more than 4,000 men come through this program. Slightly over 4,000. ... Of those 4,000-plus, how many do you think had an opportunity to play in the pros? What percent? Answer: 6.8 percent.
"'Another question for you: Of the 6.8 percent that had a chance to play in the NFL, what do you think the average length of their career was? Answer: 3.9 years, less than the four years you spend at the University of Michigan.'
"Then I look at them and say: 'Go to school, get a degree, listen to your tutors, listen to your academic counselors, and leave here with more than a dream to play football.
"'Because you know what? You're going to need it. You're going to need it.'"
Kyle Meinke covers Michigan football for AnnArbor.com. He can be reached at 734-623-2588, by email at kylemeinke@annarbor.com and followed on Twitter @kmeinke.