Posted on
Wed, Dec 7, 2011 : 5:59 a.m.
What does Michigan football coach Brady Hoke do now that the regular season is over? Goes to class
By Kyle Meinke
Head football coaches are pretty busy in the fall. Especially the successful ones.
Brady Hoke is pretty successful.
Since the conclusion of the regular season, though, the Michigan football team's coach has had a little more time to relax and catch up on the finer things in life.
No, he wasn't doing laundry. He wasn't changing light bulbs, either.
But he did go to class.
Hoke talked about a recent visit to campus while chatting with a small group of reporters in Indianapolis last week. He was honored there for winning the Big Ten Coach of the Year award.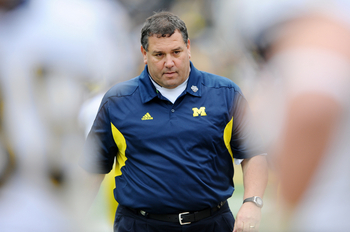 Melanie Maxwell | AnnArbor.com
Part of coaching, he said, is following through on the players' academic progress.
"During the season, I don't get out as much because of my schedule," Hoke said. "So, when I have some time, I like to be on campus and like to see what guys are learning.
"I think that's part of the obligation we make to the guys we recruit — about the education and supporting them and being there."
The class was a Department of Afroamerican and African Studies course, and the lecture centered on the impact of British marching music in the Caribbean. That's a far cry from his coursework while a student at Ball State, where he majored in criminal justice and aspired to join the Secret Service.
"It was pretty neat, to be honest with ya," Hoke said. "I took notes."
The class included about "eight or 10" football players, Hoke said. Only, they weren't told their coach would be there. One of those players, apparently, was freshman defensive end Chris Rock.
"Coach Hoke is around campus sitting in our classes," Rock tweeted Thursday. "#coachoftheyear for many years to come."
Hoke has guided the Wolverines to a 10-2 record during his first year as coach and a berth in the Sugar Bowl, where they will play No. 11 Virginia Tech (11-2). Not bad for a team that was 15-22 the past three seasons.
For those efforts, Hoke has been named the Big Ten's Coach of the Year and now is a finalist for multiple national coach of the year honors. In other words, he's become one of the most recognizable faces in college football.
Yet, there he was, sitting in class, hoping to blend in.
"I try to be incognito, as much as I can," he said.
Asked how well that worked for him, Hoke smiled wide before saying, "Some of the guys, their eyes got a little big when they saw me."
And the price if any of the football players wouldn't have been there?
"Then they're up at 6 a.m. the next morning," Hoke said, flashing another smile.
Kyle Meinke covers Michigan football for AnnArbor.com. He can be reached at 734-623-2588, by email at kylemeinke@annarbor.com and followed on Twitter @kmeinke.