Posted on
Thu, Aug 25, 2011 : 10:22 p.m.
Michigan football team paying a price for physical practices and more notes
By Kyle Meinke
Michigan football coach Brady Hoke and his staff have preached the importance of playing with physicality and toughness at fall camp.
After 22 practices, that physicality has started to take its toll on the Wolverines.
Several players have dealt or are dealing with injuries during camp, defensive coordinator Greg Mattison and offensive coordinator Al Borges said after Thursday's practice.
"Guys get injured usually when they get tired, unless it's a freak injury," Borges said. "We work them hard, we do, and they'll be the first ones to tell you that. But, Brady has a great feel for when to back off.
"We'll taper back, but to this point, our practices aren't for the faint of heart. We get after it pretty good. That's our head coach's philosophy and that's our whole staff's philosophy."
Borges said he thinks the team is nearing a point where it would start backing off leading up to the Sept. 3 opener against Western Michigan.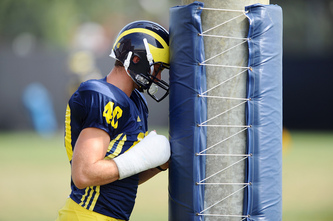 Melanie Maxwell I AnnArbor.com
Among those who are known to be dealing with, or have dealt with, injuries:
Thomas Rawls
The freshman running back missed "a couple weeks" with an undisclosed injury, Borges said, but now is back at practice.
Jake Ryan
The redshirt freshman linebacker returned to practice Wednesday after missing almost a week with some minor injuries.
"And right away, he had a big hit," Mattison said. "The one thing I'm pleased with in Jake that I wasn't pleased with before is that he concentrated and knew what to do when new defenses went in. When he came back, he didn't miss a beat."
Mattison said Ryan has practiced at strong-side linebacker and also is a member of the nickel package.
Desmond Morgan
The freshman linebacker has impressed the staff this fall, but missed some time because of a nagging hamstring injury.
"He hasn't been able to do what he's wanted to do over the last two or three days," Mattison said.
Hoke mentioned on Tuesday that Morgan, who starred at West Ottawa High School in Holland, Mich., could see time at middle linebacker behind starter Kenny Demens.
Brandin Hawthorne
The junior linebacker was one of the defensive stars of Saturday's intrasquad scrimmage, but has missed time since twisting his ankle during the tilt.
"He'll be back, he'll be fine," Mattison said.
Martavious Odoms
The senior slot receiver wore a cast on his left forearm during the first two weeks of fall camp after suffering an undisclosed injury in the summer. He was seen practicing without the cast Tuesday, but did have a padded wrap on it.

OTHER NOTES
Shaw still tailback favorite, one freshman RB could redshirt
Borges said senior Michael Shaw would win the tailback job if the season were to start now, affirming what Hoke said Tuesday.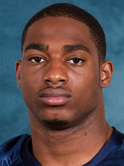 "(He's shown) some of the things I've mentioned that were a criteria for the position -- open-field running, the ability to make people miss," Borges said. "Michael has improved from spring football. He really has. He's always had some skills, but because he hurt his hand, he wasn't a big part of the spring."
Borges said sophomore Fitz Toussaint, junior Vincent Shaw and sophomore Stephen Hopkins are the leading candidates to back up Shaw.
Rawls and fellow freshman tailback Justice Hayes were considered a part of the tailback competition, but neither seems to have made a case to make the two-deep.
Borges was asked if one of them could redshirt.
"We'll see how that goes," he said. "Probably somebody will redshirt, but it's still too early to tell for sure."

Roh at rush end
Mattison said senior Craig Roh has been practicing at rush outside linebacker and is battling sophomore Jibreel Black and freshman Frank Clark for snaps there.
Mattison said the competition is "definitely open" between Black and Roh at that spot, and that he's looking for consistency from them.
"Some guys are much more talented than others, but I'll take a guy with great effort every day (rather) than a guy with talent that doesn't play up to his ability," Mattison said.
Defensive notes
Safety Marvin Robinson was sick earlier in camp, but is back and has been extremely impressive. … Mattison said he hopes to play about 22 players on defense this year. … Friday's scrimmage will be a key determiner of how the initial two-deep roster shakes out, Mattison said. … Demens has run with the first team at middle linebacker for all of camp, and the staff has been impressed with his hitting ability. … Two days after Hoke said he was disappointed with his team's effort after about the 65th play of Saturday's scrimmage, Mattison echoed those thoughts. "That's what bothered me," he said. "But early, I was excited."
Offensive notes
Borges declined to comment on three offensive players leaving the team this week: Freshman tight end Chris Barnett, junior receiver Je'Ron Stokes and freshman offensive lineman Tony Posada. … Borges said redshirt senior Mark Huyge is the leader to start at right tackle, and sophomore Michael Schofield could be a backup at any offensive line position. … Borges said the receivers who have impressed the most, besides starters Roy Roundtree and Junior Hemingway, have been senior Kelvin Grady and sophomores Jeremy Gallon, Jeremy Jackson and Drew Dileo.
-- AnnArbor.com's Nick Baumgardner contributed to this report.
Kyle Meinke covers Michigan football for AnnArbor.com. He can be reached at 734-623-2588, by email at kylemeinke@annarbor.com and followed on Twitter @kmeinke.