Posted on
Sat, Oct 1, 2011 : 5:56 p.m.
Michigan football team unveils two-quarterback formation in blowout win over Minnesota
By Pete Cunningham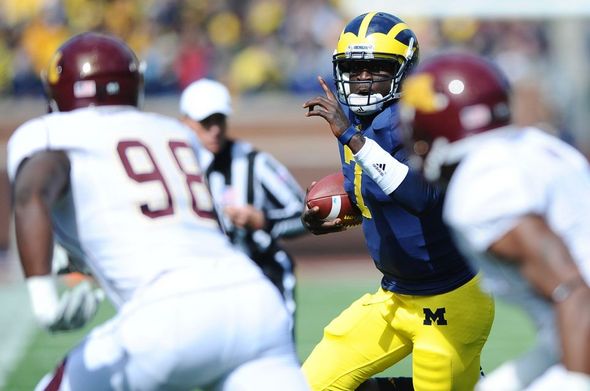 Melanie Maxwell | AnnArbor.com
After seven months of tinkering with the idea, Michigan offensive coordinator Al Borges unveiled an unorthodox, two-quarterback formation during the Wolverines' 58-0 win over Minnesota on Saturday.
"Al and I had talked about that package in March or April. Believe me, Al Borges is very creative," said Michigan coach Brady Hoke. "It's something Al has had for a while, and it's something that we thought would be a good thing to do."
With backup quarterback Devin Gardner under center, two backs were split 3 yards deep -- starting quarterback Denard Robinson always on the left. There was also a deep back lined up about 7 yards behind Gardner.
The first time the Wolverines ran out of the formation was a handoff to Robinson. He promptly pitched to tailback Fitz Toussaint, who was stopped for a 4-yard loss. Getting the opposing defense to bite on fakes to Robinson seemed to be the purpose of the formation.
"When you have a quarterback who threatens people because of his ability to run, I think that's part of it," Hoke said. "It's like the old counter play, which you don't see a lot of people run anymore. It's traction one way and going back the other way."
On Michigan's second possession, Gardner faked a pitch to Robinson and then pitched to Michael Shaw for an 8-yard gain. Gardner faked a pitch to Robinson and ran a naked bootleg for a 15-yard gain on the third Wolverines' third possession.
Robinson actually did take a pitch out of the formation later, but he ran right before throwing it back across the field to Gardner near the left sideline. A lot of work for a 2-yard gain.
Gardner said he sees a lot of potential for the formation.
"It's really, really dangerous. We've also got Fitzgerald Toussaint back there and Vincent Smith," he said. "You're going to have to wait and see. It's going to be pretty dangerous."
In all, Michigan ran four plays out of the formation for a total of 21 yards, picking up one first down.
Using the formation on each of its first three possessions indicates its something the staff hopes to employ in the future, not just a gimmick to run against an inferior opponent.
The same staff had only put Gardner on the field for one snap so far this season, the final play of 31-3 win over Eastern Michigan.
When asked if any other formations should be expected in the future, Smith said he didn't know of any as Robinson jokingly whispered "Don't tell them" under his breath.
Hoke wasn't quite as secretive. Though he didn't reveal a name for the two-quarterback backfield, he said he expects the unexpected when it comes to Borges.
"It's not just that package, I'm sure his creativity will show up again," Hoke said. "Yeah, people gotta prepare."
Pete Cunningham covers sports for AnnArbor.com. He can be reached at petercunningham@annarbor.com or by phone at 734-623-2561. Follow him on Twitter @petcunningham.