Michigan linebacker Brandon Smith not enrolled in classes
Posted on Wed, Jan 13, 2010 : 8:47 a.m.
Linebacker Brandon Smith appears to have left the Michigan football program, completing a much-anticipated transfer.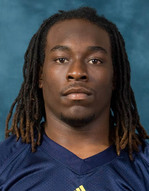 Smith is not enrolled in winter classes, the university's registrar confirmed Tuesday.
The sophomore did not attend Michigan's end-of-season team meeting in mid-December, and teammate Roy Roundtree said it appeared as if Smith would transfer.
Smith declined an interview request at the time, and hasn't returned e-mails or phone messages left at his New Jersey residence since.
A Michigan spokesperson could not say whether Smith was still with the team, and it's not known where he will transfer.
Smith, who was recruited as a safety as part of Rich Rodriguez's first recruiting class 2 years ago, played in 11 games and made 14 tackles last year. He started one game when Michigan unveiled a 4-4 defense against Wisconsin.