Posted on
Thu, Aug 9, 2012 : 5:59 a.m.
Michigan starting linebacker Jake Ryan could split time at defensive end due to Frank Clark's suspension
By Kyle Meinke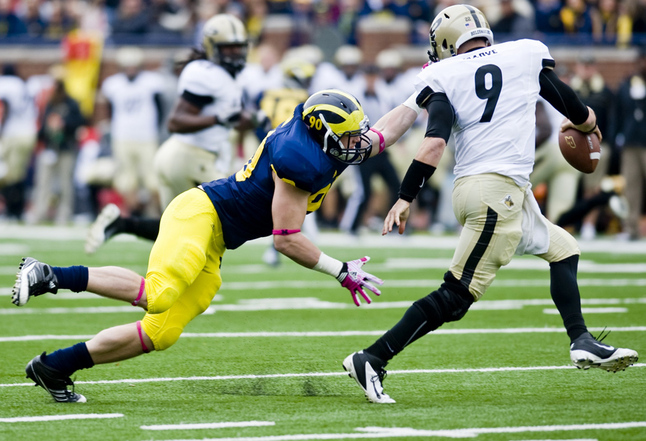 Joseph Tobianski | AnnArbor.com
The
Michigan football
team currently has two non-freshmen scholarship players at weak-side defensive end.
One, Brennen Beyer, played linebacker last year. The other, Frank Clark, is indefinitely suspended and has yet to be cleared to practice.
The Wolverines are sorely lacking depth at a position that requires it, and may -- somewhat reluctantly -- turn to sophomore linebacker Jake Ryan to fill out the ranks.
Clark was expected to compete with Beyer for the starting job, but now is accused of stealing a MacBook Air laptop from a campus dorm earlier this summer and has been charged with second-degree home invasion. He won't be back in court until Sept 11.
That puts the sophomore's status for games against Alabama (Sept. 1) and Air Force (Sept. 9) in serious doubt.
Beyer is expected to assume the starting spot, but who backs him up?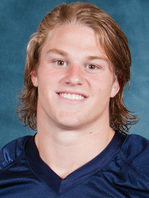 That role could fall to Ryan, who spent some time at end last season in specialty packages.
"That goes along with the idea that you put your best 11 on the field, wherever they are," defensive coordinator Greg Mattison said Wednesday. "Obviously, if a guy is used to playing one position and you have to move him, you may not be as good, but that other guy coming in -- the combination of the two -- might make you just as good.
"You always have to have the best players on the field."
Although Ryan has played some end, there's no question Mattison and coach Brady Hoke would prefer to keep him full time at strong-side linebacker. He earned the starting job there last year as a redshirt fresman, and quickly was tabbed with a well-earned reputation as a playmaker.
Ryan finished with 37 tackles, just 10th on the team, but 11 of them were for a loss. That trailed only defensive lineman Ryan Van Bergen.
He also had three sacks, two fumble recovers and one forced fumble.
Mattison would prefer to continue to develop him at the position, but might not have that luxury.
The only other alternative at this point might be backing up Beyer with true freshman Mario Ojemudia. But defensive line, much like offensive line, is a position at which coaches prefer to sit out freshmen a year so they can bulk up and learn the system.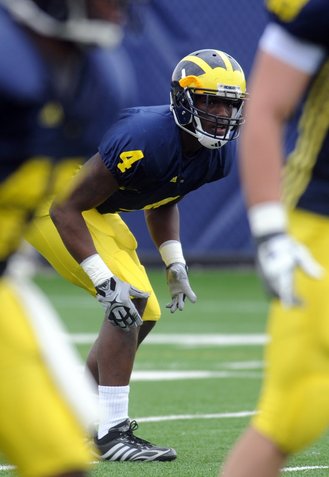 Melanie Maxwell | AnnArbor.com
Ojemudia, a Farmington Hills Harrison product, checks in at 6-foot-3, 231 pounds. Craig Roh played the position last year at 269 pounds.
Beyer is 252 pounds and Clark 262.
One ripple should Ryan play some defensive end: It could signal the re-emergence of Cam Gordon.
The junior started every game two years ago as a redshirt freshman, but a back injury limited him early last season and he lost his job to Ryan.
While he was out, Ryan became a star and Beyer secured the primary backup role. Gordon was left without a position, and ended up playing only one game on defense.
But if Ryan must split snaps between linebacker and weak-side end, and Beyer already out of the equation, Gordon could find his way back onto the field. Is he ready for it?
"Based on the spring and based on last year, I'd say yes," Mattison said. "You expect a guy that has played three years to really be advanced in how he plays. Cam Gordon went from safety to SAM linebacker. That was a transition for him.
"He's gained weight, he's gotten stronger, now let's see how he does when we start hitting, and then you'll know."
Michigan is scheduled to start hitting with pads on Friday.
Kyle Meinke covers Michigan football for AnnArbor.com. He can be reached at 734-623-2588, by email at kylemeinke@annarbor.com and followed on Twitter @kmeinke.