Posted on
Sat, May 19, 2012 : 5:59 a.m.
Michigan offensive coordinator Al Borges still advocating for expanding Devin Gardner's role next year
By Kyle Meinke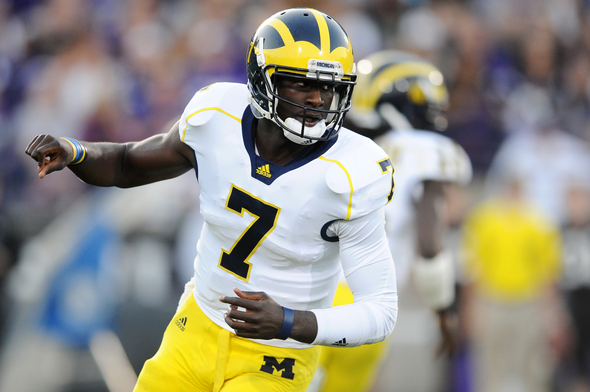 Melanie Maxwell | AnnArbor.com
Offensive coordinator Al Borges continues to maintain backup quarterback Devin Gardner will play an even greater role in the Michigan football team's offense next season.
Gardner, a junior from Inkster High School, is a physical specimen at 6-foot-4 and 205 pounds. He was the No. 1 dual-threat quarterback in the nation coming out of high school, according to Scout.
But he also happens to play the same position as record-setting senior Denard Robinson, who returns for his third tour of starting duty.
Borges wants Gardner on the field anyway, and doesn't mind getting creative to do it.
Borges confirmed Friday at the WTKA-AM studios he expects to expand the "deuce formation" package that got Gardner on the field at quarterback last year, with Robinson lined up in the backfield or at wideout.
The coordinator likes what he saw from Gardner in the spring and wants him in the fold.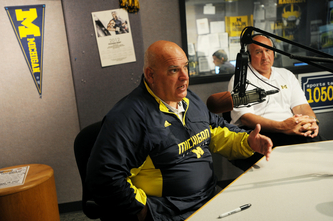 Melanie Maxwell | AnnArbor.com
"He had a really good spring," Borges said. "From the first day to the 15th day, we showed incredible progress with both (Gardner and third-stringer Russell Bellomy).
"It's always a work in progress, if you haven't played every snap at quarterback -- and even when you have -- but the snafus or the mistakes tend to minimize themselves as you gain more experience."
Borges said Gardner's struggles in the spring game -- when he went just 2-of-7 passing for 36 yards and one interception -- weren't indicative of the junior's overall performance this spring.
He isn't worried about the poor performance, calling it a normal speed bump in his development.
"I think you have to struggle before you do well," Borges said. "If he just jumped in there and romped and stomped, I don't know if that's the real world. The real world of quarterback is usually you have to go through some bumps in the road, and it's better he does it in the spring than when everyone's watching."
Gardner also practiced at wideout this spring, including running some reps with the first unit. At 6-foot-4, he would add some much-needed size to the position after the departure of top receiver Junior Hemingway.
Borges maintains Gardner is the backup quarterback, first and foremost, and is trying to balance the dual roles.
"It's tough," he said. "That's a heckuva question, because it's tough. You gotta figure out how much of it you're going to do. So, that's tough."
Borges didn't let on much, though, when asked about Gardner's abilities at wideout.
"He's got two hands -- I seen them the last time I saw him," he said.
Kyle Meinke covers Michigan football for AnnArbor.com. He can be reached at 734-623-2588, by email at kylemeinke@annarbor.com and followed on Twitter @kmeinke.